Most residential riding tractors and zero-turn mowers aren't designed to mow on slopes greater than 15 degrees. Slopes greater than 15 degrees should be left unmowed or mowed with equipment designed for slopes.
Before mowing:
Read your operator manual!
Check the area for wet areas, washouts, uneven terrain.
Pick up sticks, rocks and other objects or debris that could be thrown.
When mowing: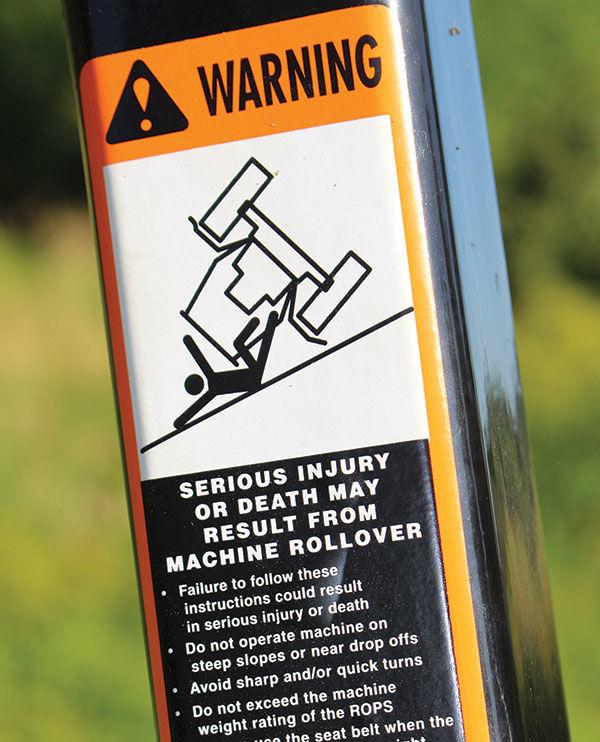 Wear eye and hearing protection and fully enclosed shoes or boots.
On slopes, mow down not across. If you can't back up, or are uncomfortable backing up a slope, go around it and mow downhill.
Keep speed steady and slow; avoid stopping and sudden turns on slopes.
Don't mow on wet, damp or drought-dry grass; tires lose traction.
Don't mow within 5 feet of drop-offs, ditches or embankments and within 10 feet of creek or pond banks.
Always look behind you before and while operating in reverse.
ROPS:
Put the ROPS up and use a safety belt when you're mowing on hills, inclines and where terrain is uneven.
Fold it down when mowing around low obstacles like limbs, guy wires or clotheslines that could catch the ROPS and cause the front end of the mower to raise. Manufacturers advise against using safety belts when the ROPS are folded down.
For kids:
Keep kids under age six inside during mowing.
Teach kids about mowing dangers: of hot surfaces that can burn them, flying objects that can shoot out and hit them, being run over because the mower operator can't hear or necessarily see them, and that riding along is never safe.
Never carry or let kids ride along on a mower, even when blades are not operating.
Pediatric experts recommend youths be at least age 12 before they start using a push mower and age 16 before operating a riding mower.
According to the U.S. Consumer Product Safety Commission, more than 4,500 children were treated in U.S. emergency rooms for lawn mower-related injuries in 2016.