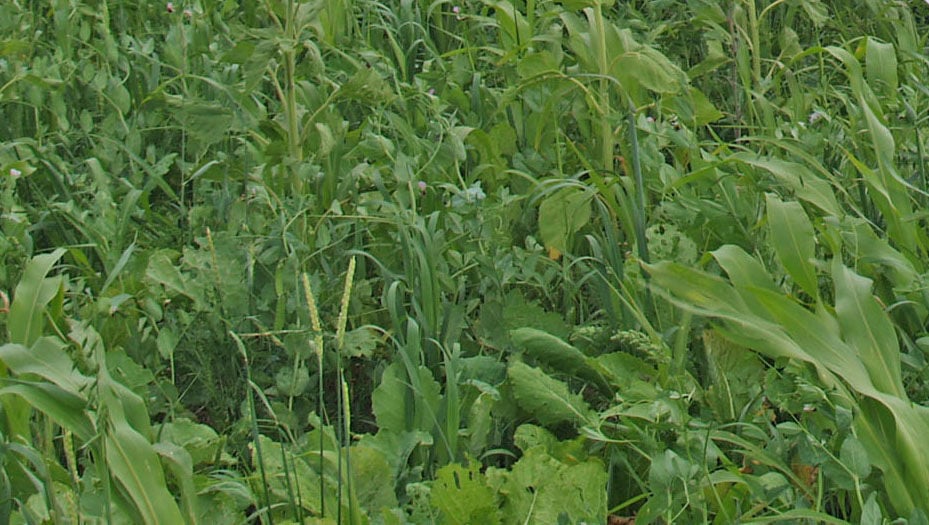 Cowpeas have been shown to be a good forage legume for livestock, while some varieties, like black-eyed peas, are grown for human food.
But cowpeas also have the potential to help Montana's wheat growers in the future as an alternative crop that bolsters populations of parasitoid wasps – natural enemies of the wheat stem sawfly.
"Wheat stem sawfly is an economic pest that continues to devastate Montana producers," said David Weaver, Montana State University entomologist, who has studied the sawfly for decades.
Weaver's recent work in his laboratory with sugar and adult parasitoid survival, as well as with flowering plants on which the adult parasitoids may feed, is considered new and groundbreaking research.
At the beginning of the project, Weaver decided to find out if there were flowering plants that producers could grow that might attract parasitoids.
Montana wheat growers have recently begun rotating their winter and spring wheat with pulses, so looking at pulses was a natural starting point.
One of Weaver's former graduate students, Dayane Reis, worked on the early research, checking out common flowering species, such as peas and lentils.
"We found parasitoids can't reach the limited nectar in the flowers of peas and lentils. They are just not large enough or strong enough," Weaver said.
Next, Weaver wondered if buckwheat would work, as the crop is also a flowering species.
Frequently grown in Montana, buckwheat is a good source for nectar that could attract parasitoids.
"Buckwheat not only flowers but actually produces extrafloral nectar, which both pollinators and parasitoids like," he said.
In fact, studies from other systems show that associated parasitoids live longer when there is buckwheat in the fields, because that extrafloral nectar is still on the plant throughout, and often later, in the season.
But Weaver found they could not use buckwheat to support wheat stem sawfly parasitoids.
"Montana wheat growers don't want to grow buckwheat around wheat because of the possibility of buckwheat-contaminated wheat seed going to export countries," he said.
So buckwheat, peas, lentils, and several other common flowering species were all crossed off the list.
Weaver considered what other legumes they could grow in Montana that might have that extrafloral nectar.
"We thought about cowpeas, especially because they were known as prolific producers of extrafloral nectar," Weaver said. "Even though cowpeas are mostly grown in more southern regions, the crop has actually been grown at high altitudes, and often in dry, sandy soils, as well."
Laissa Cavallini, a current MSU graduate student in Weaver's laboratory, obtained cowpea seeds from the USDA depository of seeds.
Cavallini searched through the thousands of accessions of cowpeas, trying to choose ones that were from higher elevations and drier climates – just like the potential growing conditions in Montana.
A number of varieties of cowpeas were grown from these seeds in the greenhouse.
"The varieties were tested for initial suitability as extrafloral nectar sources for the two common species of wheat stem sawfly parasitoids," Weaver said.
Weaver also contracted Zach Miller, superintendent of MSU's Western Ag Research Center (WARC), to find out if the more promising cowpea varieties could be grown on larger farm-sized acreage in Montana, and to see if the crop would attract beneficial parasitoids that lay eggs on wheat stem sawfly larvae.
"With the cowpeas, we are looking at adding an alternative crop to our rotation to gain benefits for natural pest control," Miller said. "We have a lot of experience here at WARC in growing specialty crops."
While cowpeas continue to flower later in the summer, the parasitic wasps are not really strong enough to easily access the nectar inside the flowers.
Yet these tiny beneficial insects find extrafloral nectar elsewhere on the plant, such as at the base of the petiole on the leaf – and there is plenty of floral and extrafloral nectar in cowpeas.
Weaver said having extrafloral nectar is "probably pretty important for (parasitoid) females that have to go and forage around the stems in wheat fields to find hidden wheat stem sawfly larvae," Weaver said. "It is like extra horsepower in their tank to go and find the sawfly larvae."
Once the parasitoid finds the larvae inside the wheat stem, it stings the large sawfly larvae through the stem wall, putting in a toxin and laying its eggs on top of the paralyzed wheat stem sawfly larva.
The eggs hatch and the immature parasitoid consumes the paralyzed larva, which finishes off the sawfly.
At WARC, they planted 17 varieties of cowpeas on May 13 in a replicated trial.
"Six of them had a short enough season that they flowered and produced crops," Miller said.
Most of the cowpea seeds were landraces from USDA seedbanks, but black-eyed peas was a top performer.
"We wanted to see which cowpea varieties would grow the best, have the most yield, and collect pollinators, including parasitoids," he said.
The top-yielding varieties had yields comparable to what is produced in the southern U.S., from 1,000-1,800 pounds per acre.
Miller watched as the cowpeas were surrounded and filled with pollinators, and parasitic wasps were likely amongst them.
"When they started putting on flowers, even here in the Bitterroot Valley where we have more resources, those cowpea plots with glands dripping this sweet liquid off were just humming with bees and wasps," Miller said. "All the bees and wasps in the neighborhood found the cowpeas within a couple of days."
By the third week in July, the cowpeas continued to keep flowering at leaf junctions.
By September, which is later than most harvest in Montana, late-season native and commercial pollinators headed for the cowpeas, as well as parasitoids.
"The parasitoids use the sugar (nectar) differently than pollinators, but both benefit from having the nectar available later in the season," Weaver said. "Extrafloral nectar on the cowpeas is not only easy to access, but it lasts through August and September when many other nectar sources are gone."
Researchers harvested the cowpeas in September, and Miller sent samples of pollinators that were caught in traps to Weaver's team for examination.
When Montana producers start cutting or swathing their wheat, and most flowering species are no longer flowering, the adult parasitoids also move about in the fields to find food and fuel elsewhere.
"If parasitoids can find fuel late in the season when the wheat is being harvested and afterward, they will overwinter in wheat or grass stems," Weaver said. "Historical research has shown these parasitic wasps can survive in the stems through very low, cold Montana winters."
The parasitoids could be there in the spring to attack the next season of wheat stem sawfly larvae.
Miller said the research looks promising.
"Cowpeas are not only a good crop for pest control, but it could be a crop that growers in the northern U.S. could profit off of," he said.
Weaver agreed that cowpeas could be an alternative legume for Montana wheat growers.
"While we don't yet have markets for cowpea seed production, it looks good for some of the lines. They make a nice forage and ground cover," Weaver said.
However, water may be a limiting factor.
"Cover crops are often terminated early in the Northern Plains to conserve water and that would not help the late-season nectar for the parasitoids," Miller said.
Researchers want to find out how close to the wheat the cowpea crops would need to be for the parasitoids to benefit and stay in the area.
There are plans to grow the cowpeas at two research centers in the spring.
"In addition to growing cowpeas at WARC with Zach, we will also be growing them in 2021 at the Western Triangle Research Center, in the heart of the Golden Triangle and wheat growing in Montana," Weaver said. "That collaboration with the new superintendent there, Dr. Justin Vetch, will really show us if cowpeas have the potential to be grown here."
If so, cowpeas and late-season nectar would be another tool in the wheat stem sawfly management toolbox for wheat growers.
"We want to help wheat growers in Montana who struggle with wheat stem sawfly. The sawfly is a unique pest that is native to Montana, and difficult to control because you don't really have an opportunity to target them with insecticide," Miller added.