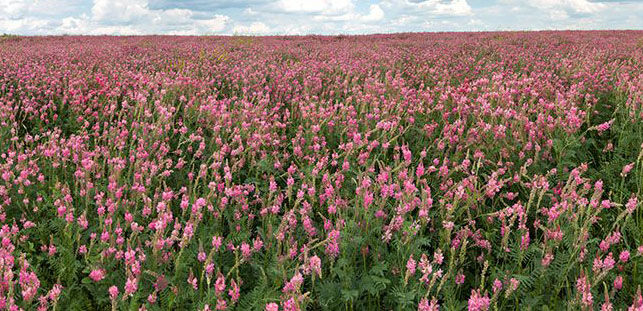 Forage trials are being conducted at several locations throughout Montana and in western Canada, as forage breeders try to find the best forages for biomass, as well as quality for livestock.
Phil Bruckner, Montana State University winter wheat breeder, talked about the winter wheat forage breeding trials at various field days in Montana.
"This is a forage trial being done at five locations to evaluate forage lines with Willow Creek winter wheat as our check, as well as our standard Ray winter wheat, which added to our arsenal in 2019," Bruckner said at the trial in Bozeman, Mont.
Ray is a dual-purpose variety, which makes it popular with producers because they could harvest it as grain or forage. It has good end-use quality and should be widely available commercially in 2021.
"Ray is an awnless variety forage wheat that is that is meant to replace Willow Creek, which is widely grown, but has been around for a long time and is a one-cut annual hay crop. But what makes this nice is this variety will not be just for forage. As a dual-variety crop, it can be used for forage or grain," he said.
Bruckner pointed out that Montana would have five new experimental forage lines to try out in their nurseries.
The new forage winter wheat varieties, if they make it to becoming a variety, will be as an eventual replacement for older lines.
Also at the Bozeman plots, Perry Miller, MSU cropping systems scientist, talked about establishing sainfoin, a legume-type forage. The legume forage has been becoming increasingly popular in Montana in recent years.
"The one complaint from producers has been it is hard to get established," Miller said. "Once it is established, it can be a great forage, but it is a little tricky to get it established."
MSU is conducting a trial with three seeding dates and four seeding depths.
"We hear how important it is to seed shallow, but we haven't found research on that," he said. "We found we do start to lose some stand at that deepest seeding depth."
The three dates were in May, June, and September, and the September-planted sainfoin was "struggling to get established."
While Miller could see some sainfoin in the forage with the September date, prickly lettuce was "really taking over."
It was mowed once to remove prickly lettuce, but it grew back. In another trial, they made one application of glyphosate in the sainfoin and it did make a difference in cutting down on weeds and helping get the sainfoin established.
The May seeding date tended to have the best forage for tonnage.
"Our May seeding date had the heaviest biomass," he said.
Samples of all the forages were taken in July 2020 and they harvested it at the end of the growing season.
"We are going to take forage off it this year," Miller said in 2020. "We took forage samples first."
For the next three years, the scientists will sample the forages.
"We will see how these forage seeding dates and depths affect forage yield over time," Miller said.
In Manitoba, directly north of Montana, and at two other locations, Canada Ag has been conducting trials with sainfoin.
Dr. Surya Acharya, Agriculture and Agri Food, in western Canada, said in a sainfoin trial they are conducting in Canada that scientists were growing oats, grass, and legumes in the same row. The legume in the forage trials is sainfoin.
"We are concentrating on sainfoin now because it is a bloat-free legume gaining popularity in western Canada. "It is very high quality and can produce good biomass with alfalfa."
Because of reduced tannins, "if you grow sainfoin with alfalfa together, alfalfa becomes a bloat-free forage," he said.
Acharya said the challenge is establishing them together so cattle can benefit from both legumes and grasses.
"You don't even need to have sainfoin at 50 percent in the pasture with alfalfa to make alfalfa bloat-free," Acharya said. "Even if there is 25 percent sainfoin in the pasture, it will prevent bloat."
On top of preventing bloat, sainfoin also creates good protein because of reduced tannins.
"It also produces more biomass, so why not grow both of them together," he said.
They don't know if sainfoin will grow with grass yet.
"That is the main reason we are doing this study in Lethbridge, Manitoba, and Saskatoon," he said.
The location effect was important to him.
"One variety may do well in one location and not in another," he said.
They are also growing five different populations of sainfoin and three different populations of grass, meadow brome, hydrobrome, a high quality grass, and orchard grass, the highest quality grass out there."
"We are trying to see if seeding in the same row is better than seeding in alternate rows, and which grass will impact well with which legume," he said.
This year, Acharya picked up the legumes and moved them to a different breeding nursery and created new lines to plant.
"Quality of grass/sainfoin mixes is important. Sainfoin is a very good crop in that it has hollow stems. Livestock like it," he said.
The way livestock use the sainfoin is they pull it out of the soil. If the stems are not hollow, cattle might only eat the leaves, which is a loss for the producers.
Another project with beef producers is improving oil content of stems and leaves of forages.
"Animals could get the protein from forages, but not get the oil," he said.
In the forage breeding program north of Montana, Acharya said they've brought in forage plants from all over the world.
"What we've found in the sainfoin plants is that there is almost zero oil in the stem and leaves. We are trying to increase the oil to 5 percent – we can't go beyond 8 percent because the animals won't eat it and it creates an imbalance in the rumen," he said. "Nutritionists have told us to not go beyond 8 percent."
With all the forages, breeders are breeding for quality, as well as biomass.
"We continue to improve forage lines to meet the needs of Montana producers," Bruckner concluded.