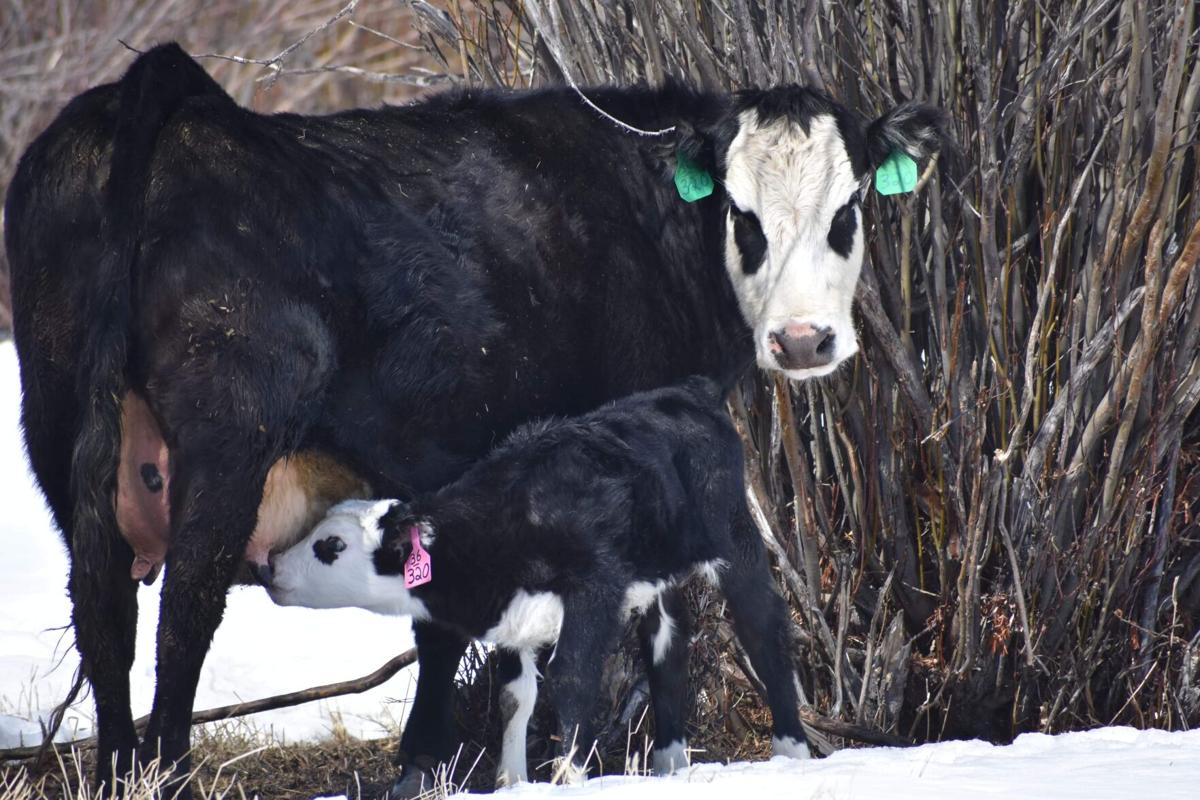 On Jan. 21, as part of Montana's Next Generation Virtual Conference series, Dr. Brian Vander Lay, assistant professor at the University of Nebraska-Lincoln's Great Plains Veterinary Education Center, discussed colostrum absorption in beef calves. As the most important meal in a calf's life, timely and effective consumption of this nutrient-dense milk is essential.
Vander Lay started off his presentation by explaining that, due to a special relationship in utero between calves and their dams, calves are born with a functioning immune system, but no antibodies. Colostrum ends up being a calf's only access to those vital antibodies and absorbing them successfully is a process known as "passive transfer."
"It is a really critical survival thing for a calf to be able to get that incredibly energy- and nutrient-dense meal right as it's born," Vander Lay said about colostrum.
When a calf is born and first goes to suck, a reflex is triggered that closes a structure in the rumen known as the "esophageal groove." This creates a bypass, allowing colostrum to travel straight from a calf's esophagus to their abomasum and ultimately on to the small intestine where it is absorbed. This biological reflex is important because passive transfer is in a race against time.
Cells in a newborn calf's gut are highly absorbent, primed and ready to accept the antibodies and nutrients offered by their mother's first milk. The caveat is, once a calf starts to suck and consume anything besides colostrum, not only are they exposing their fragile immune system to contaminates, but the highly absorbent cells in their intestines begin to turn, and after 24 hours the gut is considered closed, making it extremely difficult for any antibodies to be absorbed.   
To drive this point home, Vander Lay noted during his talk that a calf really should have access to colostrum first thing, before anything else and it is most ideal to have a calf consume colostrum within its first four hours of life. Having a calf consume colostrum on their own volition is also optimal so all biological process and reflexes can naturally occur.
"If we don't get that calf to jump up and very effectively nurse, we are unlikely to have good passive transfer," Vander Lay said.
A calf's ability to naturally nurse within four hours of life can be inhibited by a few things, with the leading issues being dystocia and hypothermia.
If a calf is part of a difficult labor, issues are bound to occur. The calf can be physically damaged with broken legs and/or ribs or even nerve damage, any of which can easily lead to nursing difficulties. Not so readily visible, Vander Lay pointed out, is the lactic acid that a calf can build up as the result of a prolonged labor. Just like in humans, a calf with a buildup of lactic acid will have sore muscles and very likely be lethargic to suckle in the timely manner required for passive transfer.
"A good rule of thumb is if you assist the cow in calving, help the calf, too," Vander Lay added.
Hypothermia is an issue for passive transfer on two fronts. On one hand, it can slow down neurological functions, making a calf slow and "dopey," which could possibly inhibit them from standing and nursing. Hypothermia also changes the absorption rate of colostrum, so even if a cold calf gets an adequate serving of colostrum, they may not be able to physically absorb all the antibodies and needed nutrients in time.
Fresh colostrum straight from the cow is always preferred, but despite best efforts, this may not always be possible. Vander Lay offered insight to this by saying colostrum properly stored in a tightly sealed gallon bag, if frozen properly, can be saved for quite some time. Reheating colostrum should be done slowly, ideally by placing the frozen bag of colostrum in a sink of hot water. Under no circumstances should the colostrum ever be microwaved, as that will kill the antibodies.
If real cow colostrum is simply not available, the next best thing is a quality powdered colostrum replacement, one that will list dehydrated bovine colostrum as its first ingredient. Vander Lay cautioned, although colostrum replacer can be used in a pinch, it will not contain environment specific antibodies like real cow colostrum will. Calves will need between 100-120 grams of antibodies (listed as IgG), so be mindful of how many grams are in a product and dose calves accordingly.
No matter the form of colostrum, getting a calf receive it by sucking is much preferred. Tubing a calf does not initiate the reflex that closes the esophageal groove, so colostrum will end up in the calf's under developed rumen and will be very slow to digest and get absorbed. Vander Lay did note that tubing a calf with colostrum is of course preferable to a calf not getting any colostrum at all.
Colostrum is not just important to a calf, it is absolutely vital. Understanding passive transfer and working hard to mitigate its failure is crucial to the overall success of a calf.