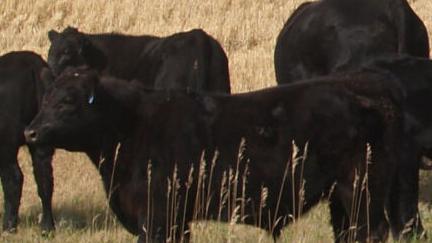 With food shortages in the days of COVID-19, both seedstock and commercial producers are looking for local opportunities for their steers/culled cows.
Rob Maddock, an associate professor of animal sciences at North Dakota State University, says the use of more small processing facilities is a good option for producers. He has conducted feasibility studies about small and medium-sized processing facilities, and they're not cheap to operate.
"You do need a lot of money, even for a small plant," he said.
Forage finishing beef or finishing with other feeds allows more producers the opportunity to enter into a small beef business of their own. Even seedstock producers want more opportunities for culled animals or their commercial herds.
According to Maddock, there are ways for small, or even regional plants to work, but profits don't come in until year two or later.
A small processing plant will be able to process about 20 head per week, and a medium-sized processor can process 100-1,000 head per week.
"The business plan and feasibility plan is very different depending on the size of the plant," Maddock said.
Slaughter and processing is $500 per head with 35 percent for taxes, interest and depreciation. That equals $675 per head.
Can you make any money doing this?
"That steer that is 1,300 pounds costs 1,300 times $1.12, which equals $1,456, and you will get 500 pounds of meat," he said. "Meat costs $4.40 per pound for all cuts on average, plus $675 for processing."
Producers do not get credit for the drop hides, offal, bone or fat, but the large plants do.
"There are potentials for making money, but you have to get a certain amount out of it before you make money," he said. "It is all about marketing your product."
Producer starts beef plant with partner
Ed Greiman, manager of Upper Iowa Angus Beef in Lime Springs, Iowa, says producers can make a realistic run at a feasibility plant if they hire professionals who have experience in the meat industry.
Greiman, who graduated from Iowa State University with a business degree, and became a cow/calf and feedlot operator early on, learned how much capital was needed to start a beef packing plant.
Three years ago, a friend approached him, telling him Upper Iowa Beef had to shut down because of a lack of capital.
"I have a lot of personal friends who are packers, but I had this idea that if I'm going to raise the cattle, I'd like to see it all the way to the end of somebody eating our product," he said.
With a partner, he opened the plant again.
"The first two years (of running the business) were miserable, but I've turned it around and the margin is phenomenal," Greiman said.
Upper Iowa Beef harvests 120 head a day, which he considers still a small plant. Many local ranchers sell their beef to Upper Iowa Beef.
"It is like a miniature large packing plant, and we have the same food safety protocols," he said.
The difficulty is getting costs down.
Greiman said this time period we're in where people need beef is "not going to last," at least not at this level, so it's time to take advantage of opportunities.
"Starting a beef plant is the hardest thing I have ever done. Just ask my wife. You are feeding people, and when you are, safety is important," he said.
Greiman suggested that the first thing a producer should do is to find a good partner – one with vision and one who is stubborn.
"The hardest part is labor. The really good guys – you have to pay them more than others," Greiman said. "Then you have to get rid of the product."
It helps to get value out every part of the animal, including the hide.
"You have to capture it all," he said. "You have to send in samples of your trim and wait to see what it is."
Inspection goes on all nearly the time.
"I am being inspected right now, even though I am a small guy. OSHA has been here three times," he said.
Water is a limiting factor for starting a plant. It takes some 500 gallons per head per day.
"There is a lot of water running all the time," Greiman said.
The off haul is also costly.
"It is a strain on your people. Then we have carcass utilization. You cannot send it to rendering. When you sum it all up, your costs are going to be double for awhile," he said.
The steaks, rib, loin, and tenderloin are not a big part of the animal.
"You have to get value out of your trim, so you end up with a lot of fat," he said. "You have to find homes for every part of the animal. I am working on my third year and have dealt with people going bankrupt on me and I had a whole load of beef stolen."
Despite the challenges and hard work, Greiman really enjoys selling beef.
"There is still nothing cooler than putting beef in a box. It is one of the most fun, yet hardest things there is," he said.
Greiman said all costs must be calculated, including carcass and retail cut yields, and such items as animal health, ear tags and vaccines.
Then managers need to think about the cost of printing material, including packaging and labeling.
He also says it's important to satisfy the three C's of building customer loyalty, which are: cuts (variety, weight and leanness); cooking (what is needed for recipes, serving size and meal ideas); and convenience (market hours, location, and delivery options).
"We sell $250 roasts for holidays and send them out with a temperature and recipe book," he said. "You will be blamed for their overcooking if it is not the right size."
Inspections always needed
Davey Griffin, Agrilife Extension meat specialist at Texas A&M, talked about the type of inspections that are needed.
"U.S. meat is the safest in the world because of our inspection service," Griffin said. "We have to make sure every animal goes through it."
According to USDA FSIS regulations, meat sold directly to consumers at farmers markets or other local venues must be processed at either a federally- or state-inspected processing facility. Inspected products can be sold by half carcasses, quarter carcasses, or as individual retail cuts.
Inspections include federally-inspected, state-inspected, custom-exempt or retail-exempt.
The federal inspected program began in 1906, while the state inspected program started in 1967.
Federal inspection requires that a SSOP (Sanitation Standard Operating Procedures), along with other inspection requirements, be followed in any plant that processes federally-inspected carcasses.
"Every animal must have a SSOP in place, and be inspected on the day of harvest before going into the plant," Griffin said."Each carcass is stamped and labeled and there is traceback with that."
For state inspections, each state enters into a cooperative agreement with FSIS. The states must enforce requirements at least equal to those imposed under the Inspection Acts and Human Methods Act of 1978.
"Not every state has a state inspection program, but about half do," Griffin said.
Custom-exempt plants have been around a long time. They are often used to process game meat for hunters, but the feds still have control over them.
"With federal or state inspection, you will have an inspector there the whole time, while with custom-exempt, you may not," he said.
However, custom-exempt meat must keep good records.
"It is a way that you can be in the business and harvest animals for someone else, but if you are running a custom-exempt plant, you don't own those animals," he said. "That meat has to be taken back to the owner. It can't be sold for commerce and it can't be donated. I found that interesting."
All of the meat must be marked as "not for sale."
"I have had a lot of questions about whether there can there be more than one owner of a live animal, and the answer is yes," he said.
Prior to slaughter, the custom-exempt operator keeps records showing the identities of the owner or owners.
"The custom-exempt operator may sell quarters, sides or halves of beef, and some won't go smaller than that," he said.
The custom-exempt operator must know the names of the owners prior to the animal coming to the plant.
One opportunity for producers is selling culled commercial cattle at their ranch.
"Can someone come out to a producer's place, buy an animal and harvest it there and take it home with them? That can be done, with one caveat," Griffin said.
If the person buying the animal helps with harvesting, it is subject to a custom-exempt slaughter facility and all that entails.
Since COVID-19 has caused food shortages, retail-exempt inspection has caught the interest of producers.
Retail-exempt has nothing to do with harvesting of animals, which can confuse producers.
"It is a way to sell meat through different ways, including stores and online, hotels and restaurants to consumers," Griffin said.
It cannot exceed 25 percent of total consumer sales (or over $75,000), but the meat must be state- and/or federally-inspected.
There are local and/or regional market opportunities, but it takes a lot of money. Some of that money goes toward:
Determining sales structure and location.
Selling retail by the cut.
Selling sides or quarters.
Selling pre-boxed assortments.
Selling to restaurants and institutions.
Insuring meat quality.
Insuring consistent product availability.
Addressing seasonality issues.
"I do think we need to start a lot of these small federally-inspected plants," Griffin said.