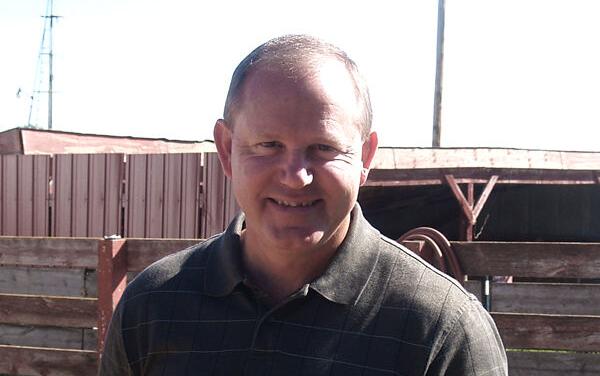 Adaptive grazing management practices guide producers to build healthy and productive soils while building profitable cattle and diverse farms and ranches.
"In adaptive grazing, what we are trying to do is use livestock to nurture nature's ecological memory," said Dr. Allen Williams, sixth generation rancher in Mississippi.
Williams is a founding partner and president of LMC, LLC, an agriculture and food industry consulting firm. He is also president and chief ranching officer at Grass Fed Insights, LLC, a partner in Joyce Farms, and a core team member of the Wallace Center's Pasture Project.
As an expert in profitable and sustainable ranching, Williams has given presentations in eastern Montana, western North Dakota, and around the world.He said he has been privileged to work all over the world and has taken measurements of all the soils.
"Everywhere we go, we are dealing with degraded soils (a high percentage around the world) and I am not sure anyone alive today can fully define what a truly healthy soil is," he said.
Adaptive grazing can lead to healthier forage above the ground to have more productive and more profitable cattle, while creating a healthier biology below ground.
"Management and flexibility are keys to adaptive grazing," he said.
The basics of using adaptive grazing include:
Adaptive grazing should be goal oriented. What results do you want to see and how can you get there?
Livestock play a major role in healthier pastures.
 "Cattle producers should look at using stock density (pounds of livestock per acre) rather than stocking rate (acres per head), and use stock density to their advantage," Williams said.
Cattle should be moved frequently, which allows for frequent rest to each prior grazed paddock.
An adaptive grazing system relies on using high-tech temporary fencing systems.
"From using high quality poly wires to using these very good solar-powered and other energizers with our fencing, we can accomplish moving cattle frequently," he said.
Temporary fencing doesn't work on large ranges.
"Where ranches are larger, and we can't use temporary fencing effectively, we can accomplish the same thing through use of cowboys and water and mineral placement," Williams said.
Allowing for plant root system recovery below the ground also needs to be a focus.
"If we implement these adaptive grazing principles properly, it creates very positive compounding and cascading effects," he said.
Williams gave an example of being out on an upper Midwest ranch a few years ago.
"When you walked out into this prairie (a part of the ranch), there was an incredible array of plant species, insects, birds, wildlife, different types of livestock, pollinators, and the sights and sounds were incredible. You wanted to sit down and take it all in, and that is what I did," he said.
Yet, right next door, another field belonging to a different owner told an entirely different story.
The grass above ground and the biology underneath the soil were "dead." The prairie land had been farmed and ranched using conventional methods – the soil was crusted over the top and exposed to sunlight.
When a farm and ranch is operated this way, the soil is not in good condition, leading to grass with poor growth and nutrition that doesn't provide what cattle need.
"You are going to have poor water infiltration, and when it rains, that water is going to pound and pool and run off, carrying off soil," he said. "Contrast that to the prairie and you see a high organic matter, with good infiltration, good aggregation. The color of the soil is deep, dark and rich and very much alive. This is what we should try to achieve with our pasture – this type of diversity and complexity of life."
Soil temperature is another principle of using adaptive grazing, because when the soil is exposed in conventional farming, it doesn't help plants grow.
When the soil temperature is at 70 degrees, 100 percent of soil moisture is used for growth. At 100 degrees, 85 percent of soil moisture is lost and 15 percent is used for growth, and at 140 degrees, microbes die off.
Williams said the three core principles of adaptive grazing are compounding, diversity, and disruption.
Compounding means that in nature, there are never any singular events.
"Everything we do is always compounding and cascading events, and is never neutral," he explained.
The way we manage our ranches has a way of creating a positive or negative compounding event, "whether we realize it or not. Then we can ask ourselves, 'Is what I am about to do with grazing creating a positive or negative effect?'" Williams asked.
Diversity means, "We want highly diverse and complex pastures, composed of grasses, legumes and forbs (among other plants), but not monocultures, which are man-made and interfere with nature."
There is a place for monocultures in crop production, but in between, there is a need for cover crops to build the soil and feed the biology underneath, along with other diverse grasses, legumes and forbs.
Disruption means nature has tremendous resilience and response to change.
"Don't do things the same way every time. That is what disruption is," Williams said. "For example, we can rotate crops, introduce livestock, reduce tillage, rotate cover crops from moderate-to-high diversity and use different mixes every year."
What can we do for planned grazing disruption?
It is important to not graze at the same stock density every year – change it every year. Alter stock density at magnitude.
"If last year you added 40,000 pounds per acre stock density on grazing a specific paddock, the next year, you need to go to 100,000 pounds or 300,000 pounds. That is a magnitude of difference, and the kind of disruption we need," he said.
Another way to use planned disruption is to alter grazing heights and rest periods, change species order and move livestock through rotations in different patterns.
"It really does make an enormous difference," Williams said.
Can we use mowing in adaptive grazing?
"Mowing is a tool that we can use strategically, but we don't want to regularly use it. It has a per acre cost to it, and it is not cheap," he said. "We can use mowing to make it more vegetative for a time, but you have to leave enough material to shade the soil and feed the below ground biology. But mowing every year will be a problem."
When mowing is used every year, "we have a crash in our soil microbial population, and it has to recover itself," he said.
Does deworming harm pastures? Williams said he is asked this question all the time.
"Anything you use, you have to accept the fact that it will negatively impact soil organisms. There will be an impact to insects such as dung beetles, favorable insects and earthworms."
Williams said he used to deworm and treat for flies every year.
"I used to do it myself and I taught that at the university (as a professor). When you move cattle every day, those worming issues become less and less, and there becomes a natural resistance to internal and external parasites. Now I don't have to do it," he said.
Williams has not had to deworm or treat for flies in six years.
"We spot treat cattle that are a problem and we cull them as soon as possible and we do not keep their sons or daughters for breeding," Williams said.
What are the best genetics (in cattle) for adaptive grazing?
"It is more of a phenotype than a breed. Most think British breeds work best and they do often, especially for grass finishing," he said.
But just because cattle are a certain breed does not mean they will be "good grazers."
"Look for a certain phenotype, moderate-framed individuals, sound and deep bodied and able to maintain body condition on a forage-based diet and are not supplemented routinely," Williams said.
How can we transition to better soil while keeping our stock density high?
"Remember that stock density and stocking rate are two different things. Don't increase the number of cattle you have initially," he said. "You can create stock density with any number of cattle. It is all about the size of your paddock. That determines your stock density."
Williams said if a producer is worried about the amount of forage they have, "you are already over-stocked."
"We can use the feeding of haylage or baleage to help us initially. We'll get great hoof impact through bale grazing and we use bale grazing to very good soil impacts," Williams said. "When you are first trying adaptive grazing, keep them on hay bales longer to allow grass to grow before you start actively grazing. Don't hammer your pastures too early."
For more information on adaptive grazing, see pastureproject.org.