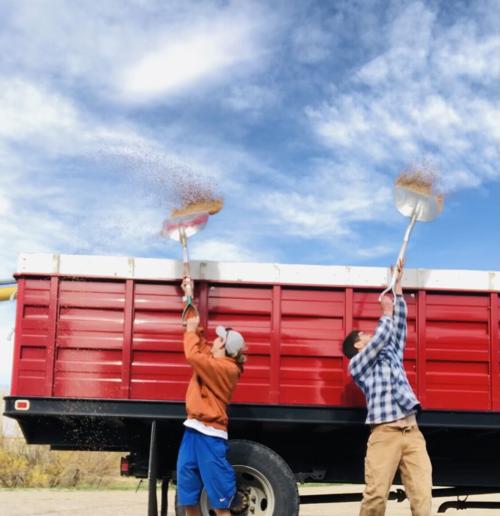 LEDGER, Mont. – When it boils down, being a dryland farmer in Montana's Golden Triangle is all about juggling the weather. Cassie Andrews, like many grain farmers in the Big Sky State, keeps a close watch on the weather and is always praying for moisture to fall at the right time.
That is why Cassie was all smiles on Friday, May 7, when a steady rain was falling on her farm east of Conrad. The best part about it all was that Cassie, her brother, Brett, and her father, Terry, had just wrapped up planting their spring wheat on May 6. Talk about a "million-dollar rain."
"We already have a tenth of an inch and it's just raining beautifully," Cassie beamed during a phone update.
The last half of April and first part of May have been nothing short of a mad rush for Cassie, Brett, and Terry – starting with getting all of the planting equipment serviced and ready.
"We put all of our equipment away cleaned and fixed and we got it all out this spring and it seemed like everything was broken," she chuckled.
It appears that over the course of winter storage that the hydraulic hoses had broken and the seeder had some electrical issues, making it unable to load and operate properly. The issue with the seeder had even the John Deere technicians a little stumped, but eventually the problem was identified and solved.
Terry manned the seeder while Cassie worked ahead of him applying pre-plant spray to the fields. Brett kept Terry loaded with fuel, fertilizer, and seed when needed. The trio of family farmers divide their daily farm tasks according to each of their strengths and together they are able to accomplish quite a lot.
"I couldn't imagine farming by yourself. I am so lucky to be able to do it with family members," Cassie said.
Cassie often finds herself working closely with Brett as they partner up to accomplish duties on the farm, including treating seed. In preparation for spring wheat seeding, Cassie and Brett were hard at work treating some seed the first weekend in May when things ended up going a bit awry.
"We were trying to get some seed treated before some weather moved in. The wind was blowing and it started to snow and the treater decided to give up – the pump went out of it. I was covered in red dye! I ruined my coat and my coveralls. It ended up being a nice disaster that Dad thought was quite funny," Cassie reflected.
Arguably the best part of farming with family is the fact you can laugh with each other, Cassie contends. She admits, being covered in red-dyed seed treat was not ideal, but at least it provided some comic relief during an otherwise stressful time of year.
Needless to say, after a couple weeks of mechanic mishaps and a hard final push to get the spring wheat acres in, Cassie was taking advantage of the rain and enjoying a much needed day of relaxation.
She, Brett, and Terry will have to rest up because as soon as the rain stops and the ground dries up it will be time to start scouting fields.
"We just go out on motorcycles and ride all of our acres looking for weeds. Then we figure out our crop spray program," she explained.
It's a delicate balance Cassie say – finding the chemical batches that best control the most weeds using the least amount of money. Also on the to-do list will be spraying all of the farm's chem-fallow acres.
Cassie appreciated her lazy day on May 7 because the rest of the month will most likely find her camped in the spray rig.