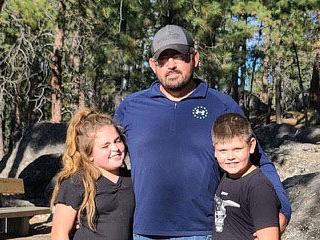 MALTA, Mont. – The Merrimans took a quick trip to Anna's aunt and uncle's place near Gillette, Wyo., and hiked Devil's Tower.
Anna and Cliff Merriman farm with their kids, Beau and Courtney, at 4M Farms in the northeastern region of the state. They were able to take a couple days off to have some fun before fall work continued in earnest.
"Anna's aunt and uncle have an arena there where they have ropings and other events," Cliff said.
Anna said the family had a good time.
"It was nice to get out for the weekend. It is hard to get away this time of year, but it was a lot of fun," she said.
Back at the home farm/ranch, Cliff said they have some seeding projects to complete.
"We've been prepping fields to plant winter wheat," he said.
The winter wheat needs to sprout and vernalize before going dormant in the winter.
Anna said they would work together with the winter wheat seeding. One of them will go ahead with the pre-tiller to knock down any weeds, followed by one of them in the tractor with the drill.
"It depends on our schedules with the kids and everything else, but I usually pre-till and Cliff usually seeds," Anna said, adding she would pre-till a couple of days before Cliff seeds.
Cliff said he has big plans to seed 600 acres with a grass mix he designed specifically for grazing for the cows.
The grass mix is a mixture of slender wheatgrass, western wheatgrass, thick spike grass, intermediate wheatgrass, whiskey wild rye and alfalfa.
Cliff really likes whiskey wild rye and said it was a "phenomenal grass that is a true bunchgrass, providing a different structure for wildlife, and the grass specializes in certain areas of the rangeland, which we have, and it is one of the best grasses for fall grazing. The cows love it. They eat it like ice cream."
The only downside is that because it is a bunchgrass, it is a bit bumpy when driving over it with a four-wheeler or other vehicle. But the grass mix fits the bill as a great grass mix for the region and the state.
"For Montana, this is about the best mix for our area, because we are predominately a cool season grass area," he said. "We do have a few warm season grasses, but they are more of a specialized grass, needing south facing slopes and sandier soils. None of our soils on our farm fit that."
Cliff has designed many grass mixes for ranchers over the years, taking into consideration the specific circumstances ranchers needed the grasses for, the type of grasses that grow well in Montana, and the nutrition the grasses provided for livestock. In addition, the grass covers the soil and feeds the soil biology.
"I've probably designed about 3,000 acres of custom seedings for people, and when I worked at NRCS, I put together a lot of grass mixes for different producers," he said.
After seeding, it needs to get established, and it will probably take a year.
Meanwhile, the weather has been more fall-like of late, although the afternoons have been warm, in the 80s-90s.
"It has been cooling off at night, so I feel like fall is finally coming," Anna said.
With the cows, Cliff said they are grazing the crop aftermath. Many of their crops were very short in the drought, but good for grazing. The cows grazed a wide range of forages.
Anna said with the piglets, they have three left that they will feed out and use as meat.
The sow and boar are still in the pen together, and Anna says they like to snuggle up with each other. She thinks the sow, named Miss Piggy, is already pregnant, but the Merrimans may leave them together until she gets closer to having her litter.
Cliff said, "Pigs are so social and are happier when they hang out together."
The Merrimans also have four dogs, two Bernese mountain dogs and two cattle dogs.
"The Bernese are good family pets, and they want to be petted and loved on. We got a female and we're hoping to have a litter of puppies next December," Anna said.
They also have some cats, like most farms do.
"We have a litter of kittens that the kids have been spoiling," she said.
At school, the kids just had their midterms and are doing "well," Anna said.
"Both kids are involved in flag football and Courtney is busy playing volleyball," she added.