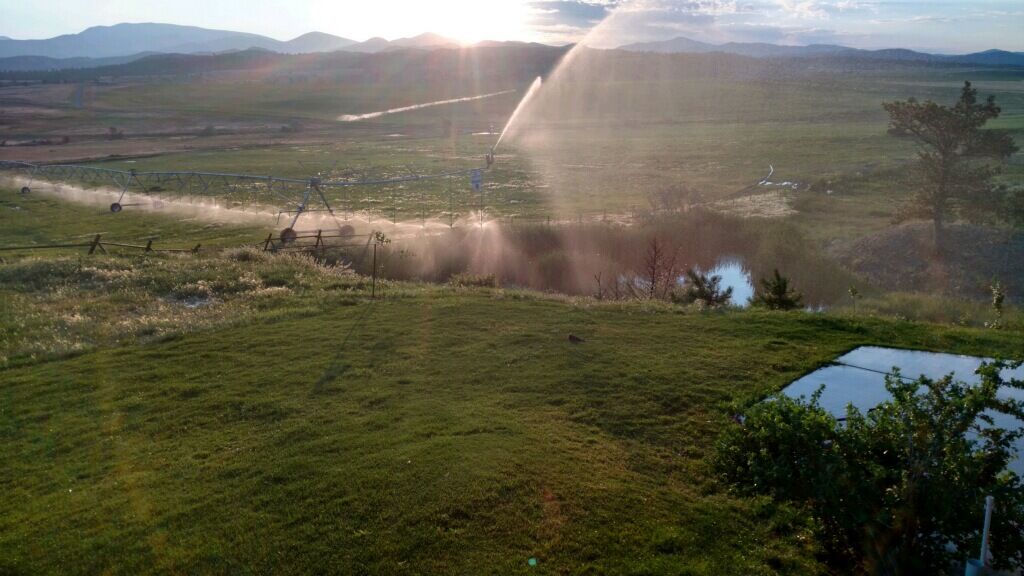 HELENA, Mont. – As May turned the corner and began its final march towards June, it seemed Mother Nature still needed one last hurrah. A major weather movement swung across the state dumping loads of precious moisture, and on Cedar Creek Land and Livestock that moisture came as snow.
Even as an irrigated farmer, Joe Dooling appreciates a good moisture-laden storm front. However, the fact that this particular spring storm was coupled with freezing temperatures made for a bit of contention.
"I bet the cows got probably a foot of snow up in Augusta. It's pretty miserable up there. All the wheel lines are frozen here. It got down to 21 degrees last night," Joe reported during a phone update on Friday, May 21.
The sub-zero temperatures, Joe said, shouldn't really affect his malt barley. On the other hand, he figures the alfalfa is none too happy about the cold.
"We will probably lose some leaves on the alfalfa. It was already about eight inches tall, so this cold will knock it back a bit," he added.
Across the Helena Valley, temperatures had been unseasonably warm up until the storm started passing through. Joe noted it was nearly 86 degrees on Monday, May 17, and his alfalfa crop was thriving in the warmth. In fact, he speculates the crop was about two weeks ahead of schedule. So, in the end, the cold snap only knocked the crop back to its more average schedule.
"It was looking like I was going to start cutting about June 10, so now we are back to a more normal cutting date," he said.
Never before has Joe ever began first cutting earlier then June 15, so this year could have been quite the anomaly.
All in all, it seems the spring snowstorm packed more good than bad for Joe, however, the ditch company responsible for supplying the federally-guaranteed water out of Canyon Ferry Dam had a bit of a nightmare on their hands.
Joe explained, for the ditch company it is really a balancing act. When all of the irrigators shut off their water because enough moisture is falling from the sky, it doesn't take long for the ditch to overflow or leak.
"The ditch gets smaller and smaller as it gets toward the end so it can't handle all the water. It's just as bad when everyone turns off their water at once as it is when everyone turns on their water at once," he explained.
In the case of Cedar Creek Land and Livestock, Joe says one of his most important relationships is with the ditch rider.
Despite the copious amounts of moisture hitting the area, Montana is still being plagued by a drought that has left many producers around the state worried.
"I am all pre-sold on my hay. We are already committed on everything we can produce. That has never happened to me in all of my years as a producer," Joe said.
With little new feed coming up, range conditions remain poor and dryland hay tonnage is expected to be way down this year. As a hay producer, Joe is happy, but as a cow man, he is deeply concerned by the lack of feed across the region.
"You look at the drought monitor and it isn't pretty," Joe sighed.
Now, Joe says, is the time for producers to really buckle down and make smart business decisions.
As snow and rain continued to fall across the Helena Valley, Joe took the opportunity to have some shop time to clean and organize his farming equipment and haying implements. It won't be too long before it is time for the first cutting.