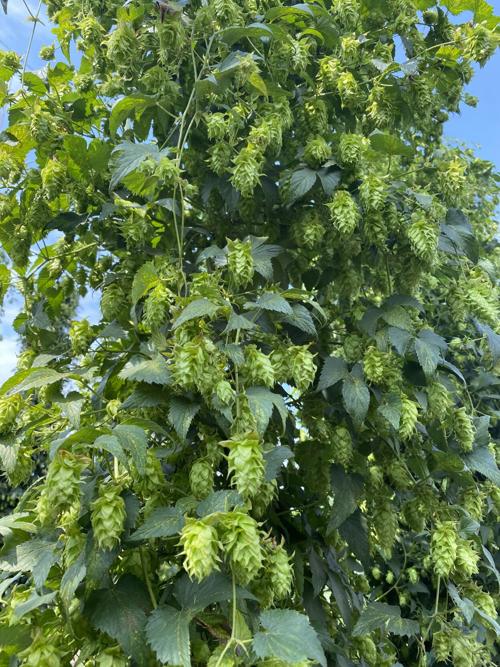 While Montana's climate is absolutely ideal for growing malt barley, how does it fair for hops? Tom Britz, owner and CEO of Glacier Hops Ranch in Whitefish, Mont., set out to answer that question nearly 10 years ago.
While the vast majority of U.S. hop production is concentrated in Yakima Valley in Washington state, a MSU Extension agent in Flathead County suggested in 2012 that Britz look into growing hops since northwest Montana has a climate ideal for sustaining the crop.
At the time, craft brewing businesses were becoming wildly popular and were in need of hops for their seasonal brews, so Britz decided he would give the crop a try.
With some help from the Montana Growth Through Agriculture grant program, Britz actually established a hops research farm. He ended up growing 44 different hop varieties, testing them all for their ability to produce in the state.
Considered a part of the Cannabaceae family and therefore sharing select traits with hemp, hops must be respected for the amount of work the crop demands.
"This is the most capital- and labor-intensive crop you can grow," Britz said.
Getting hops from seed to a finished product is quite the production. Hops grow on 18-foot-high trellises and each individual plant has to have 2-3 twines associated with them and the plants must be manually trained to grow up the twine.
Actually harvesting the crop is a whole other bear in and of itself. Once harvested, the actual hop cones must be dried for several hours, baled, and then the bales must be frozen. Next the bales are ran through a hammer mill and eventually a pelletizer. Needless to say, a good beer must be appreciated.
Britz was one of the first hops growers outside of the Pacific Northwest and he was the first grower in Montana. Realizing that the actual cultivation of hops is extremely hard work and the demand for fresh hops in Montana is not nearly strong enough to sustain a business, Glacier Hops Ranch pivoted and took their business model in a different direction.
Instead of growing hops hands-on, Britz has turned Glacier Hops Ranch into a global hop broker/dealer. Glacier Hops Ranch contracts directly with the growers, offering single sourcing for other customers. The business has evolved and they now orchestrate a lot of the processing and packaging of the hop byproducts. This year, for the first time, Glacier Hops Ranch will be offering product under their brand name.
"Over the years we have built this enterprise and it is nothing like I thought it was going to be. We now export most of our sales to about 50 different countries," Britz said.
Glacier Hops Ranch provides hops predominately for the beer brewing industry, but the crop can be processed into other end-use products, as well.
"We sell hop extracts for other applications. It goes well with CBD extracts to make CBD work better. It can be used in non-alcoholic beverages and even in cheeses as a flavoring," he explained.
Glacier Hops Ranch's about-face business adjustment from cultivation to broker/dealer is a perfect example of adaptation in the face of reality. With a startup infrastructure investment of multiple millions of dollars, hops farming is extremely risky to get in to. The average hops farm in the Yakima Valley is 700 acres or better, according to Britz. In comparison, the largest hops farm in Montana, Flathead Valley Hops, grows a little over 160 acres.
Collectively as a state, Montana growers only produce about 225 acres of hops. With a background in market and business development, Britz saw the writing on the wall. Although he owes his current livelihood to hops, he astutely recommends that production be left to those better equipped.
If Britz had continued cultivating hops, he would have been making out a living on only a handful of producing acres. Now, Glacier Hops Ranch brokers more contracted hops acres then is currently being grown in Montana.
"We found a niche," Britz simply stated.
Diversification is essential to any agriculture operation's long-term survival, but Glacier Hops Ranch wisely demonstrates there are many different facets to agriculture and diversification does not have to exclusively involve hands-on production.