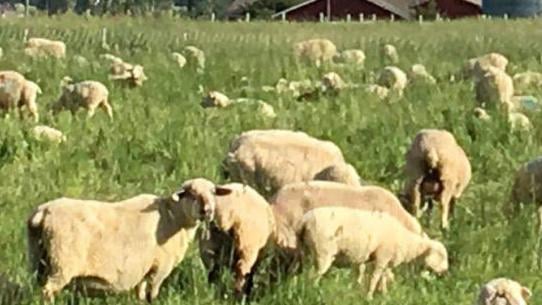 In the foothills of the Tobacco Root Mountains, Dave and Jenny Scott, co-owners of Montana Highland Lamb, raise sheep on grass through regenerative ag, producing high quality lamb.
"We raise 220 ewes on 32 acres of irrigated pastures, producing some 330 lambs a year – marketing 270 lambs with others kept as replacements," said Dave Scott.
Scott, who is also a livestock specialist with the National Center for Appropriate Technology (NCAT), was a panelist on the farmer panel for the Western Meat School.
Today, the Scotts direct market all the lambs they produce. They sell out to their leading markets two months before their new market lamb crop arrives.
Their lamb business started off slowly.
In 2009, Scott said they began direct marketing their lamb, selling 13 of them.
"We sold mostly to friends to see if our lamb was worth selling," he said.
Through selling and working at farmers' markets for the next decade, the Scotts learned a lot about the kind of lamb meat customers were wanting to purchase, and the lamb meat chefs wanted to prepare for a fine dining experience in restaurants.
"We were meeting chefs and other people, finding out what people wanted," Scott said.
In 2010, Dave and Jenny prepared samples of the cuts of lambs the chefs said they were interested in. They took the samples of lamb meat to more than 100 restaurants in the Bozeman/Big Sky area.
"Two weeks later, we called everyone (we had taken samples to) and about 16-17 percent of those replied they were interested. Half of them became our customers," he said.
In 2014, the Scotts were direct marketing their lamb mostly at farmers' markets, selling up to 100 lambs.
"In the first five years of our business, 80 percent of our sales were through farmers' markets," he said.
In recent years, there has been increasing demand for their lamb.
"Over the last three years, we have sold out (270 lambs) two months before our spring lambs arrive," he said.
Today, they market their lamb meat mainly to the MSU Dining Hall for student dining, the Bozeman Community Food Co-op, and to Food Hub in Missoula, which is about 150 miles away.
The Scott's markets were impacted by COVID-19.
"We had seven or eight restaurants before COVID and as of mid-March (2020), we were down to three in about a week," Dave said. "The good thing is one of those restaurants is a pizza and a beer brewing facility, and 'to go' was the perfect model for them. Our sales to them increased by 125 percent in the last several months, and it was all lamburger. We are sold out of lamburger."
Scott said it was "very good fortune," that the MSU Dining Hall purchased a lot of the legs and shoulder lamb products for mainly kabobs. However, in March, the students left, resulting in a loss of business at that time.
To compensate for that, the Bozeman Community Food Co-op, had increased demand for lamb from consumers. The Scotts increased their lamb purchases by 175 percent.
"People are cooking at home. We thought we might try to help this by posting on our Facebook pages (what kinds of recipes you could make with lamb), and we cooked kabobs. For the next two weeks, kabobs sold pretty well," Scott said.
Food Hub in Missoula also started buying large quantities of leg lamb meat and the Scotts also direct marketed lambs.
"We did advertise and sell more whole lambs this year," he added.
Scott said they believe in raising and selling only a quality lamb product.
"That is our buffer," he said. "We deliver all our own products and have developed good relationships with all our customers."
Scott believes in 2021 that people may be cooking at home more.
"Restaurants will not be coming back very soon. We still have three restaurants, but we made the decision to only sell to one grocery store and that has helped us with that relationship," he said.
One thing that will help Montana Highland Lamb in the future is that restaurant chefs are asking to purchase meat products developed from regenerative ag grazing because it spurs good soil and animal health.
"From a high-driven inputs system, using regenerative ag, our irrigation is down 25 percent. We no longer need to use fertilizer and we graze the same amount of sheep on those acres," Scott said.
In addition to speaking at the Western Meat School, Scott teaches others direct marketing and regenerative grazing through NCAT.
At the Scott farm, the sheep are grazed on irrigated grasses, and are moved frequently through more than 40 paddocks in the pasture. Each paddock is 70 percent of an acre.
They allow long rest periods for grass beginning with 42 days of rest in early spring.
"We wait one week longer in the spring to turn out our sheep, which gives us a longer period in the fall for grazing," he said.
When the grass is ready, Scott moves the portable fencing, and the sheep go in unison into the new paddock. The sheep graze for 24 hours and are moved again into the next paddock.
"The sheep leave behind trampled grass, which feeds soil microbes," he said. The trampled grass also holds in irrigation and rain moisture.
As a result of improved soil health, the Scotts apply fewer inputs to their grass.
"In the last year, we have provided no fertilizer as the plant root exudates give off nitrogen," Scott said.
The Scott farm has five varieties of grass that are managed so well that they never need to reseed.
"If you treat your grass right, you don't have to reseed anymore, which saves money and time," he said.
One way Scott manages the grass is by checking and measuring the grass in the paddocks, using hoops and rulers. Hoops are placed in the grass and the grass within the hoop is measured with a grazing stick.
Scott checks to see how the three layers of grass are being used. The trampled grass the sheep leave behind when they move to the next paddock is the first layer of grass.
Below is the second layer – decomposed grass – which was very tall grass 60 days prior.
"This (second layer) grass is already decomposing and providing for the soil microbes," he said.
The third layer has no grass, as it is completely gone after being used up by soil microbes.
"(Our sheep graze) just pure grass that is allowed to communicate with soil microbes for its essential nutrients from very nutrient-dense grass," Scott said.
Scott said their regenerative ag grazing in tall grass has led to increased soil heath, reduced need for inputs, and increased stockpiled grass for winter grazing.
"Regenerative ag grazing has been a quantum leap for us, and it has helped our farm," Scott concluded.