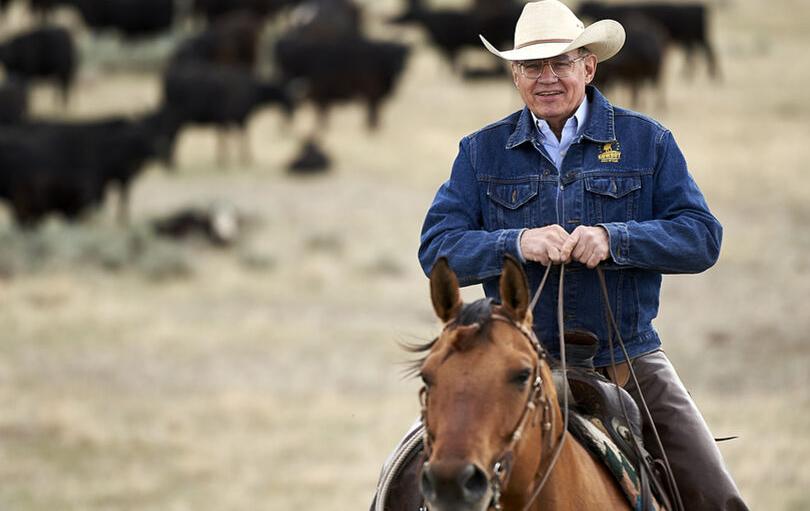 In recognition of his work as a rancher, business owner, farm broadcaster and former Montana legislator, Taylor Brown will be receiving an honorary doctorate from Montana State University. A selfless supporter of 4-H, FFA, and all things MSU, Brown is deeply humbled by this award.
Born in Sheridan, Wyo., Brown moved with his family to a ranch outside the small eastern Montana hamlet of Sand Springs in 1960. Growing up in such a rural landscape and attending a one-room school house through his eighth grade year, Brown had no early aspirations of being the public figure he is today. The paradigm of his life began to change, however, when he started attending high school in Lewistown, Mont.
"When I started high school, I got into FFA, and the FFA experience, like it did for a lot of us, helped give me the tools to succeed at about everything I can do today," Brown reflected.
It seemed that Brown was a naturally articulate speaker. During his junior year of high school, he won the state FFA Prepared Public Speaking contest, and although that award was but the tip of the iceberg for Brown in terms of speaking engagements, it was a serendipitous experience.
After high school, Brown attended MSU where he became very involved in the Alpha Gamma Rho (AGR) Fraternity. Much like FFA shaped his formative years, Brown credits AGR with giving him the leadership, public speaking, and lifelong connections he needed to be successful in his adult and professional career.
After graduating from MSU with a degree in animal science, Brown returned home to the family ranch. In 1979, family friend, Conrad Burns, approached Brown and asked him to come work as a farm broadcaster. It was an opportunity Brown couldn't pass up, and the rest, as they say, is history.
Brown and his wife, Shannon, purchased Northern Broadcasting System from Burns in 1985 and for the past 36 years Brown has worked to inform and connect the region's agriculture community. His name is now and forever will be synonymous with news in agriculture.
Pat Hatfield, former head of the Department of Animal and Range Sciences at MSU, said it best when he wrote about Brown in materials nominating him for the honorary doctorate degree:
"It would not be exaggerating to say that today, virtually every farmer, rancher, and agribusiness person in the state of Montana knows of Taylor Brown and his involvement with agriculture and public education," he stated.
Brown went on to serve eight years in the Montana Legislature and while there he focused heavily on agriculture and education legislation and policy, serving on the Senate Education and Agriculture Committees, chairing them each, one and two years, respectively.
"When I got into the legislature, the funding for ag research and ag extension was dropping every year. It was important to me that we turn that around because it was really obvious to me if we are going to prepare for the future in Montana, we need to have our number one industry strong," he said.
Brown has advocated tirelessly for MSU, specifically its College of Agriculture, both in and outside of the legislature. He has articulated time and time again how MSU's cutting-edge agriculture research has led to Montana becoming an agriculture producing powerhouse in so many ways. Continuing, Brown notes that MSU's College of Agriculture impacts the lives of Montana producers nearly every day. That alone, he says, garners MSU all the support it can get.
Brown has spent most of his life connecting people through radio, print, and TV. In keeping with that, he is a huge proponent of individuals banding together to make a larger impact.
"All of us can do something. If MSU, the College of Agriculture, the Extension Service and the experiment stations have done anything to help you and your ag operation, then you can do something to give back. Together we can do a lot," he said.
Brown will be awarded his honorary doctorate degree during MSU's fall commencement ceremony, scheduled for Dec. 17, 2021.