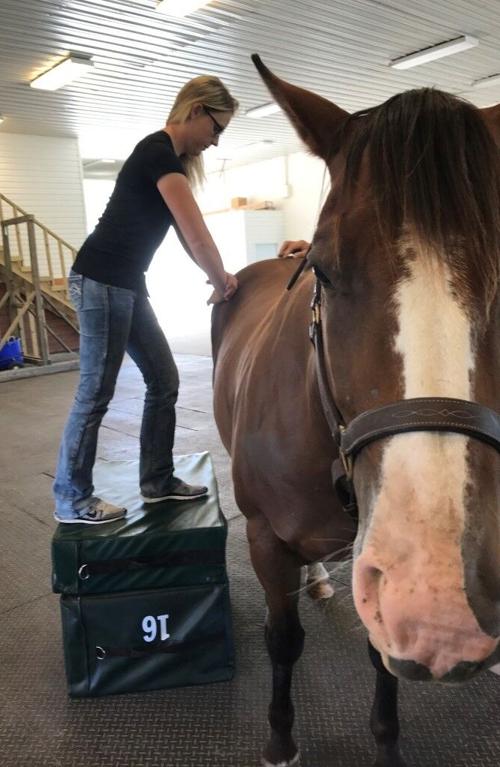 It's the running joke at the clinic that when a new client calls and says, "I need a chiropractic appointment for my horse," it's code for "There's something wrong with my horse and I am not sure what it is."
How interesting is it that when something is off with a horse, the first thing many people seek is alternative medicine? Isn't alternative medicine supposed to be an "alternative," to come second to the mainstay diagnostics and treatments? That's what is super fun about my career. Not only can I offer the standard of care, but also the alternative treatment options.
Veterinary chiropractic
Putting those two words side-by-side could almost be a juxtaposition for some veterinarians. But for me, they absolutely go hand-in-hand. I could not imagine practicing veterinary medicine without chiropractic, especially for my equine and bovine clients. In the same way, I cannot imagine people who are practicing "chiropractic" without practicing veterinary medicine right alongside.
I think that is how so many of these horses and cattle are getting mis-"diagnosed". I put these words in quotations because it is illegal for a lay person to get paid to diagnose and then propose or execute a treatment plan in any species of animal, just like it would be illegal to do that to a person. When a lay chiropractor sees a horse, they are only seeing it through the lens of chiropractic. When I see a horse, I see it through a veterinarian's eyes first, a chiropractor's eyes second, and a competitive rider's eyes third.
Horses are puzzles
The longer I do this, the more I realize how little I know. When you make an appointment with me for equine chiropractic as a new client, there's a lot to unpack. I need to know everything about your horse: signalment (age, sex, breed, purpose), training history, career history, medical history, surgical history, current and past prescriptions, current and past joint injection history, dentistry, shoeing, diet, housing, supplements, show me your best run, show me the run you're concerned about, I need to see him move at a walk, trot, lope, etc. The list goes on and on. Every part of that list is significant when you're talking winning or losing by 100ths of a second – 100ths of a second! And every horse out there is a shark, let me tell you. South Dakota's barrel racing talent is incredible.
Cattle are puzzles
Just as competitive are South Dakota's amazing cattle. Cattle are the much more condensed version of the above (note I said condensed, not easier). With them, I need to know the owner's concerns, last feet trimming date, housing, diet, and see them walk. You can tell a lot from watching cattle walk. Palpation of their joints is the next most useful diagnostic tool for me to try to figure out where the pain is coming from. After that, we might have to do X-rays, joint therapies, acupuncture, massage, foot trims, etc. All alongside the chiropractic that the calf originally presented for.
Conclusion
If you are taking your horses and cattle to a lay chiropractor, you're missing out on 90% of what could be going on with your animal. The Band-Aid of chiropractic may work for a while, but will set you back in the long term. Seek out veterinary advice first, and chiropractic second. That is why it is called alternative medicine.
Dr. Lainie Kringen-Scholtz is associate veterinarian at Twin Lakes Animal Clinic in Madison, South Dakota. 
This vet report is provided in conjunction with Twin Lakes Animal Clinic and Howard Animal Clinic. Questions? Send an email to Lainie Scholtz, DVM at lainiescholtz@gmail.com, call 605-256-0123, or write 45305 SD Highway 34 Madison, SD 57042.