When Andy Lacey suffered from aches and pains in his early 30s, he decided to change his diet and it helped at the way he looked at life.
Now he's doing the same sort of thing for his crops. The farmer from Trent, South Dakota has been working to feed microorganisms in the soil and build soil health. He's trying different natural remedies for controlling pests, too, and he's been pleased with results.
Lacey, 37, will serve as Tri-State Neighbor Crop Watcher for southeastern South Dakota this year.
He grows corn, soybeans and some small grains on about 600 acres he rents in addition to raising 80 head of cattle with his dad, Ted Lacey. He joined the family farm after completing South Dakota State University's ag systems technology program. Together, he and his dad run The Hay Manager, a company that manufactures bale feeders.
Their land in Moody County has very sandy soil, and many fields are irrigated. While the Laceys claimed some prevent plant acres due to wet conditions last year, they are working to build the soil's ability to handle water in both wet and dry years.
"I'm regenerating the soil," Lacey said. "I'm growing the soil."
For the first time last season, Lacey tried intercropping by growing his cash crops and a diverse cover crop at the same time. He planted rye and other cover crop species between 60-inch rows of corn, and he was pleased that the corn stayed healthy and clean all summer with no green snap or issues with toxins.
"It was planted the last day of May, and it made it – which is kind of unheard of," Lacey said.
In the field next to the spacious corn rows, he seeded a cover crop mix of rye, buckwheat and sunflowers a week after planting soybeans. His plan there was to draw beneficial bugs with the flowering plants – insects that would prey on aphids before they could prey on his soybeans.
He spent all last season unsure how things would turn out at harvest. For the most part, it worked, he said. He was easily able to separate the soybeans from the cover crop seeds. But his efforts weren't focused on yields so much as plant health and soil health.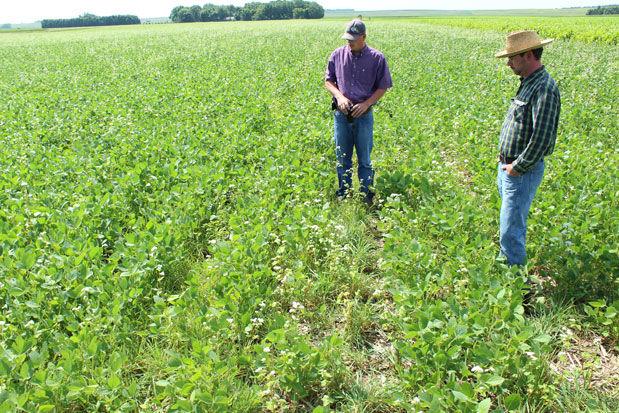 "I think it made a difference," he said. "The soil is so much healthier this year."
For 2020, he's making a shift to planting more small grains. He seeded 80 acres of barley and planted an eight-way small grain mix on 150 acres, which he plans to either chop for silage, graze, or harvest for seed.
Lacey is also bringing in a mix of livestock. He picked up three American Guinea hogs this summer, and he raises chickens as layers and broilers. He'd eventually like to put them into a grazing plan with cattle and sheep or goats. It's a plan for weed control, fly control and adding a natural fertilizer to the soil.
Lacey and his wife Allison farm near Trent. She does the bookkeeping for the many business ventures they are involved with. They have three kids: Jacob, 6, Caleb, 4, and Brynna, 2. Lacey also serves on his local township board and the Moody County Conservation District board.