The process of allowing South Dakota farmers to grow hemp is entering its final phase after the U.S. Department of Agriculture approved the state's plan for handling hemp in mid-October. The state will now go through its final review process to legalize its newest agricultural product.
The South Dakota Department of Agriculture will hear final comments on the approved hemp plan Nov. 13 in Pierre. After this comment period, the department will establish a 60-day window to accept grower and procession hemp licenses for the 2021 season.
Several Native American tribes have also submitted plans to the USDA, but thus far all are being reviewed.
Even with hemp nearing the finishing line of legalization after the bill passed through the South Dakota legislature in March, many are confused about what the future holds for what is called the world's oldest agricultural commodity. Farmers in other states saw hemp markets collapse with an oversupply of raw material and not enough processors.
Derrick Dohmann, the sales manager for Horizon Hemp Seeds and the vice president of the South Dakota Industrial Hemp Association, said that while the state is behind its neighbors in hemp infrastructure, there should be a good start in 2021.
"We're late to the game, but it won't impede us too much. We'll catch up just fine," Dohmann said.
The first major issue the state will have to overcome is a lack of information on the crop. The hemp association has put on several educational talks on growing hemp over the last few months, and will continue to put them on for growers interested in planting a test crop in 2021.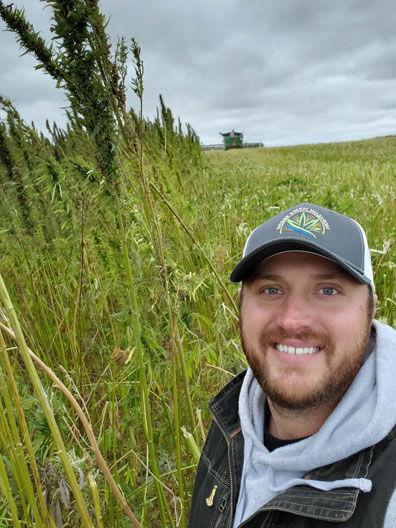 Dohmann, who already works with other states for selling hemp seeds, said planting the crop won't be as difficult as people think.
It can be planted with any grain drill, and working with the crop won't require any special equipment until producers consider planting hemp for CBD oil. Perhaps the biggest change from typical row crops will be the spacing, he said, as hemp typically requires about 7.5-inch rows to 15-inch rows to eliminate most weed pressure. There are currently no approved herbicides to use with industrial hemp in the U.S.
"When the plant canopies out, it'll cut out all the sunlight and that's your weed control,"
Most producers start out with 100-acre test field, at most, in his experience, and growers make sure the field is as clean as possible before planting. Horizon Hemp usually recommends a 20 pounds per acre seeding rate, but he said a lot depends on the farm – like most crops out there.
Much like typical row crops, hemp seeds come in different maturities, but typically producers will look for an end-of-May planting date as to get the crop harvested before frost hits in the fall.
"There is a learning curve with this stuff," he said. "It's not like corn and soybeans."
Once harvest rolls around, Dohmann said the work can be done with pretty much any combine and grain cart. Any bean head would do just fine for industrial hemp, but different headers will have to be used with hemp used for CBD.
"It just gets tricky with trial and error on combine settings," he said.
The biggest change hemp will have, compared to traditional commodities, is that it needs to dried right away. While the safe harvest moisture is around 20-25% in the ground, Dohmann said that hemp needs to be under 10% moisture to be safe.
"Making sure that seed is on air is probably the biggest point," he said.
As growers in other states found out, the biggest sticking point for hemp is processing. Very few processors are set up take large amounts. Smaller processors like Horizon Hemp Seeds will be available to producers. However, Dohmann recommends a producer be no farther than 200 miles away from wherever they market their grain.
"The state needs processors on the industrial side, and even the CBD side, to extract and crush seed for oil," he said.
Horizon Hemp is in the final stages of putting up a processing plant in its home base of Willow Lake, South Dakota. The plant, which aims to be fully operational by harvest 2021, will be able to 50,000 pounds of seed a day, but Dohmann expects a slow start around 6,000-8,000 pounds per day. That would support about 4,000 acres of industrial hemp.
While other processors are on board, such as Glanbia out of Sioux Falls, there are still big question marks on the total processing capacity available to South Dakota farmers.
AH Meyer and Sons of Winfred, South Dakota, another processor on board to get their license for the 2021 season, is looking to process hemp for CBD oil. It's a market they wanted to get into two years ago when hemp was first legalized in the 2018 farm bill.
"Two years ago was the perfect time to get into hemp processing," said Ken Meyer of AH Meyer. "It was very high at that point, and now it's come back down to earth."
Meyer wattributes the slow start to the COVID-19 pandemic, but said he is just happy things are looking good for next year to use their supercritical CO2 facility to extract CBD oil. The AH Meyer facility aims to process about 700,000 pounds of industrial hemp a year.
Dohmann and Meyer both predicted that South Dakota will start out slow and have to work its way up to full-scale industrial hemp producing and processing. However, Meyer said he's noticed a renewed interest by farmers at the last few educational sessions, which has given him hope for a faster developing market.
"More people come and have paid attention," he said. "What's nice is that there are different people involved that have interest in different parts of what makes a good industry in the state."
As vice president of the association, Dohmann is working to provide more educational tools for those wanting to know how hemp compares to other products available.
"There is so much misconception out there," he said.