Those in agriculture are accustomed to coming together – whether it be a prayer at supper or solving an issue that is plaguing the industry.
This summer, those in agriculture faced an issue that impacted everyone from producers to customers, but they found solutions at every level.
When the Smithfield pork processing plant in Sioux Falls closed indefinitely Saturday, April 11 after an outbreak of the coronavirus at its Sioux Falls plant, those in the pork industry found themselves up against a wall.
For producers like Ferlyn Hofer out of Canistota, South Dakota, who runs a family-owned and operated hog facility, the question wasn't whether they'd be OK, it was whether or not their pigs would be. But as fate would have it, the Hofers and many others saw a flood of help from unexpected places.
"I feel as though there was divine intervention," Hofer said.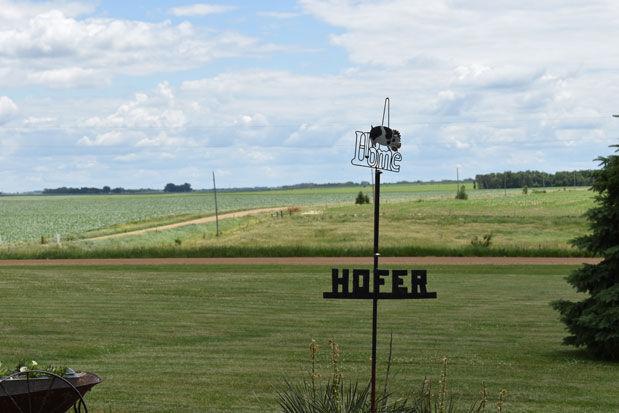 On the Tuesday after the plant closure, Hofer's son, Ryan, put together a website putting out the call for any and all who would like to purchase a few pigs to fill their freezers. Ferlyn, who had no idea his son would do this, began receiving dozens of calls an hour from unknown numbers.
After a prayer at the table with his pastor who stopped by to pick up a few pork coupons Hofer was giving to the community, Hofer sat at his table from noon until 10 p.m. just fielding calls from individuals who wanted to buy pigs. Starting with a calendar and eventually moving to a detailed notebook, by July the Hofers had filled 950 individual freezers through these small pork sales, all set up by his son's website.
"We were totally unprepared for this," he said.
By the end of the day that Wednesday, Hofer said his voicemail was full and he had over 125 unread text messages requesting concrete times to pick up pigs to be shipped off to their respective local lockers.
"My pigs went to Highmore, they went to Platt, they went to Flandreau," he said. "Any locker that could be organized, they came and got them."
When the fervor slowed down, Hofer said he had pigs go as far as Montana and Wyoming while he fielded calls from Oklahoma and Southern states.
"It's been a blessing how things have worked together," he said. "I'm doing what I thought I had to do to keep the pigs moving."
Lucky for the Hofers, he was able to get his pigs into dozens of small meat lockers. Now many butchers are tied up through next August.
While the community stepped up to help fill some of the void left by Smithfield's processing capacity, the Hofers were in a fairly unique situation. Hofer said that he expects thousands of pigs had to be euthanized due to lack of options in various other states but he was proud of South Dakota's ability to stay on track – whether it was feeding pigs maintenance diets until finished pigs could find a home or through small sales like the Hofer's.
The big question now, with Smithfield back up and running – at least at 85% capacity as of July – is whether or not the trends that began during the COVID-19 pandemic will continue after the worst has passed. Hofer said several of those who purchased individual pigs have requested more for the future, but even he is hesitant to agree, as they were selling to move at just $100 a head.
However, the reality is that Hofer and his family are one of many that produces pigs year-round. He said he'd love to send more pigs to a local market.
"A lot of people asked if they could pick up pigs again this fall and we told them, we have pigs year-round," he said. "Anytime you want a hog, just line it up with a locker."
Even if Hofer never sees a majority of his new customers again, he said being able to make connections, educate the general public on the hog industry, and perhaps gain a new customer is reason enough to appreciate what occurred over the last few months.
The education aspect of the sales extends even to Hofer. He said he was able to see the value local lockers serve for the Midwest as they help fill freezers at a time of uncertainty. Hofer said he just hopes that many producers and packers alike learn from the experience. It's unknown how things will change should there be another pandemic, or another industry-wide issue.
Perhaps the biggest takeaway for Hofer is his belief that hog expansion has to stop. He said that the hog industry has exploded over the last few years across the Midwest, and if hog barns keep propping up with no fall back plan to handle the pig load should Smithfield shutdown again, they will be in an even worse spot than before.
"There has been a lot of expansion," he said. "We've built more processors, but we're still full and we keep building barns."
The Hoffers have owned and operated their hog facility in Canisota since the 1970s. Ferlyn farms with his three sons, who all help in various capacities. As past-president of the South Dakota Pork Producers Council, Hofer has extensive experience working inside the industry and has seen first-hand what the community can do. Ferlyn and his wife, Karen, live on their operation with their youngest son Nolan working full time. Their oldest son, Ryan, works as an electrician and helps with their crop farming operation.
The Hofer's also have a row crop operation, produce their own feed for the hogs and haul their own livestock, which is what Hofer said is the key to their success.
"Doing it all is why I felt I don't need to expand," he said. "There is enough for everybody to stay working."