Dec. 1 will be an emotional day for Hugh Ingalls. The 90-year-old rancher from Faith, South Dakota, will be selling off his cow herd, saying goodbye to more than 500 of his Angus females and marking the end of an era for what's known as South Dakota's oldest Angus herd.
Less than a month out from sale day, Ingalls shared some thoughts on his time in the business and what it will be like to watch his legacy walk away.
"I've kind of adjusted," Ingalls said on the phone from the ranch in Faith where he still lives. Though he's had time for the reality to set in, he expects there will be times at the sale barn when his emotions keep his words from coming out.
He and his wife Eleanor expect a big crowd for the Dec. 1 female dispersal sale at the Belle Force Livestock Auction with many familiar faces in the seats. Though the Ingalls would like to be able to host the sale at the ranch or closer to home in Faith, it was decided that the town of Belle Fourche could provide better accommodations for travelers.
Ingalls still helps out on the ranch as much as he can. He runs the tractor, but he's no longer able to ride horse as he'd like to.
"I'm still healthy, but my legs don't work very good. I can't run a footrace very well," he said.
He wanted to be around and in good health when his herd was sold, to be able to have a little control, he said.
"I'd just as well get it done when I'm here and able to enjoy it. It's going to happen sometime," he said. "It will save some people a lot of anguish and anxiety after the fact."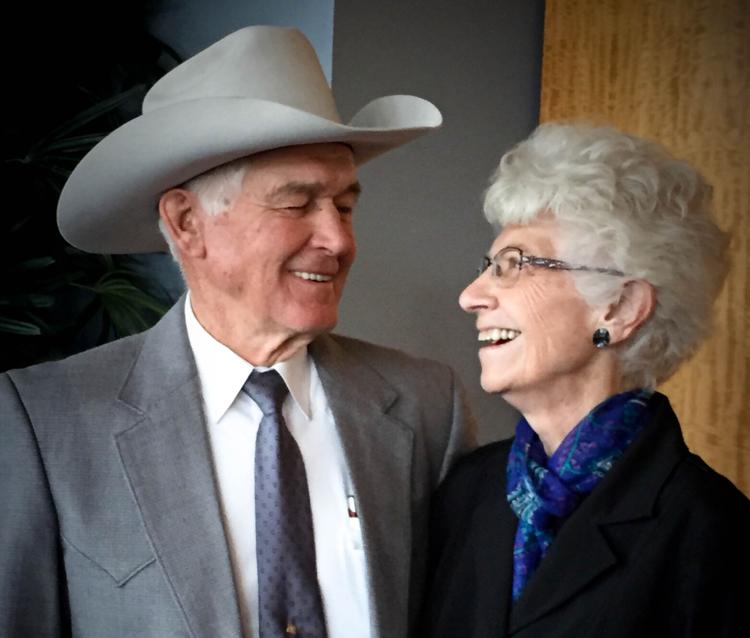 The Ingalls have worked closely with hired man Ty Dieter over the last dozen or so years. Hugh and Eleanor's six kids are involved in a "limited form," as Hugh put it. Their two sons have Angus ranches of their own in Wyoming.
"They've all got their own businesses and lives to live," he said.
Ingalls Centennial Angus traces its herd back to the registered bull Hugh's great-grandfather, James Ingalls, purchased in 1895. The American Angus Association recognizes the Ingalls with having the longest running registered black Angus herd in the country and one of the first Angus herds in South Dakota.
Hugh was 11 when he dad gave him his first heifer calf, Bessie, whose pedigree went back to Bar Marshall, an award winning bull in the late teens and early 1920s. Bessie was the first black Angus to compete in the Western Calf Show in Rapid City that fall, and she stayed active in the Ingalls herd until 1957, according to a history put together by the Ingalls family for the sale catalog.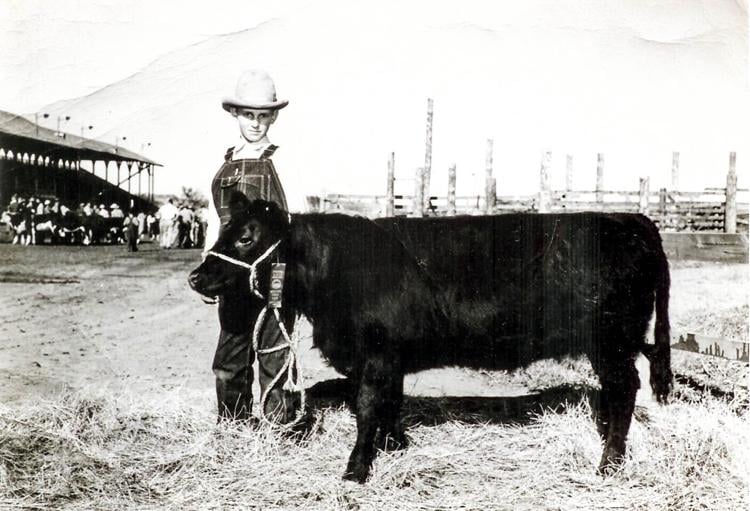 The Ingalls put efficiency and good mothering traits at the top of their priorities in building their cow herd. It's a herd built for surviving on grass in the sometimes extreme conditions of western South Dakota, but there genetics could work anywhere, said Rod Geppert, regional manager for the American Angus Association. If an East River producer is interested in purchasing a cow for herd, they'll likely find that they respond very well feed, according to Geppert.
"Their operation has been a perfect example of 'you take care of the cow and she'll take care of you,'" he said.
The Ingalls didn't chase trends throughout the years. Instead, they opted for moderate sized cattle with a balance between production scores and functional cattle.
"I think there's a lot to learn from those people," Geppert said, adding that the longevity of their top-performing herd and Hugh and Eleanor's married life of 70 years and counting stand the test of time.
The Ingalls have become role models to others in the industry. The female dispersal sale is a chance for young people to get a solid start in the Angus businesses, or for any producer to be able to say they purchased genetics through Hugh and Eleanor Ingalls, Geppert said.
The Ingalls have long been willing to share what they know for the benefit of the beef industry. The family has maintained production records since 1956, and that history provided a valuable base of information when the Ingalls started working with South Dakota State University Researchers in the 1970s.
Dr. Robbi Pritchard, retired animal and range science professor, started working with the Ingalls in 1984 on a preconditioning research project. For the sale catalog, he shared how valuable their relationship was to SDSU research and how impressed he was with the performance of the steer calves the university purchased from the ranch.
"Somehow he found a way to make the steers everything that any feedlot could ask for and still have a cow herd truly adapted to the prairie," Pritchard said.
The Ingalls learned from the experience of working with SDSU researchers, too, Hugh said: "Always try to be cooperative and ahead of the game."
Ever humble, Hugh said he's grateful for being able to work with some very special people over the years – from neighbors and university extension folks.
"I'm not anybody special. I've just been exposed to a lot of special people," he said.
It hasn't always been easy on the Ingalls Centennial Angus Ranch. The 120-year history has brought many trials.
"We've survived some extreme times – ups and downs and blizzards and droughts," Hugh said. "I wouldn't want to go through those again without knowing there was something better coming along."
Never far from his mind is the Atlas Blizzard of 2013. Nearly 30,000 head of cattle in western South Dakota died when a severe snow storm dumped three feet of snow in early October, before many cattle had their winter coats that help them survive.
The Ingalls lost a substantial amount of cattle. Hugh said the number tallied three figures.
"It was pretty drastic," he said.
But, he kept the faith through it all and continued on.
This winter, Hugh will miss going to sales and buying cattle. Though his cow herd will be sold, he plans to keep a few special cows at the ranch.
"I've got to keep my finger in the pot," he said.
And come January, he'll hold the bull sale Ingalls Centennial Angus has put on for the last three decades. The Ingalls legacy will continue influence Angus herds around the region.
"The cows have been good to us. I have no doubt they'll treat their new owners just as well," Hugh said.