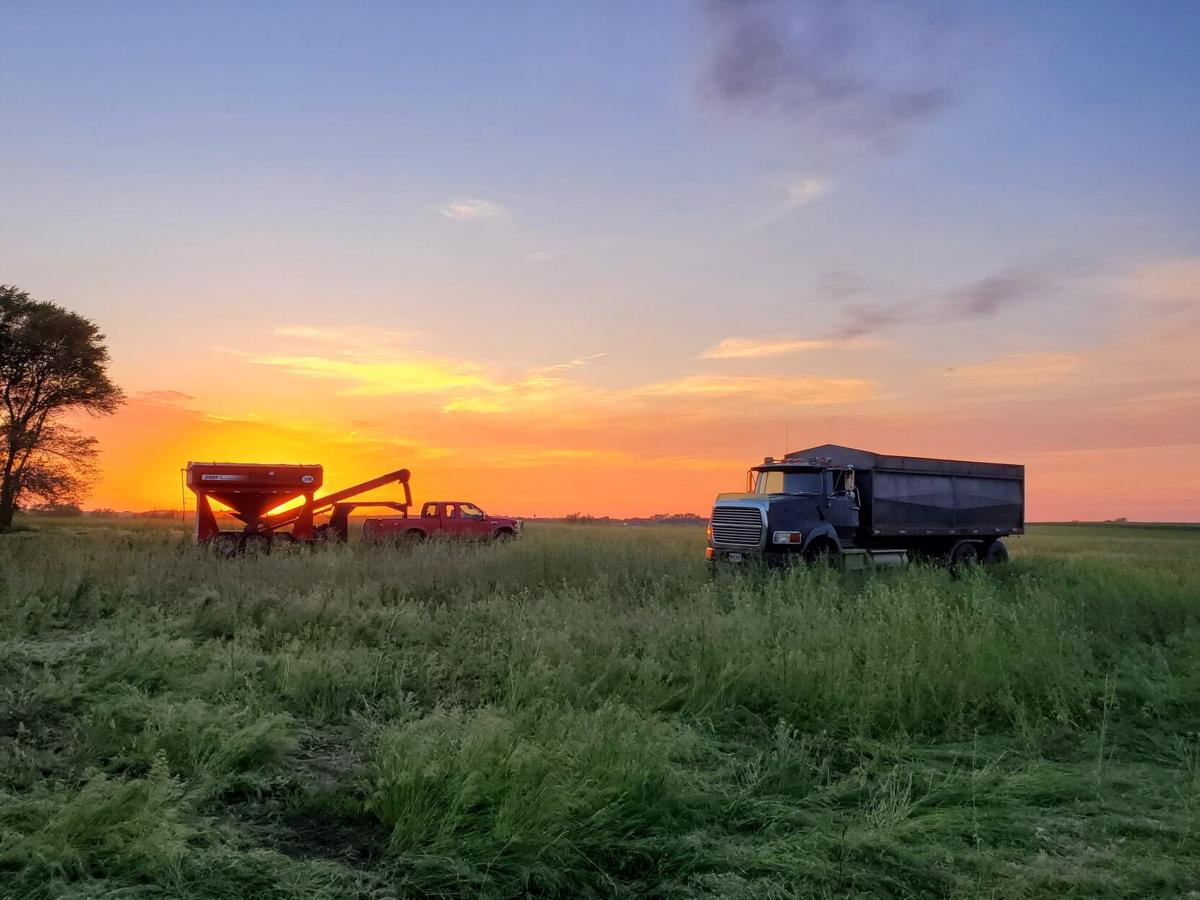 "Farming is a sunrise to sunset, 365-days all day, everyday job," said Lexi Johnson, a kindergarten teacher and farmer in De Smet, South Dakota.
Johnson's photo of her husband Ray planting soybeans into cover crops at sunset was drawn as winner of the Farmers & Ranchers at Work 2020 Fall Photo Contest hosted by South Dakota Farmers Union. More than 100 photos were contributed by farmers, ranchers and their families, and each were entered into the drawing. Johnson was awarded a $250 gift card.
Johnson had just returned from delivering a turkey dinner with all the fixings to the field Nov. 4, the family's last day of corn harvest.
"I figure a Thanksgiving meal is perfect for being thankful for getting all the crops out this year," she said.
The Johnson family farm is diversified. They raise cattle, sheep, corn, soybeans, spring wheat and other small grains. Johnson grew up on a farm near Iroquois, and she said she didn't expect to raise her family on a farm.
"I told my parents 'I'm never marrying a farmer. …and we've been married 18 years," she said.
Reflecting on the life she and Ray and their children Connor, 14, Breyten, 12, and Kiraley, 7, have on their farm, she said she wouldn't have it any other way.
"There is never a dull moment and it is a good place to learn about hard work," she said.
During the school year, Johnson works as a kindergarten teacher. She says this career works well with life on the farm because she has summers free to help out. She adds that farming can also be flexible when it comes to the school year schedule. Because their sons, are both active in wrestling, Ray schedules lambing and calving around wrestling season.
"In case our boys or their teammates get to state wrestling, we like to finish up lambing before wrestling season and start calving later in March," she said.
South Dakota Farmers Union launched the Farmers and Ranchers at Work photo contest as a way to connect farm and ranch families from across South Dakota during the COVID-19 pandemic. The organization also held a spring contest.
"These are the families who do the work that is our state's No. 1 economic driver," explains Karla Hofhenke, South Dakota Farmers Union executive director. "As a grassroots agriculture organization, we are always looking for ways to support farm and ranch families and share their stories – whether that is through policy, education, media or fun contests like this one."
Like Johnson's photo, the more than 100 contributed photos provide a glimpse into life on family farms and ranches across the state. See a slideshow containing many of these photos below: