Jamen Benson stands at the top of a hill overlooking his cattle yard just outside of Lyons, South Dakota, and he sees opportunities for passing the family farm on to a sixth generation.
Jamen's son, Trevor, is about to graduate high school. He and his cousin Lane Reecy are great assets to the farm, doing everything from running the grain cart to driving a loaded semi to the elevator.
"I've got to come up with a way to get them back here," Jamen said.
His plan lies in the empty field beside his feed lot. He's considering putting up a monoslope barn there this summer.
Jamen, 46, and his wife Jackie have two boys, Trevor, 18, and Brady, 14. As his sons and his nephews step up, his parents, Roger and Teresa Benson, are moving toward retirement.
The family farms about 1,200 acres, feeds 200 head of fat cattle and raises cow-calf pairs.
Having studied ag business and marketing at South Dakota State University in the early 1990s, Jamen didn't think the family farm could support him, but he was able to rent some land and he formed a partnership with his dad, Roger, in the early 2000s.
Agriculture is more competitive today, Jamen said. Farmers need to balance the benefits of adopting new technology without spending too much. He has been pining for a new tractor, but he said he's glad they haven't over-extended themselves.
A new cattle barn is a good option for growth at a time when land prices are high. Farm ground near Lyons sold for $8,000 an acre this spring, making Jamen nervous about what could happen if the crop ground he rents changes hands.
"We're going to need to grow," he said. "That's where this cattle barn will have a good fit."
Jamen showed home-raised Charolis-Limosine steers in 4-H as a kid. That's how the Tri-State Neighbor got to know the Benson family. His younger sister, Janelle, was helping clean his steer at the 1985 Sioux Empire Fair when then-editor Maricarrol Kueter captured her picture, which wound up on the August cover of the Tri-State Nieghbor.
"She's our farm girl," Jamen said of his younger sister, recalling the days she would drag alfalfa and oats in the spring and run the grain cart in the fall. She still returns home to help with harvest when she's able.
"I kind of like the hustle and the bustle of it all, moving field to field," she said.
She's proud to see her nephews graduate to running the big equipment after watching them grow up on the farm.
Today, Janelle, 39, is married to Andrew Sikora and the two farm with his parents in Spencer, Iowa, raising row crops and custom feeding hogs.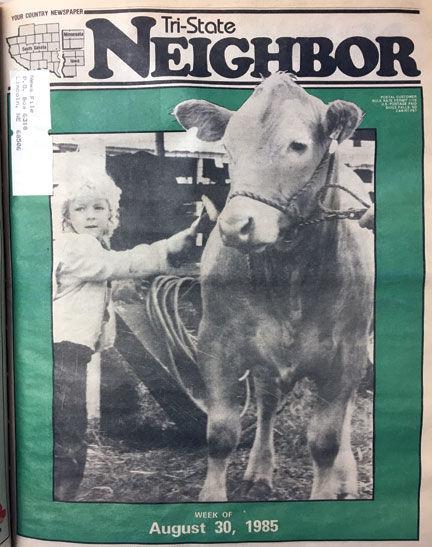 Her husband is also a territory account manager for West Central Distribution, a division of CHS. She works as needed at Avera Medical Family Practice Group in Spencer, and she's a stay-at-home mom to two little ones. Paige turned 2 in March, and her little brother Benson "Ben" Sikora was born just a few weeks after her birthday this year. His name is a tribute to his mom's family roots.
"We both feel very blessed that from the time we were very little we got the opportunity to work side by side with our families and carry on that tradition," Andrew said. "For Janelle, it was three generations working side by side on a daily basis."
That just how their parents wanted it.
"It has always been important to them that it be a family operation," Janelle said. "My mom really enjoys preparing meals for everyone and their kitchen table being the 'home base' of the operation."
Her older sister Jennifer (Benson) Reecy is near the family farm, too. She was one of the few women chief master sergeants in the South Dakota Air National Guard and now works in banking. She and her husband Mike Reecy have two boys, Lane and Luke, who are both beginning to take more of an active role in the family farm.
When the Tri-State Neighbor caught up with the Bensons in 2009, the family was upgrading to GPS technology in their tractors and adding more cropland. They were preparing to find a new place to sell cattle ahead of the closure of the Sioux Falls Stockyards, which had been their sale barn for generations. Their grandpa had brought cattle to sell there as a young man.
The stockyards in Sioux Falls made cattle hauling a quick trip.
"We were spoiled," Jamen said.
Now, they truck them a bit further – to Madison, Mitchell, or Sioux Falls Regional Livestock in Worthing. Some they sell direct to the packer.
The Benson cattle operation has changed in other ways. About five years ago, the family began finishing cattle and buying more head to feed.
Calving season has just begun on the Benson farm. Field work could be a ways off. In late March, Skunk Creek was flooded near Lyons, and Jamen had about 200 acres under water. Last fall turned wet and prevented him from getting out in the fields to till, so he's behind there, too.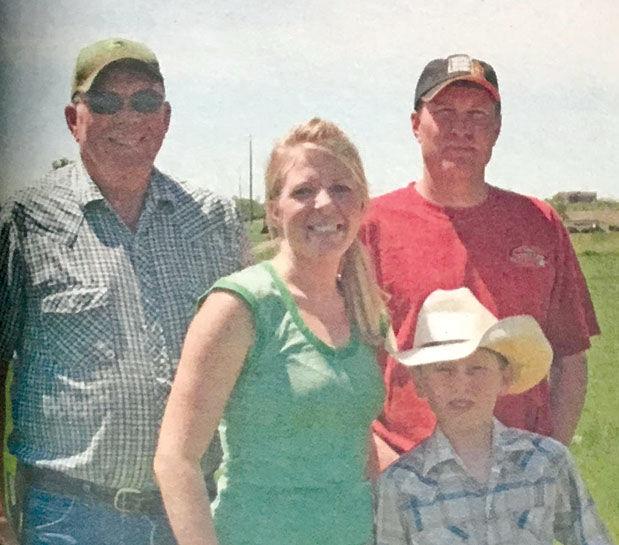 "All the plans we've made so far, we might as well toss them out the window," he said.
Jamen is looking forward to less stress and a lighter workload once the next generation comes to work at the farm full time. "I'm going to move to Texas and get a job," he joked.