There was a time when Baltic, South Dakota, dairyman Lynn Boadwine liked working with hogs more than dairy cattle. 
Boadwine has been selected as the 2021 Agribusiness Citizen of the Year by the Greater Sioux Falls Chamber of Commerce Agribusiness Division.
Growing up on the family farm that was homesteaded west of Baltic in 1874, Boadwine went to South Dakota State University for a degree in general agriculture. When he returned to the family farm in 1986, he was an adult farming in the high interest rates of the 1980s. His dad was wrestling with whether or not to keep the cows.
He kept them and Boadwine started milking them.
"He made me a deal to milk his cows and said if you want to add some you can and have income over feed costs. So that's how it started," Boadwine said. "I bought 13 cows from a guy and milked his three rows of cows and milked my row. I found out maybe Dad made a bad deal, but he probably figured out that's what got me to go."
Since those first 13 cows, Boadwine got out of the hog business in the early 1990s and has expanded the dairy herd exponentially. He is a managing partner in four dairy operations located near Baltic, Milbank and Sherman. Between the different locations, Boadwine's group manages thousands of Holstein cows.
With the growth in cow numbers came the addition of employees. He says the dairy supports many families.
"You don't do this all alone. You've got to have good people that are driven," he said. "We have a lot of dedicated employees. There's a lot of other businesses in our community that benefit from the business relationships. Good people is what makes it happen."
While he notes some do not like large scale operations, Boadwine says every farmer counts and rural America keeps losing people. A large operation like Boadwine's uses many resources locally to keep costs down and stay competitive.
"I think of all the wheat straw we buy. We're using semi loads of soybean meal. In our operations, in corn silage and corn equivalents we probably use 2 million bushels," he said.
To make the farm more efficient, they are working with a company from California to construct methane digesters to capture the methane from the manure.
Boadwine sees a tremendous opportunity for agriculture to show how producers are battling climate change. While those not in agriculture can do things like buy energy efficient light bulbs or an electric car, producers can work on preserving and protecting resources.
One way they do that is to reuse water. They use a lot of water on the dairy to cool milk, clean equipment and separate sand out of the waste system. The water used on one part of the farm gets reused again on another part.
The cows themselves have also gotten times more efficient from when he was growing up. When he was growing up, the cows would produce about 40 pounds of milk per cow. Now they are up around 90 pounds of milk per cow.
Boadwine says that increase in productivity comes from rapidly changing genetics and cow comfort and makes a smaller environmental footprint because of her efficiency.
"It's just better animal care, better genetics, better feed strategies," he said.
While it's not the most attractive thing to talk about, manure makes a difference for the climate too. The use of organic fertilizer through manure means less use of commercial fertilizer.
He and other producers are also using precision technologies to place the correct amount of manure needed on fields. Boadwine also planted about 2,500 acres of cover crops this year in an effort to hold soil and fertilizer in place.
The Boadwine farm won a Beef Quality Assurance - Farmers Assuring Responsible Management Dairy Award in 2020.
They have implemented the use of artificial insemination with the use of beef sires on their mature cows. All of those calves go into the feedlot sector. They implement genomics and sexed semen and use sexed semen on their heifers to get replacement heifers.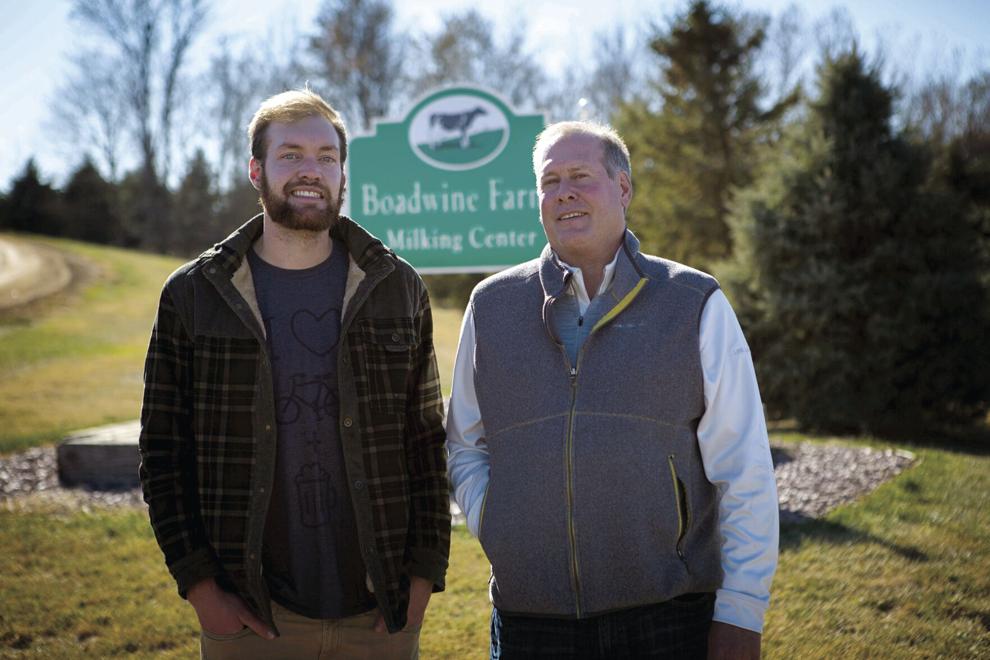 "We don't have the answers and we don't always get it right, but we're always working on improving," Boadwine said.