They say South Dakota is a small state where everybody knows everybody else. It's true that you won't go far before finding someone who knows Jim Woster.
In his 80 years, his friendly smile has met many friends in the region while championing agriculture, health care or South Dakota State University. Perhaps he's stopped to chat just because he takes a genuine personal interest in others. Jim is so well traveled and well known that he can make a connection with most anyone he meets.
In honor of the Old Stockyards Guy getting older – Mr. Woster turns 80 the day this issue comes out – we spoke with a handful of his friends and relatives about what makes Jim special. There's plenty, and there are many more whose lives he's touched. Here are just a few stories that speak to the character of Jim Woster.
Family man
There's no shortage of tales from growing up on the Woster farm in Lyman County – especially in a family of writers, reporters and born storytellers.
Brother Kevin Woster shared a family favorite that speaks to Jim's personality:
"Jim was about 3. Dad was busy working out around the farmyard somewhere and Mom was busy working in the house, as they usually were. And when they turned around Jim was gone. They hadn't looked far or called for long when they saw him up at the top of the ladder going up to the windmill blade. Hanging on with one hand waving with the other. Mom and Dad were petrified, of course. But Dad spoke softly to him as he went to the ladder and climbed slowly up to grab him. Mom said Dad was calm through the whole thing, until he got down to the ground with Jim. Then his knees buckled.
"As mom used to say: 'Oh, shoot. That kid could never sit still. He's had ants in his pants since he was a baby.'"
If it's true that the eldest Woster sibling is always on the go, but equally true that he's always thinking of others - even if his visits or phone calls only last minutes. When Kevin worked at the Argus Leader in downtown Sioux Falls, he once got a call from his oldest brother, who was stopped at the red light below the newsroom windows on 10th and Minnesota.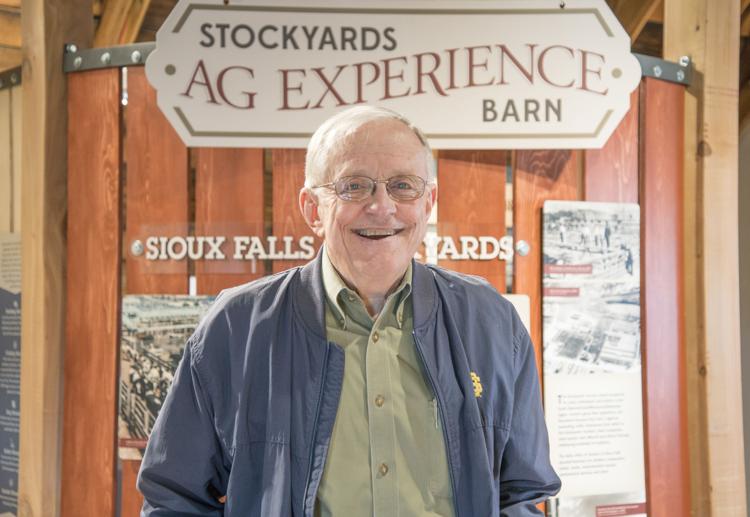 "I went to the window, looked out and down. There he was in his car. 'Well, gotta go,' he said," as Kevin tells it.
Jim always makes time for his loved ones. On the road buying cattle, he'd pass through Brookings and take his college-aged brother out for breakfast before his next stop. And he was also there when Kevin needed him most.
Kevin is the youngest Woster sibling. He was 16 when their dad died of cancer, and he took it pretty hard. Jim was in his late 20s and busy with his career and his young family, Kevin said, but he stepped in and became the stand-in father he needed at that point.
"I can't imagine a better brother or a better man," he said.
He was there for his sisters, too. He walked his sister Mary Alice Woster Haug down the aisle when their dad was too weak.
"Years later I realized that he walked into the church a son and walked out the head of our family," she said. "None of us asked if he wanted that responsibility, and he never complained about the burden we often placed on him.
"Over the years, he expanded his family beyond the Woster clan to include many, many South Dakotans," she said. "Just as he did for me the day I married, he willingly rises to the occasion whenever his South Dakota family needs him."
Bob Yackley of Onida has been a friend since the two were in college at South Dakota State in the early 1960s. Jim is credited with introducing him to his wife, Elaine. Jim and Elaine went to high school together, and when she was looking for a certain book for one of her college classes, Jim sent her to Bob, who later asked for a date. Now the Yackleys have been married 59 years, and they're dear friends of Jim and Penny Woster.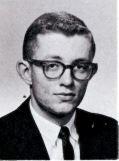 Jim spent his college days cheering Bob on as he played basketball for State. Now their annual tradition is sitting side by side watching the Summit League Tournament. This spring's event was one of the last big festivities they took in before COVID-19 canceled anything with a crowd.
Yackley calls Jim the best friend he has in the whole world. He values their friendship deeply and has great admiration for Jim.
"There's just not anybody else in the whole world that has more compassion for people than Jim Woster's got," he said.
One way he displays that compassion is through his work at Avera hospital. Jim has been known to make the rounds visiting patients he knows and even those he doesn't know. When a friend from out of town knows of someone who's got an aliment serious enough to send them to the big city for care, they'll often phone Jim and request a goodwill stop. His visits are short, but they mean the world to someone far from their rural family.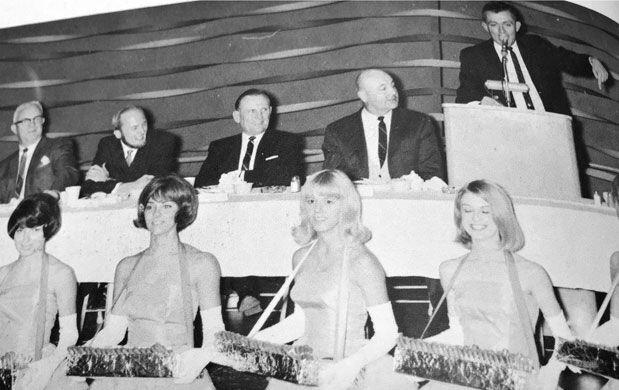 "He never overstays his welcome with people. He's there a brief time but really just spreads sunshine wherever he goes," Avera spokeswoman Lindsey Meyers said.
Jim started the hospital rounds at the request of a longtime Avera administrator, the late Sister Colman Coakley. They got acquainted when Jim worked at the Sioux Falls Stockyards. Jim started his days early – and still does – and the hospital's Mass was the only service that took place early enough for Jim's schedule.
"One day Sister Colman told Jim he had some work to do the next day, and he never stopped," Meyers said.
One of her favorite stories of Jim demonstrates his quiet way of helping others. Someone spotted him outside the hospital collecting parking tickets off of out-of-town cars. Knowing that the drivers were probably unfamiliar with city parking rules and had more important things on their minds with loved ones in the hospital, he paid the tickets himself, Meyers said.
"He just wanted to help people out at the hospital who were going through a stressful situation," she said. "He always puts himself in other people's shoes."
A familiar voice
Many people know Jim's voice from the radio or from the countless times he's taken the podium as an emcee or featured speaker at an event. His audience appreciates his light-hearted banter, but they never forget his point, Yackley said.
That made Jim an important spokesman for many a cause.
Jim had a big hand in starting the Beef Bowl football game at SDSU that serves to promote the cattle industry while raising money for scholarships. V.J. Smith, who served as director of the alumni association at SDSU, remembers Jim was eager to help get it going.
"He's a big networker," Smith said, noting the success and growth the Beef Bowl has had since Jim got involved. "He put the beef in the Beef Bowl."
Jim makes friends everywhere.
"Here was a guy who was just as comfortable working cattle in a stockyards, talking to guys with cowboy hats, as he was sitting down in the CEO's office in a bank in Sioux Falls," Smith said. "That's a good quality. He finds comfort everywhere."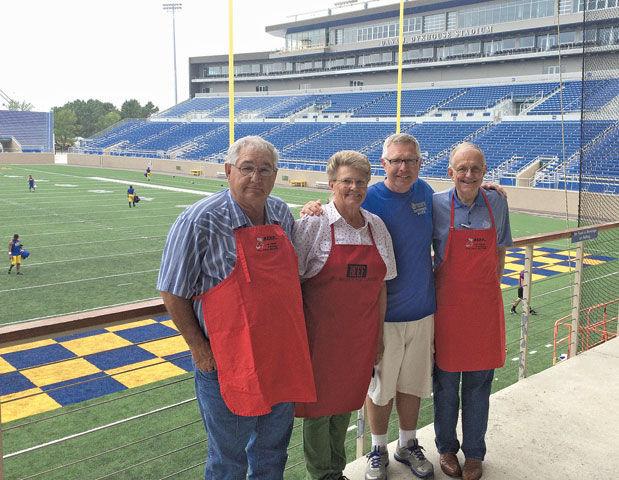 Dana Dykhouse has known Jim Woster since he was an Iowa farm boy whose parents brought livestock to the Sioux Falls Stockyards. They've since worked together on many projects, from those at SDSU to the Stockyards museum and plaza. Also an early riser, when Dykhouse gets a 6 a.m. call at his First Premier office, he knows it's Jim, he said.
The Stockyards Ag Experience project, honors the history of the Sioux Falls Stockyards and the John Morrell processing plant – now Smithfield – with a museum and soon a plaza in the heart of Sioux Falls. Longtime workers there were like family.
That included livestock trader Clare Vollan, whose friendship with his co-worker Jim Woster spans 50 years. He and his wife Carolyn appreciate Jim's leadership in promoting the stockyards to its position as one the largest in the country, and now for his help bringing the Ag Experience project to fruition.
Ben Kringen of Baltic was another stockyards co-worker. He remembers how Jim, being the people person, was called on to referee if a problem came up.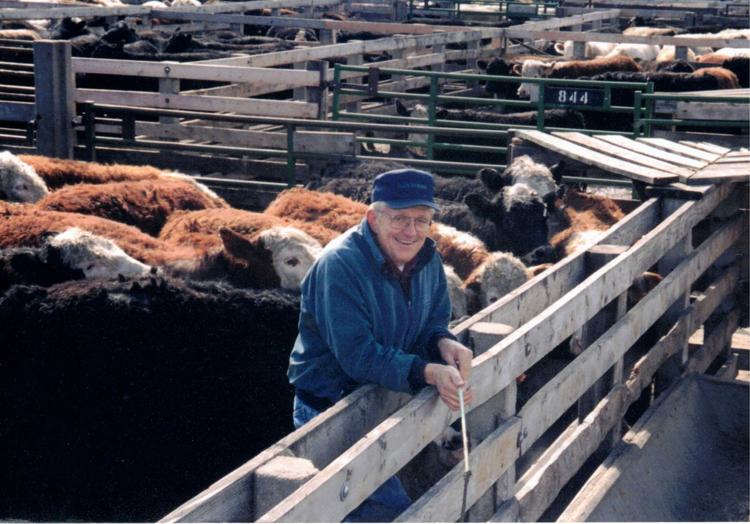 Jim helped work through some difficult times in the livestock business, recalled Steve Crim, who was working for John Morrell in the late 1980s when it was a struggle to keep the plant open.
"Jim came to understand and really appreciate the plant and the people and what it stands for," Crim said.
He still cares. This spring, as the spread of COVID-19 caused the Smithfield plant to shut down for a few weeks, Crim said Jim called him to talk. He was worried about the Smithfield employees, as well as pig farmers with nowhere to bring their finished hogs.
In difficult times or in good times, Jim's mindfulness of others is a welcome quality.
"He exudes a sense of a good fortune, of confidence, of resilience," Crim said.
An advocate for agriculture
His optimism is what makes him such a powerful voice for the agricultural community. Jim aligned himself with South Dakota Corn, talking ag matters and promoting ethanol on the "Corn Comments" radio segment for the last 18 years or so. Those at South Dakota Corn appreciate his energy and passion for agriculture.
"He's recognized and respected throughout the entire state. There's no better advocate for agriculture," said Teddi Mueller, marketing and legislative director for South Dakota Corn.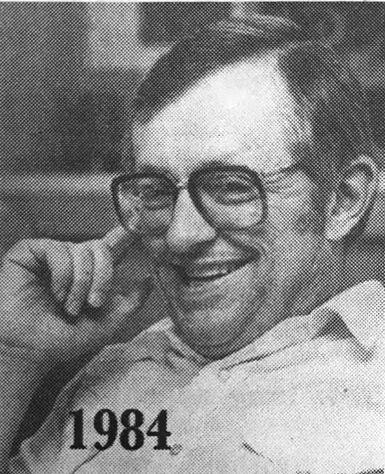 Jim does much for agriculture, but he also works to make sure farmers get the recognition they deserve. He helped start the annual Ag Appreciation Day at the Sioux Empire Fair, which serves a free lunch to thousands of farmers. As they eat, they're treated to renditions of oldies tunes by the band Mogen's Heroes, and Jim takes the microphone now and then to belt out a couple favorites.
Jim has been an occasional Mogen's Heroes collaborator since the early 1980s when he asked the band to back him at the South Dakota State Fair. When the band was inducted into the South Dakota Rock and Roll Hall of Fame, they recognized Jim's contributions as well.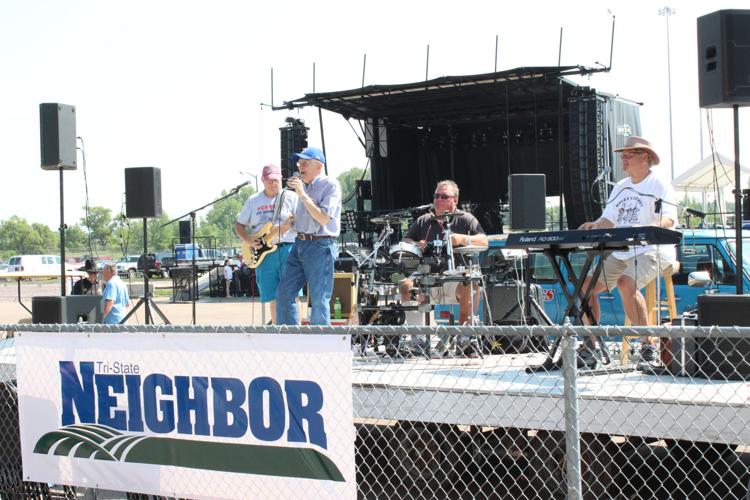 Knowing that Jim has plenty of awards and honors – from being named to the South Dakota Hall of Fame to receiving the Governor's Ag Ambassador Award and many more – Mogen's Heroes leader John Mogen delivered his Rock and Roll Hall of Fame plaque teasing that he doesn't have many other awards that recognize his vocal talents.
"'Not for singing, I ain't,'" was Jim's response, according to Mogen.
"He's not the world's best singer, but he's one of the world's best entertainers," he said. "I've never met a person that didn't love Jim Woster."
Sen. John Thune has been known to join the stage with Jim. The senator who grew up in Chamberlain had these words for him: "Jim Woster is the quintessential South Dakotan – hardworking, dedicated, and Midwest nice. As a well-known leader in the agriculture community, I've appreciated Jim's guidance and advice throughout my years of public service."
When the Tri-State Neighbor began, Jim easily transferred his speaking abilities into the written word. "Write like you talk," was the advice of Neighbor founder Bill Byrne. He's never missed a column in more than 35 years.
Retired general manager Randy Ahrendt always enjoyed Jim's visits at the Neighbor office.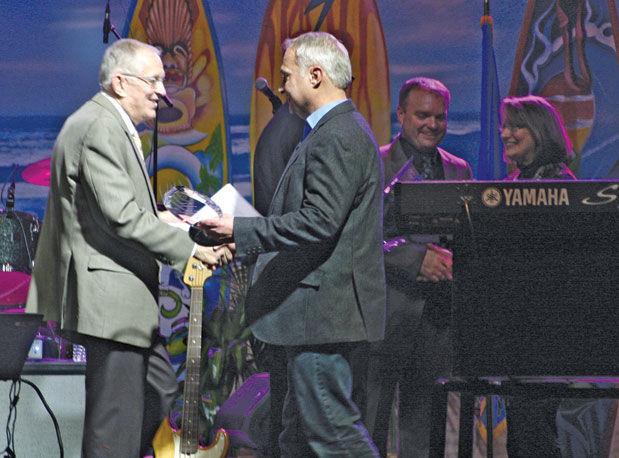 "It gave us a chance to catch up on families, sports, world events and our days growing up on a farm," he said. "He truly is a good friend to South Dakota, agriculture, TSN and to me personally."
Jim has many faithful readers. One is our governor today.
"Jim is always witty and kind to everyone. He loves South Dakota and embodies the things that make our state special," Gov. Kristi Noem said. "Every time I have the chance to visit with him, I walk away having a better day than I was. Happy birthday, Jim!"
Jim makes an effort to stay in contact with friends near and far. After retiring from the stockyards in 2004, he would still visit the offices at the "big house" across the street, said Ken Baptist, general manager at Smithfield in Sioux Falls from 2006-2016. Jim still calls him now that Baptist has moved on to other Smithfield facilities.
Baptist summed up his admiration for Jim: "There is no greater historian, storyteller, ambassador of Sioux Falls, and all around legend, than Jim Woster."