South Dakota's farm acres are dedicated chiefly to corn, soybeans and wheat – with some grains and sunflowers mixed in – but on the small farm managed by Matt and Lindy Geraets their fields grow almost every kind of vegetable you can imagine.
Lindy, of B&G Produce came together with fellow produce grower Peggy Martin of Cedar Creek Gardens at the South Dakota Local Foods Conference in Pierre to speak about how their businesses have evolved. Matt, Lindy's husband, couldn't attend because of a busy schedule back at the farm.
"We tell people to work smarter, not harder but we are not good at it," Lindy said.
Matt and Lindy Geraets didn't have traditional agricultural backgrounds. While Lindy grew up on an 80-acre farm her parents owned near Pierre, but she went to college in San Diego. Matt, who also grew up in the Pierre area off the farm, went to college in New Hampshire.
After a few years, the two moved back to Pierre where they reconnected. During their time away on either coast, Matt said they both missed farmers markets and the ability to buy locally sourced foods. So, 11 years ago, the couple started Capital City Farmers Market.
What started out as a way to get local producers together quickly revealed just how scarce local producers were.
"Basically there was one other produce company here in Pierre," Matt said.
At the height of the economic repression, the Geraets' began producing vegetables on just 3 acres of Lindy's parent's farm. What started as a hobby to help supply the farmers market has turned into a full-blown business that requires 50- to 80-hour work weeks in the summer.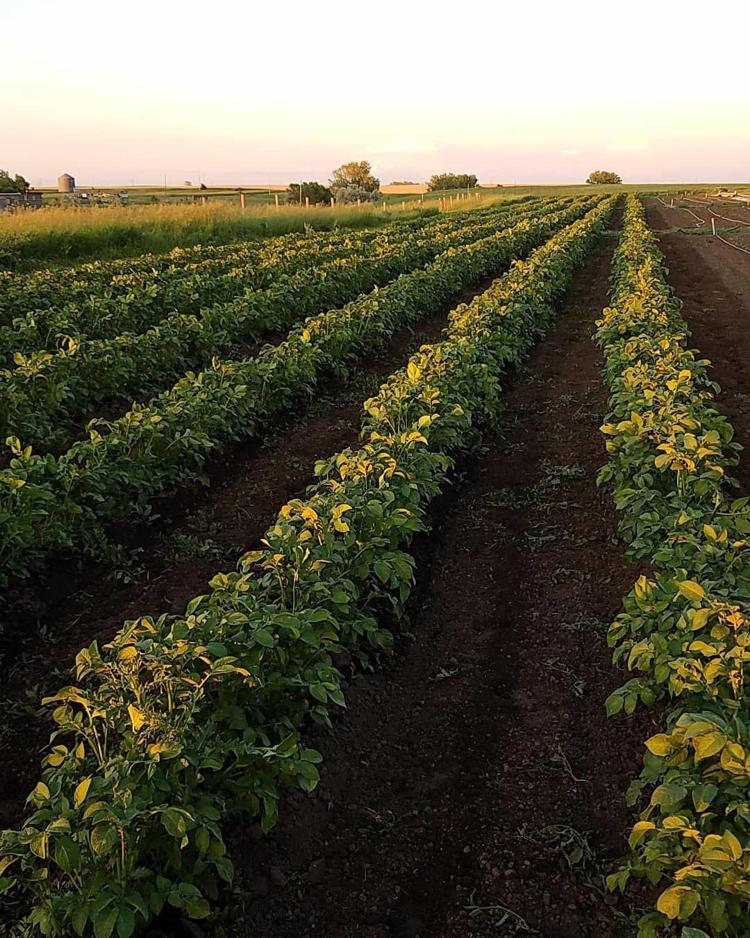 "It just kind of spiraled out of control," Matt said. "Initially it was kind of nerve-wracking but it is working. Worst case scenario we have great produce and maybe not make a whole lot of cash."
Over the seven years that they've committed to B&G Produce, Matt said the food scene in South Dakota has taken off in the major hubs. Sioux Falls and Rapid City have embraced the local food culture while Pierre lags behind simply because of its smaller population.
But the support has been outstanding. Matt can't recall a single negative comment they've received about the business.
Over the last few years, the Geraetss have integrated specialized equipment – a finger weeder, a quick cut greens harvester, a paper pot transplanter, to name a few. They've also built better housing for their vegetables. It's all helped them be more efficient and extend the growing season.
Martin has also worked to combat South Dakota's variable weather at her 12-acre West River farm located south of 1880 Town.
"We have no idea if we're going to get no rain or an inch of rain every week," she said. "And unfortunately, if the wind is under 20 mph, it's awesome."
Her answer to the wind storms, snowfall and other harsh weather is the caterpillar tunnel.
"These are going to be a game-changer for us," Martin said.
High-tunnel green houses are commonly used to protect produce, but South Dakota's high winds can damage the structures. Caterpillar tunnels are mobile and easy to take down and to reinforce. They've allowed Martin to grow certain crops longer into the fall.
Martin and the Geraets' have been working with the National Resources Conservation Service to get more people into growing local produce. The NRCS offers grants to help producers get started and buy equipment, and B&G and Cedar Creek farm help by host workshops that teach young producers the trade.
Martin said that getting new producers' equipment to save themselves the trouble of endless workweeks is key to sustaining the local food industry.
"That's why people that are getting into it are only lasting two or three years," she said.
Matt said he's happy to share the knowledge.
"If we can nail down a nice profitable, efficient system that works out here, there is room for a lot more people," he said.