South Dakota State University's Robotics Club was on fire last month in Minneapolis.
After getting invited by Land O'Lakes to the first ever Bot Shot competition, the SDSU Robotics Club beat out two other clubs and tied with another to take home the grand prize of $10,000.
The Bot Shot challenge encouraged seven school's robotics clubs to create a robot capable of playing a game of HORSE with basketball legends David Robinson and Christian Laettner. The competition took place during the Final Four NCAA events in Minneapolis last month and featured SDSU, Perdue University, the University of Minnesota and the University of Wisconsin-Madison after those four schools qualified.
The qualifying round required each of the seven schools to submit a video showing off their progress on the robot, and SDSU's Robotics Club was one of the four selected to be part of Bot Shot's "final four."
"Every night we had someone working on the robot," Joe Kocer said. "We had eight-hour weekends putting it together and then those days leading up to the video qualifier there were three or four of us who didn't sleep for 42 hours straight."
Kocer, a junior at SDSU from Brandon, South Dakota, was one of four students on the robotics club who participated in the Bot Shot event. Along with Kocer, Joel Quanbeck, the Robotic's club president, Sterling Berg, a senior, and Joshua Gross, a sophomore, helped push the team to victory.
In total, SDSU's robotics club had 10 to 11 members working on the robot at all times and had several extra students come with them as technical support to Minneapolis. Although the club has 20 members, the freshmen had a learning curve to catch up on how the machines and programs worked in order to design and fabricate the robot's parts.
Reflecting on the competition, Kocer said it was rewarding to see how just a handful of SDSU students did against the major robotics clubs of UofM and Perdue – schools that each had 30-plus people working on their robots.
"They weren't concerned about us. They probably thought SDSU students were just farmers," Kocer said.
Before the qualifying round with videos, Land O'Lakes partnered with AndyMark Inc., a robotics competition supplier. AndyMark sent each team a kit of robotics with an estimated $3,000 of materials to build the robot. Without that kit, Gross said he didn't think SDSU could even compete.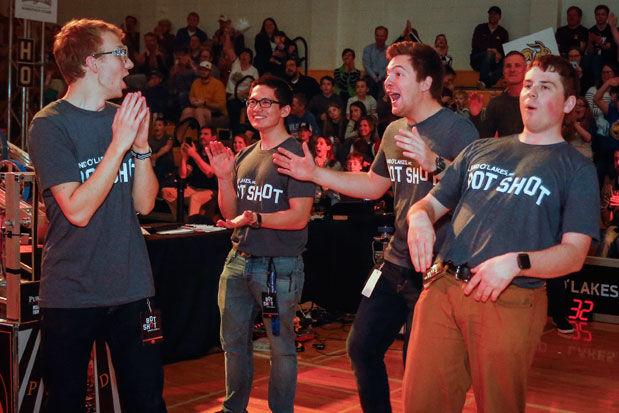 The competition itself was straight forward. The four teams would compete in a game of HORSE after a brief skills challenge to put them in order. After a few rounds, Kocer said SDSU and Wisconsin built considerable leads, and the other two teams were unable to recover.
When the game was over, Wisconsin and SDSU were tied. In a tie-breaking round, each team was given 60 seconds to shoot as many free throws as possible. After a minute, they were tied again.
"At that point, Land O'Lakes was nice enough to just declare us both the winners," Kocer said.
The Bot Shot competition was conceived by Land O'Lakes to promote robotics in agriculture, something that both the robotics team and Land O'Lakes said has become bigger over the last several years.
"Land O'Lakes is committed to educating consumers about the technological advancements and automation used in modern agriculture," said Kim Olson, the chief communications officer for Land O'Lakes. "With the first weekend in April being a big deal in the college sports world, we wanted to find a way to celebrate the amazing achievements of STEM college students, as well."
For students like Kocer, whose dad works at Raven Industries – a South Dakota company that makes precision ag tools – opportunities like this further fuel his desire to get back to helping South Dakota agriculture.
"My dream job is at Raven," he said. "You can drive a tractor without touching it anymore, that's so cool to me."
The team's advisor, Jason Sternhagen, an SDSU electric engineering and computer science department research associate, said that Land O'Lakes knocked it out of the park with their support by helping a relatively small robotics club like SDSU compete in a national competition.
Building the robot and beyond
If staying awake 40 straight hours and balancing school work and robotics club wasn't enough, SDSU added parking tickets on top of stressors for the team. Gross, who had his truck parked outside during one of his all-nighters in the lab, said he received his fair share of parking tickets for leaving his truck past 2 a.m. while he helped build the bot.
The work was done mainly by 10 team members, Gross said, with the four that competed in Minneapolis doing roughly 60 percent of the work due to their experience as upperclassmen.
"One of the coolest things of Robotics Club is that the upperclassmen can bring back knowledge we learned in our classes to teach the underclassmen," Berg said. "I can teach about control stuff which they won't even see until junior year."
After mapping out the robot on several programs, Gross said the team modeled the robot after automatic basketball shooting machines. The ball feeds into the main part of the machine and wheels are used to apply enough force to launch the ball. The wheels themselves went through three different iterations during the process, Gross said.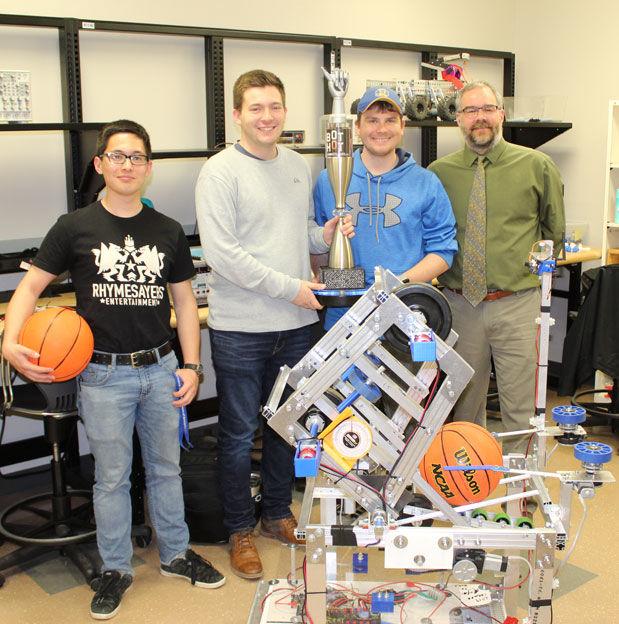 Using a camera and several sensors to orient the machine, the robotics team needs to give direct inputs to maneuver and shoot the ball – something that ended up being trickier than imagined.
Land O'Lakes encouraged the teams to use software that would detect the hoop and shoot the ball, but struggles with the program forced several teams, including SDSU, to abandon the idea. Afterward, they decided on using a remote to control the machine but upon arriving at the competition, they realized several other teams were using the same remotes and could control each other's machines.
"We stopped and realized our remote was spinning and breaking another machine," Gross said.
"We asked Minnesota for some help and they asked us for some tools. It was a cool collaborative effort," Kocer added.
At the end of the day, the team didn't need to make a lot of on-the-fly adjustments. It helped that members worked with the computer model before even touching the materials.
"You can make a change on the computer, but once you cut the metal you're pretty much stuck unless you want to make it shorter," he said.
The robot, which is by far the largest machine the team has built, was the catalyst for Gross's full-fledged interest in the team. Gross, Kocer and Berg alike were all encouraged as kids to take things apart and build them up again, which helped pique their curiosities on the competition.
"I didn't need to encourage them, to be honest. They were committed," Sternhagen said, noting their commitment to the project. "I had some of them in my classes. I could see them come into class at 8 a.m. completely wiped out so I told them to catch up later."
While preparing for the competition took up a majority of their free time, the team members took that commitment in stride.
"Robotics club was a wonderful alternative to free time," Berg said.
Now that the team's robot has won and the prize money is coming in, Kocer said the money will go to the newest goal – NASA. As lofty as that sounds, NASA hosts an annual Robotics Mining Competition that is open to most schools around the country.
"That was on our radar for three or four years down the road, but with the influx of members we got and experience with Bot Shot, we have the financial ability to go down to do a competition like that," Kocer said.
Even Sternhagen has noticed an increased appreciation for the club. He led the club during an unfortunate lull in membership earlier this decade. According to Kocer, the team has fielded at least four requests by students looking to join the next school year starting in August.
"We're going to go out there and say 'Hey, we are doing the NASA robotics mining competition, come join us,'" Gross said. "Just saying 'NASA' works."
Their recruitment tour will coincide with showing off their basketball shooting robot next year at SDSU. They hope to be able to feature the robot at Jackrabbit home games as a way to highlight the progress the SDSU robotics club has made.
On top of the lofty plans, SDSU's robotics team remains loyal to their BEST robotics competitions, something the team takes great pride in.
BEST, which stands for Boosting Engineering, Science and Technology, is a competition for middle school students learning about STEM (science, technology, engineering and math).
SDSU's 2019 contest is called Off the Grid.
With the perfect storm of the Minneapolis hosting the Final Four and Land O'Lake's interest in pursuing ag robotics, it is unclear if the Bot Shot competition will continue, but for the main supplier – AndyMark Inc – it was a wonderful experience to be part of.
"They had literal spotlights and crowds cheering for them," said AndyMark's mechanical engineering manager and lead on the Bot Shot challenge, Kevin Kolodziej. "It was way too short, to be honest."
While Kolodziej said AndyMark doesn't get to help with agriculture too often, he's excited about the prospects that it brings to the robotics field.
"Whether it's putting a basketball in the hoop or autonomous tractors, it's kind of all the same," he said.