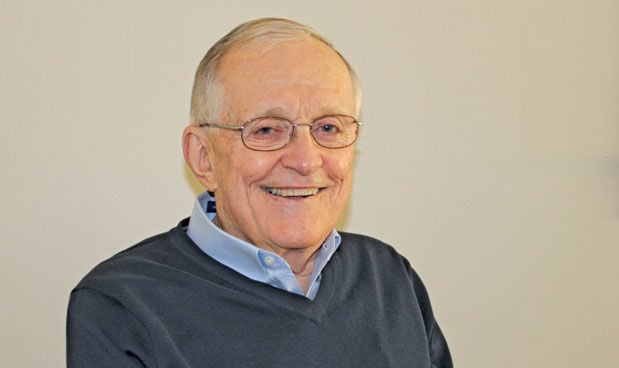 You can but imagine the surprise and good feelings which hit this writer, when I opened my November issue of Cooperative Connections from South Dakota Electric and there was a photo of my friend of 60 years, Harry Thomas.
Harry, Chuck Birkholt and another long- time friend, Paul Symens, were recently inducted into the South Dakota Association of Cooperatives Hall of Fame, and the photo was taken at the induction ceremony.
Harry served nearly 40 years on the board of Venture Communications, a member-owned organization located in Highmore, South Dakota, which provides phone service, digital TV and high-speed internet. He made a comment which really hit home.
He said he "still remembers turning on the power switch" for the first time at his home when he was a pup. That simple act, which was the catalyst for electricity and telephones, is something most all of us can remember.
At the Hank Woster place it was mid-August 1953. More than anything else, I remember the yard light on the REA power pole, which would ultimately become the gumbo-covered basketball court for brothers Terry and Kevin.
Why not Jimmy, the reader asks? Simple. I was born to be a musician. My talents have always been found in the piano, guitar and the marching band baritone.
OK, so "talents" may be a stretch, but whatever mediocre level of musical excellence the old Stockyards guy may have achieved over the years, it far exceeds anything related to my inherent athletic abilities.
On this topic, and forgive me if I have shared this anecdote in a previous column, but the impact of REA on a rural home was best summed up by Bob Bergland, former U.S. Senator from Minnesota, who went on the be the leader of the National Rural Electric Association. He was the keynote speaker at a regional REA convention in Des Moines and spoke of growing up on a farm, which was located several miles north of Warroad, Minnesota. (Folks, 80 years ago, anything north of Warroad was truly living "in the sticks.")
Mr. Bergland gave a wonderful speech, but one sentence really hit home and still does today. He simply said, "When the lights came on in our little farm house, I noticed that Mother was silently crying." Bergland went on to say, "I didn't understand why, but later in my life, as I reflected upon that day, I realized that she, more than anyone else in the family, understood how electricity was going to change their life."
Congratulations to Harry, Paul, Chuck and Dan Lindblom for a well-deserved honor.
The evening of Nov. 10, it was my privilege to serve as master of ceremonies for the 40th annual Law Enforcement Appreciation dinner, something I have done for many of those years. It is always a favorite, not only because everything possible is done to extend a huge "way to go" to those who keep us safe, but each year around $40,000 is given to various charities in the region. Also, where else can you go through a buffet line with antelope goulash, pheasant, venison, walleye and other entries that fit the "game feed" theme?
The very first appreciation supper was hosted by founder Gene Abdallah in the lower level of the Westward Ho Country Club and attended by a total of 37 people. Since then, thanks to the financial and moral support of the business community, the average attendance at the Ramkota Exhibit Hall runs between 1,600 and 1,800.
When individuals such as former first lady Laura Bush, NFL great Brett Favre and this year's speaker, Pete Hegseth, join us, the fire marshall extends a few icy stares as the place overflows with some 2,000. Very simply, 2021 offered a darn good time to thank law enforcement, and it was appreciated.
Because our children reside in Minneapolis, New York City and Los Angles and have for many years, we pay a bit more attention to the news in those cities. It is interesting to observe the huge difference in respect for law enforcement when comparing the city in which we live and those of our kids. I suspect a part of that would be the difference in the approach to policing, but it is still hard to understand the "defund" movements. Perhaps this past election will put a damper on some of those efforts.
Speaking of a "darn good time" to do something, Thanksgiving 2021, may fall into that category for many, many folks – the Jim Woster family included. Our Thanksgiving salutation will begin with the fact that this year there will be family at Penny's Thanksgiving and Christmas tables. In fact, if all goes as planned, all of ours will be here for several days during Christmas. Dig out the TV trays, roll out the sleeping bags and most importantly enjoy every minute with a prayer of thanks.
From all of us at the Tri-State Neighbor, may your Thanksgiving be all that you wanted, beginning with safe travel and a healthy family. Thanks for all that you do and God bless.
Jim is associate editor of Tri-State Neighbor and also works with the SDSU Alumni Foundation.