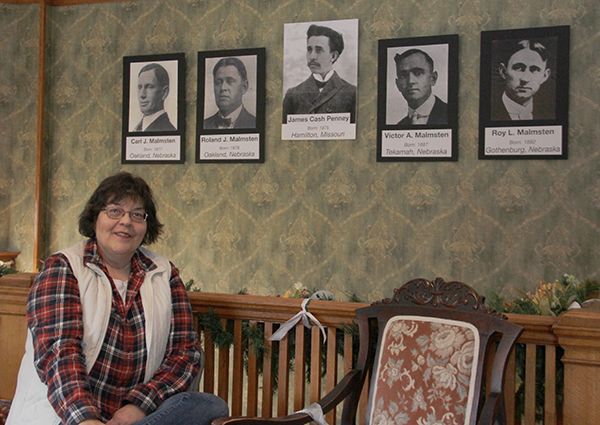 Meet the boys.
Karen Jackson has and the Tekamah woman invites the public to do the same through a special display this summer at Burt County Museum. The display, titled "How Burt County Played a Role in the Development and Expansion of the JCPenney Company," officially opens at 1 p.m. Tuesday, June 11, with a ribbon-cutting on the front steps of the museum at 319 N. 13th St. (Highway 75) in Tekamah.
"The boys" are four Malmsten brothers, three of whom—Carl, Roland and Victor—were born in Burt County and —with their brother Roy, who was born in Gothenburg,—became partners with James Cash Penney in the early 20th Century as the Missouri native was building one of the nation's most successful chain stores.
But the display didn't start out that way.
Jackson, who worked for the Penney company for over 22 years, including many as a visual merchandiser, had done a display nine years ago that centered on the Tekamah store which closed nearly 30 years ago. Museum curator Bonnie Newell had asked Jackson if she'd be willing to recreate the display and she agreed.
At about the same time, Penney's had announced it would be closing the Fremont store, which had been in business since 1920, nine years before the Tekamah store opened.
While going through a box of old photos and memorabilia at the Fremont store, Jackson found a vintage photograph taken near Gothenburg of four men in front of a sod house. During the years she worked at the Fremont store, she compiled several retirement scrapbooks for fellow employees, but had never seen that particular picture.
"It really caught my interest because it looked like it didn't belong," she said, "I set it aside for three months but it really bugged me."
An avid genealogist she started researching the name on the photo.
Malmsten.
Her research opened the door to a new aspect of the company's history.
"Those men all had connections to Burt County and I thought they should be included," she said. "I approached Bonnie and told her the display was going to take more than a room."
A lot more, it turns out.
The display takes up nearly all of the two main houses on the museum campus.
While doing her research over the next several months, Jackson said she came to know the four boys through their writings.
The history is rich, Jackson said. The letters they wrote, some to Mr. Penney personally, describe what it was like opening a store in the West, many in mining towns, in the early 20th Century.
"It's history as it was happening," she said. "It was a new lifestyle. All they knew was they were working hard and building others, but maybe they didn't realize what the company would become."
The Penney business model in the early days was to open a store, then use the profits from that store to open another with Penney, the store manager and another investor as partners in the new store. Eventually, Penney became known as "The Man With a Thousand Partners."
"Penney didn't hire just clerks," Jackson said. "He hired men with career potential. Men who could lead others."
The four brothers came from humble beginnings. Their father, Lars Malmsten, was a Swedish immigrant who came to America in 1869. He soon went into the dry goods business with a another Swedish immigrant from the same hometown, Andrew Morell, opening one of the first businesses in Oakland.
Lars later became involved in politics and became Burt County Clerk in 1886.
Although all four brothers profited handsomely through their association with Penney, perhaps the most successful was Carl.
Born in 1877 in Oakland, he worked at the "Mother Store," in Kemmerer, Wyo., before managing stores in Utah and making his way back east. As a partner in a number of stores, Carl became a millionaire. Among his partnerships was the Fremont store which opened in 1920. It operated in two downtown locations before moving to the Fremont Mall in 1966.
Hence the picture.
In addition to his other business, Penney also had an interest in agriculture and raised champion polled Herefords at his ranch in Florida.
Like his mentor, Carl also had ag interests. He moved to the Fremont area in 1932 and bought a farm north of the city where he raised champion purebred hogs. The massive brick barns he had built still stand at the farm along Highway 77.
Living out the rest of his life in Nebraska, Carl also became one of the area's leading philanthropists. For example, he donated considerable sums to what was then known as Midland Lutheran College and to the Fremont YMCA.
In addition to meeting the boys, Jackson's display will showcase the growth of the company through her own personal memorabilia and news clippings from the era. She also has been in contact with the Penney museum in his hometown of Hamilton, Mo.; the company's headquarters in Plano, Texas; the museum at the Kemmerer store; and with Joan Gosnell, the curator of Penney's personal collections held at DeGolyer Library at Southern Methodist University.
Plus, her own research continues.
"I'm still finding stuff," she said late last week.
Like many who became steeped in the company's culture, Jackson said her life of customer service was learned through Penney's.
"James Cash Penney was a Godly man and his morals really showed through in the his business practices," she said. "He was all about people and that's what this display is about—people."
Burt County Museum is open 1-5 p.m. on Tuesdays, Thursdays and Saturdays as well as other times by appointment. Information is available by calling the museum at 402-374-1505.