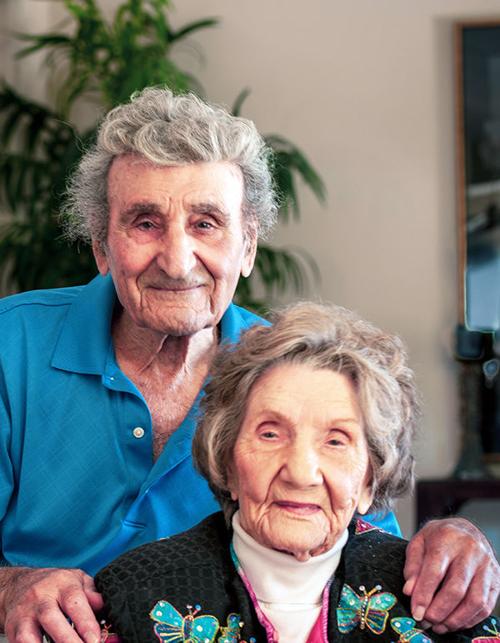 It is clear that Ralph and Dorothy Kohler are the longest married couple in California and, as far as we know, in the United States. In our research we can find no evidence to the contrary. On Feb. 5, 2018, the Gannett newspaper announced that the longest married couple in California were married 81 years, but Ralph and Dorothy had already been married 82 years then; and they will celebrate their 83rd wedding anniversary on Sept. 16 of this year.
Cards can be sent to the happy couple at :
Ralph & Dorothy Kohler
81086 Avenida Lorena
Indio, CA 92203
When their daughter, Kay Burden, informed The View about this magnificent but rare achievement, we were overjoyed at our chance to share this with our readers.
To honor their years together, in 1995, Ralph and Dorothy observed their 60th wedding anniversary with a beautiful celebration. They renewed their wedding vows before family and friends. All joined in a joyous reception where the celebrants entertained them with their ballroom dancing. But a little about that later.
Dorothy celebrated her 99th birthday on May 13 of this year; and Ralph turned 100 on Jan. 6.
On Sept. 16, 1935, they appeared before a Justice of the Peace in the courthouse in Tekamah, Nebraska. This official refused to marry them despite the fact that Dorothy's mother accompanied them.
"You are just too young," he pronounced. They were not deterred and got the county judge to perform the ceremony with both Ralph's and Dorothy's mothers present
Ralph grew up with a passion for hunting but, when he met Dorothy Redding, "I could not imagine anything but guns and hunting occupying my mind, and I must admit I was confused. How could anything replace…the hours spent hunting and roaming the vast acres of timberland full of wildlife? All this was molded into one glorious moment when I said, 'I do,'" he writes in his autobiography, "Born to Hunt," a book his wife and supporters urged him to publish in 1997.
Until 2014, Ralph and Dorothy lived in Tekamah until their daughters convinced them to join them in Sun City Shadow Hills. Today they live in Phase II with their youngest daughter, Kay Burden. Their older daughter, Jeannie, and her husband, Bob Frazier, also live there with their daughter, Dana. Ralph and Dorothy's only son, Max, lives in Albuquerque, N.M.
Their 83 years of marriage have also produced seven grandchildren, six great-grandchildren, and two great-great-grandchildren.
And to think the city official thought the marriage wouldn't last.
In 1938, five years into their marriage, Ralph established the Kohler Welding and Machine Shop.
Although eligible and willing to serve his country in World War II, his local draft board determined that it was more important for Ralph to continue his machine and welding business than serve with the military. His was the only machine shop in town, and his work was essential to the local farmers.
During the hunting season Dorothy became concerned that the time Ralph was taking off from work was greatly reducing their income. She suggested that she wouldn't mind his hunting so much if he got paid for it.
In 1939, taking Dorothy's remark to heart, Ralph established the Kohler Commercial Hunting Company.
The Army Corps of Engineers had cleared the sandbars and built dams in the Missouri River where Ralph had hunted for so many years. Thus, the river had lost its attraction both to the waterfowl and the hunters. So Ralph decided to create his own hunting areas. After purchasing over 60 acres of property, he designed and constructed three separate lakes, surrounding each lake with plantings of buckwheat and fields of millet, perfect for attracting the many birds migrating over that central flyway. His machine and welding company designed and built metal blinds that could be sunk into the ground on the property, and Ralph established K and W Company to design duck and goose decoys. The metal blind company soon became Kohler Blinds and operates to this day.
Over his career, Ralph entertained over 55,000 hunters and became well known not only throughout the United States but internationally as well.
From 1946 to 1956 Dorothy and Ralph took up the hobby of trapshooting. Eventually this grew into a competitive sport, even convincing their son, Max, to join them. In 1952 father, mother, and son won the honor of being on the All-American Trap Team; and all three won their individual divisions. As national trapshooting champions, Ralph and Dorothy are both honored in the Nebraska Hall of Fame.
Ralph is widely known as a premier waterfowl hunter. Ducks Unlimited, Inc., presented him with the Lifetime Achievement Award in 2003. But of the numerous awards he has received, his most treasured is the induction into the Legends of the Outdoors National Hall of Fame in 2006.
Through their years together, Dorothy was always Ralph's constant companion. Whatever he suggested that they do — trap shoot, hunt, or bowl—Dorothy was right there to support him.
Before each hunting season, together, Dorothy and Ralph would paint hundreds of duck decoys.
But a time came for Dorothy to take the lead with her own special interest. When Ralph suggested that they go on a cruise, Dorothy's response was, "No way…unless you learn how to dance." One Saturday, Dorothy convinced Ralph to accompany her to the Arthur Murray Dance Studio in Omaha. When they arrived, the studio was closed, but Dorothy was not daunted. She made reservations for the following Saturday, and off they went to a career in ballroom dancing as cruising became their delight.
This amazing couple earned over 300 awards and trophies. They competed all over the United States and won several events in the Las Vegas Gold Bar Competition.
With all these awards and outside attention, Ralph took special care to demonstrate his love for Dorothy. He was a romantic and wrote her love poems, sent her flowers, supported her, and in 1969 built her one of the largest and most beautiful homes in Tekamah.
Dorothy recently suffered a stroke, but as we talked to them she reached for his hand. He took it and said, "She's still my girl."