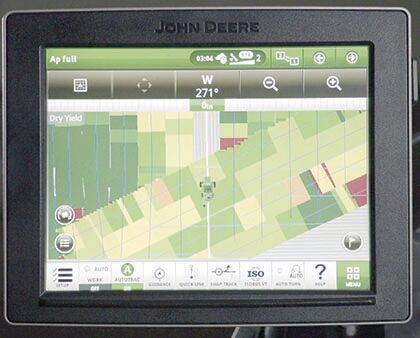 To help producers more accurately document and follow each row of crops in fields throughout the season, John Deere introduces AutoPath. This new precision ag application uses data collected from the first pass in the field, either planting or strip-till, to establish precise row guidance for all subsequent field passes, no matter the machine type or width of the equipment.
During the first field pass, the planter or strip-till implement and tractor are equipped with StarFire Receivers to precisely record the location of each row with AutoPath. Thus, subsequent field passes are based upon actual documented row location rather than a static AB Line which may or may not actually represent the planted row due to implement drift on side hills or around curves. This reduces guidance line setup time and line management when starting all subsequent field operations in standing crops, eliminates the need for counting rows, optimizes all field operations and helps reduce crop damage.
AutoPath is included in the John Deere Generation 4 Automation bundle and available for either the 4600 CommandCenter Integrated Display or the 4640 Universal Display. It's available for use on tractors, sprayers and combines, and can be incorporated with active and passive implement guidance systems for planters, nutrient applicators, and other field equipment.
For more information visit JohnDeere.com.