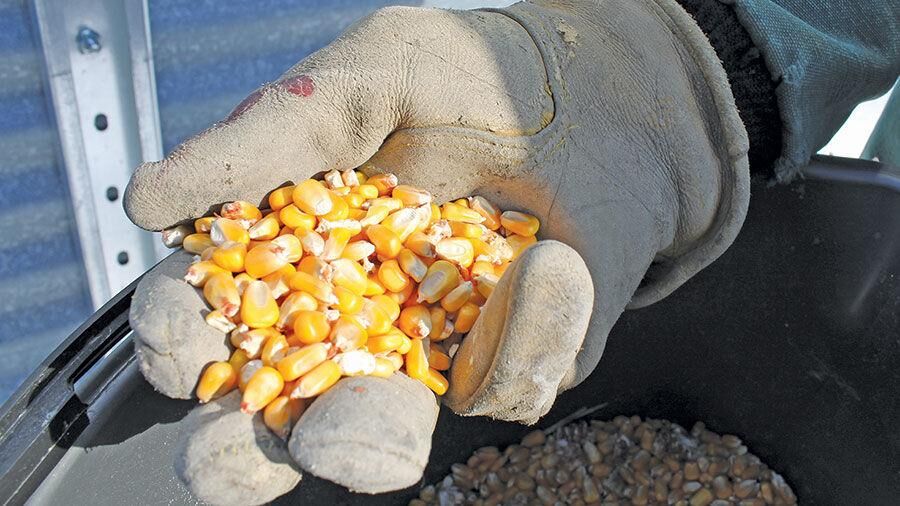 After an initial early start to planting, progress has slowed somewhat around the region due to cooler than normal temperatures and some precipitation in the form of rain or snow in some areas, but that doesn't account for the dramatic rise in corn prices. But producers certainly aren't complaining.
"(They say) corn is king, but I don't know what to say about these markets," said Ed Usset, professor emeritus and grain marketing economist with the University of Minnesota. "They've been on an incredible run up until today (April 27), and even today they started sharply higher and now they've backed off for the first time and they're showing maybe a possibility that they're going to take a breath."
Usset pointed out that the corn market has seen seven consecutive days of rising prices for May corn and it's now $1 a bushel higher than at the start of the recent rally.
At one local elevator in west central Minnesota regularly followed in this column, as of April 27, the May cash price for corn was $6.66 and basis was +5 cents over. The October 2021 futures price was $5.69 with the basis at +1 cent over.
"For the life of me I can't find the new news" that explains the sudden rally, he said. "I understand that the balance sheet is tight and demand is strong and nothing is backing off that, but we didn't make it tighter and we didn't make demand stronger.
"We still have concerns about the Brazil second crop, and we can go on and on about the different things that have been driving the market higher. I just fail to see the new information that drove it higher," he added. "It's simply an edgy market and it's decided to go up. And when you decide to go up, you go up."
Looking at planting progress, Usset noted that producers are on pace in the U.S. and there doesn't appear to be any planting issues of importance or concern. Weather has been an early factor in the market with an early start followed by the recent slowdown, but that doesn't explain the market reaction.
"Some of the forecasts have it warmer than normal, and we're concerned about dry weather in a few areas, but how do you kill a crop on April 27? We're a little premature there," he said.
"But, of course, it's edgy and we need a good crop, or we need signs that demand is slowing down, that it's turned, and we haven't seen that. That's what I'm seeing in corn. Incredible prices. The highest I've seen since 2013."
Usset noted the Prospective Planting report that came out March 31 indicated an increase in corn acres for 2021, but not as much as analysts had been projecting and that may still be having an effect on the market.
"I had an interesting conversation with one of our Extension people and he said, 'We're out here in the field and we're trying to make sense of things.' (The agent) said people in southwest Minnesota are planting soybeans before corn. We see people in the northwest scrambling to put soybeans in where wheat was going to go in," Usset said. "And I see this morning that ADM's CEO expects corn and soybean acres to be 5 million acres greater than the latest USDA outlook. It wouldn't surprise me one bit. I mean, people are going to react to these prices. There's going to be a reaction.
"But the market apparently needs to see proof, needs to see rain, needs to see crop coming up, needs to see bigger crops, needs to see demand tailing off for this thing to take a breath and maybe trade two sides to the issue," he added.
On the demand side, Usset said demand has tailed off slightly, although it has held up quite well.
"The puzzling thing to me is that it's no different than it was. The demand picture was great, is great, but no greater today than it was a week and a half ago when this big run started," he said.
One area of demand is for feed use, but with higher prices that means more competition for that market from wheat, along with others. As a result, wheat prices are also on the rise.
"Wheat is following corn. I'm glad to see spring wheat show some life," he said, adding that the spring wheat market has seen 10 days in a row of rising prices and are now $1.40 higher since the recent rally began.
"That's good for the wheat producers. The wheat fundamentals are not as bullish as corn or soybeans, but you learn quickly that wheat is also a feed grain and if corn is going to go to the moon, then wheat is going to go with it," he continued.
"I believe USDA raised white wheat exports by something like 50 million bushels in the last few months for the current crop year. That's because it's a feed and people are going after that. It's cheap relative to corn, so you're going to see those things happen in this environment," he added. "You're going to see good wheat feeding numbers. The more wheat fed, that's demand, too."