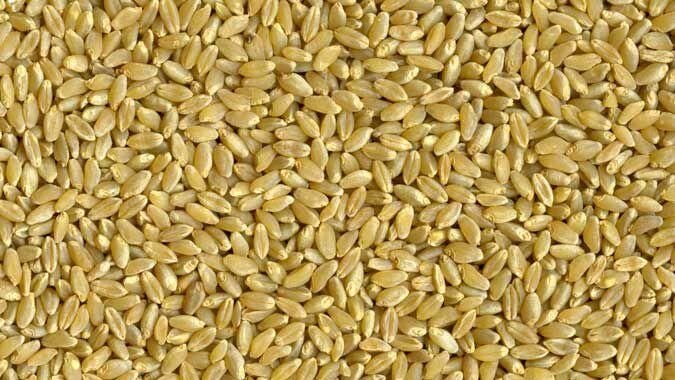 The last few days of 2021 were bitterly cold, as were the first couple days of 2022, but that didn't matter to the durum market as prices remained steady with the higher values near $16.
"We got over the holiday season, which was a slower period for mills, and, on a positive note, prices have been holding stable in the $15.50-$16 a bushel range," said Jim Peterson, marketing director with the North Dakota Wheat Commission. "I guess we'll see where we go in early 2022."
Peterson pointed out that the market is still anticipating some greater demand from Italy, as well as other parts of Europe and North Africa in 2022. Through the last part of 2021, he noted that a lot of those bigger buyers were able to work through their domestic supplies.
"There were some other non-typical durum sellers who were able to fill the market voids," he said, adding that Mexico, a traditional exporter, also had some durum on the market.
"And now, as we head into 2022, the situation in Italy is becoming tighter as they've kind of worked through their domestic supplies," he continued. "A lot of people feel it's just a matter of when they'll have to come into the market, not if, prior to their new crop availability, which wouldn't be until June/July. But so far they've held tight and haven't really stepped forward."
On a positive note, the U.S. domestic durum market has also been holding steady even as other wheat markets have seen prices erode by about 30-50 cents a bushel.
"The durum market may be at a crossroad," he said. "The longer it takes for some of this expected international demand to come into the market, the more it's vulnerable to dipping a little bit in sympathy with some of the other grain markets."
Looking at the National Durum Index, which is a range of values across the two-state region (North Dakota and Montana), Peterson pointed out that as of late December the price was at $15.40 a bushel, which was down marginally from the mid-November price of $15.70. The high for the year was $17 a bushel back in early September.
"I know there are a lot of producers who are sitting on some 2021 supplies, waiting for the market to strike higher, so we'll see what happens," he said.
Peterson also pointed out that it's still a very tight U.S. domestic mill market. The speculation is that most pasta manufacturers are covered for the first quarter, which is up through March. Thus far, the domestic mills haven't really stepped forward and appear to be waiting for a break in the market to put on some additional coverage.
"The Chicago market values, which is where a lot of the domestic mill demand is priced off of, is currently at $18.75 a bushel," he said. "A year ago it was $8.35, so it's definitely stronger and probably indicates more hand-to-mouth type buying by the domestic industry, (which is) certainly wanting to secure needs, but not overbuy if the market would take a break."
On the export side, U.S. exports as of the week before Christmas stood at 4.9 million bushels (MB) sold. That compares to 22 MB at that time a year ago.
"(The decline in sales) was not unexpected considering where our prices are," he said.
Major buyers of U.S. durum have been Italy, Spain, Japan, Guatemala and Panama. Peterson said the U.S. is hoping to get some North African countries on that list over the next few months.
In other export news, Peterson noted there was a recent Algerian tender for 9 MB. The delivered value equates back to about $19.50-$20.
"That was delivered to Algeria, so certainly, if you back freight and handling costs on that, it works back to close to what our values are, if not a little bit higher," he said. "The U.S. didn't capture any of that based on early reports. The rumors are that it was Canada and Mexico that covered the sale. We'll see as more details come out. Shipping isn't until the February time frame."
One of the big factors in where the durum market goes from here is what happens in Canada. Their current producer prices are about $21 (Canadian), which equates back to about $16.50-$17 (U.S.) values, so close to U.S. values if not a little bit stronger.
Ag Canada in December came out with its latest supply and demand projections, and for this year the agency has Canadian exports of durum estimated at 85 MB. A year ago, for the full year, they exported 210 MB, so obviously, a very dramatic drop in exports. Canada's current sales pace indicates they've shipped out 32 MB from August through October. That compares to 40 MB shipped out through that same time frame a year ago.
"That shipment pace only reflects a 20 percent reduction in sales, whereas Ag Canada's projection is calling for almost a 50-60 percent reduction," Peterson said. "So (we're) not expecting a lot more aggressive Canadian exports as the year moves on, which means the U.S. should be in line to capture some of the additional exports going forward."
Canada's shipping pace to Italy is off 50 percent, while the pace to Morocco is off 15 percent for the current marketing year.
On the flip side, Peterson noted that Canadian durum exports into the U.S. market are running four times higher than a year ago at 4 MB compared to 1 MB last year.
"This just reflects that the U.S. domestic mill price has been the highest price in the world market for the last four months and we've kind of been waiting for European prices to catch up," he said.
On Jan. 12, USDA will release its winter wheat seedings report, which will provide a look at how many winter wheat acres were planted in the fall of 2021. It will also be the first indication of desert durum plantings in California and Arizona.
"We're obviously expecting an increase in planted area, but some water restrictions in that region and just very competitive markets for other crops may temper the level of gain," he said.
"We probably won't get a strong market reaction from that, but it certainly will set the stage for what we might be looking at for early summer 2022 supplies from that region."