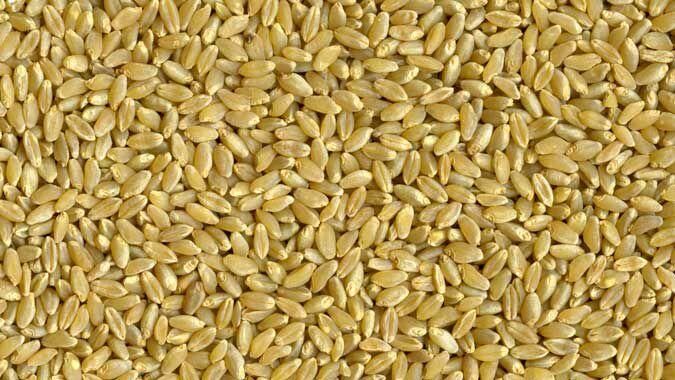 Although it too is dry, the U.S. northern durum crop area in North Dakota and Montana has benefited from a few more rains than the spring wheat region, and because of that it is not as attached to other wheat markets.
"With durum, the market is a little more isolated than the other wheat markets, maybe a little less connection to corn," said Jim Peterson, market director for the North Dakota Wheat Commission. "This growing season, for the most part, where most of the durum is grown (that region) has benefitted from some rain. Although the region is still dry and has had some hot temperatures, the crop was planted a little later and they've been a little more favored with some of the June rains.
"Nonetheless, as we hit the end of June, we are starting to see a little more buyer concern with some hot, dry conditions moving into the Canadian crop, as well as hot temperatures in the North Dakota and Montana durum crops and a little setback in crop condition ratings," he added.
On top of that, USDA came out with updated planted acreage estimates the end of June for both Canada and the U.S. Peterson felt it was a bit surprising to end users that acres went down from March intentions.
"End users felt that $7-$7.50 was an attractive price for producers, but it certainly paled in comparison to what they could get in other markets," he said. "The lack of really strong new crop bids probably discouraged additional durum plantings."
According to the planted acreage report, total U.S. durum plantings were down 60,000 acres from the March estimate and now stand at 1.48 million acres, a decline of 12 percent from a year ago. Where the decline took place was in Montana where they were expected to plant 710,000 acres in March, which would have been slightly higher than the 2020 crop of 690,000. Instead, only 650,000 acres were planted this year.
North Dakota durum acreage was posted at 750,000 acres, the same as in the March estimate, but down 18 percent from last year.
"There's a lot of onus on final yields in Montana and North Dakota. And, of course, with recent rains in parts of those areas and a cool down in temps, I think customers are expecting average yields," he said. "But July will be quite critical for durum."
Current condition ratings in Montana show that 59 percent of the crop is rated in good-to-excellent condition and 16 percent is rated poor-to-very poor. In mid-June, 80 percent was rated good-to-excellent and just 4 percent poor-to-very poor. So even with the rains the hot temperatures definitely set the crop back a bit. North Dakota's durum crop was rated just 50 percent good-to-excellent and 20 percent poor-to-very poor.
In terms of crop development, Peterson noted the heat really hasn't pushed it quite like it has for the hard red spring wheat crop. Development is close to normal with 19 percent headed in North Dakota and 5 percent headed in Montana.
Peterson feels that Canada has been the factor that's been holding back the market.
"Canada got a little bit better rains in June and didn't get quite as hot early, but nonetheless, their crop has slipped a little, too," he said. "Canada's planted acreage estimate in June came in 3 percent below 2020's acreage at 5.5 million acres, as well."
In April the market was expecting a slight increase in durum acres in Canada. At this time, using average yield estimates, Canada's durum production is projected around 213 million bushels (MB). A year ago they produced 240 MB. Just like in North Dakota and Montana, July will be critical for yield expectations in Canada.
On the world scale, the International Grains Council (IGC) also came out with updated estimates the end of June. In its reports, IGC pegged world production up 4 percent.
"That's a bit lower than was expected in April and May just because dry conditions in the U.S. probably lowered production estimates, and then Turkey and Algeria have experienced some hot, dry conditions, which lowered their crop production estimates, as well," Peterson said, adding that the European harvest is underway, where they've generally had favorable conditions, and Morocco is expecting a bigger crop, as well.
"Those are kind of pressure points on the durum values right now," he said. "Going forward it will be what is the final production and quality in the U.S. and Canada."
He also noted that world inventories of durum are still expected to fall again by June of next year, which will be a seven-year low if realized.
"So there are certainly some supportive factors for durum going forward," he said.
Looking at current values, in the U.S. market some bids are up to $8.25, while others have been down as low as $7.50 in mid-June, so there has been some strengthening.
"The question will be if we stay somewhat cooler in July and get some rains, are we going to see a setback? I think $7.50 seems to be a solid number for buyers at current conditions. I don't think there's a lot of selling at those levels, however," he said.
On July 12, USDA will give its first production estimate for the U.S. durum crop. Peterson pointed out that the IGC is using is about a 60 MB crop for its latest estimate. That compares to 70 MB last year.
"But if we use the planted acreage estimate that would imply about a 41 bushel per acre average versus 43 bushels last year," he said. "I think the crop is lower than that in terms of yield potential.
"We'll see what USDA plugs in. Durum will still ride in sympathy with what happens with spring wheat and corn and other markets going forward, but as of right now it seems to be holding its own and up a bit from mid-June, but probably not at the levels producers feel it should be to be aggressive on selling," he concluded.