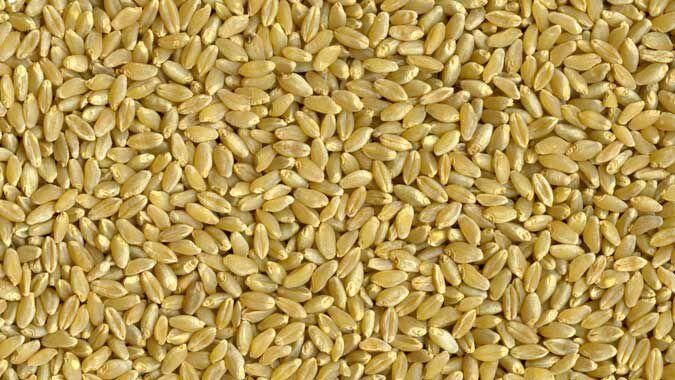 While various other commodities appear more impacted by recent weather events, that isn't the case with durum, at least so far, as prices have remained steady in that mid-$7 range.
In terms of prices, most cash durum bids in the region are still around the $7.50 mark, according to Erica Olson, market development and research manager for the North Dakota Wheat Commission, adding that every once in a while they'll see an $8 bid, and occasionally some down at $7.25.
"We just haven't seen as much price movement in durum compared to spring wheat. It's a bit less of a weather market right now because a lot of the durum area has seen okay precipitation," she said.
"We're not expecting a bin buster crop by any means," she continued, noting that the early planted durum really struggled with uneven emergence and adverse effects from heat stress. Nonetheless, "a lot of producers say they might pull off an acceptable crop if the rains continue, especially in the northwest part of (North Dakota) where they've seen some heavier precipitation. Of course, they're still dry, but that moisture has been helpful. The key thing is they're going to need continuous moisture."
USDA released an updated crop progress report on June 28, which caught Olson a bit off-guard.
"I was a bit surprised to see for North Dakota that they're still showing about 10 percent of the durum crop still hasn't emerged, and 3 percent of it is headed out already, so it's quite variable," she said.
Crop condition ratings also dropped a little. According to the report, about half of the crop is still rated in good-to-excellent condition. That's much better than spring wheat where only 19 percent is rated in good-to-excellent condition, but durum condition ratings are still below last year.
The U.S. desert durum crop is in the middle of harvest. Arizona is reporting about two-thirds of their durum harvested.
"As is fairly normal for that area, we're not hearing reports of any harvest issues or yield issues," Olson said. "Obviously that's all irrigated, so they have fairly stable yields from year to year."
North of the border in Canada, conditions have been dry, as well, but the Canadian crop has seen some better and more widespread precipitation than the northern durum crop in the U.S.
"But it's kind of a mixed bag there, as well. In some areas the rain came too late and the yield damage is already done, and some areas the crop is looking pretty good," she said, adding that their most recent crop progress numbers indicate that about 75 percent of the crop in Saskatchewan and Alberta is rated in good-to-excellent condition.
On the demand side, things have been fairly quiet for U.S. durum. Domestically, it appears that millers are in no hurry to extend their coverage any further as they are waiting to see how the crop turns out.
Olson also noted that USDA will release updated acreage numbers on June 30. The March planting intentions numbers showed a 9 percent decline in U.S. durum acreage, so it will be interesting to see if that number changes substantially at the end of June.
"On the export side, unfortunately we're seeing demand still pretty slow," she said. "We are only two weeks into the new marketing year, but our sales are just under 1 million bushels. This is one of the slowest export sales pace we have seen, so that's a bit concerning.
"I think probably some of what we're seeing is buyers are just waiting to get a better idea on crop prospects," she continued. "Also, the price is a bit higher than they've seen recently, so I think they're just holding out a little bit to see what happens."
One other thing is the fact that a lot of importing countries are expecting bigger durum production of their own this year, including the European Union, Morocco and Tunisia.
"So it's not surprising that demand is down right now," she said. "For the EU, there were some concerns of dry conditions, but they have had better weather recently. For now, worldwide the focus continues to be on the North American durum crop."