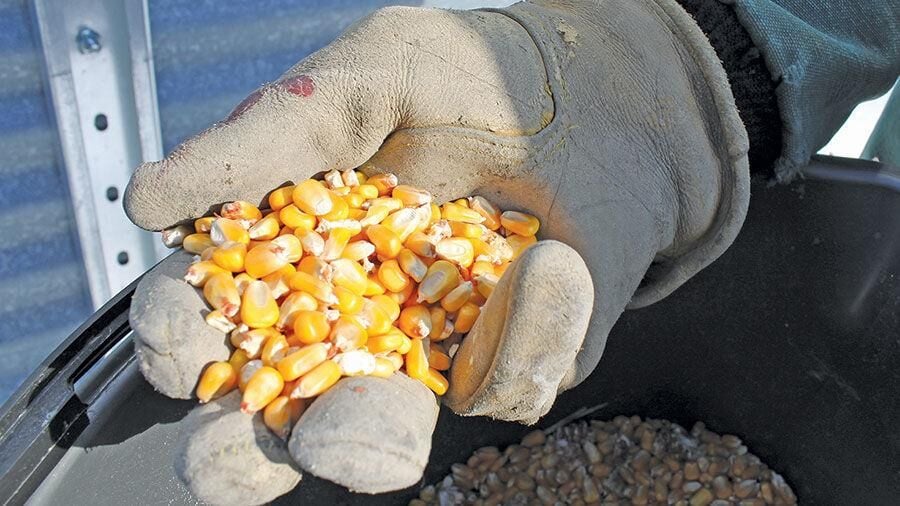 On Aug. 12, USDA released its first corn production estimate following a farmer survey earlier in the month. In the report, USDA reduced U.S. corn production estimates from its July report, which helped boost local prices.
Looking at local prices, at one local elevator in west central Minnesota regularly followed in this column, as of Aug. 16, the August cash price for corn was $6.27 per bushel and basis was +60 cents over. The January 2022 futures price was listed at $5.78 and the basis was -2 cents under.
"The biggest surprise from the Aug. 12 USDA report was the corn yield," said Frayne Olson, grain marketing economist at North Dakota State University, adding that the new estimate was 174.6 bushels per acre. He explained that in its previous report in July, USDA had used a trend line yield of 179.5 bushels per acre. Before the August report came out, the average trade estimate was 177.6 bushels per acre.
That may not sound like a lot, but it has an impact on overall production, Olson noted. In July, USDA estimated total corn production at 15.2 billion bushels (BB) and the average trade estimate was 15 BB. USDA's Aug. 12 estimate placed production at 14.75 BB.
"So in one month that adjustment is a pretty significant reduction. Thus the reason we have this updraft in the corn market," he said. "People's expectations have been reset. We're now trading saying, 'Well, if that's really the right number – and we can argue whether that's the right number or not – but in most people's mind that's our reference point saying that USDA is too low or too high and you start making your personal adjustments."
The challenge for corn and soybeans is that it's kind of a tale of two cities in that each crop is split into east versus west. There's the eastern Corn Belt, which is that area east of the Mississippi River including Illinois, Indiana, Ohio, Kentucky, even Missouri and down into the Delta region. And then there's the west, which includes Iowa, Minnesota, North Dakota, South Dakota and Nebraska.
In the east "the crop looks nice," Olson said, adding the region has been getting rains and a little extra heat. And although some of the showers that have come through have been big rains, at least they're getting rain.
"So the eastern Corn Belt is looking like they're going to have a fantastic year. In fact, USDA is projecting a record yield for Illinois, Indiana, Ohio and Missouri," Olson said.
Contrast that to the western Corn Belt, which has suffered through oppressive heat and drought.
"You get into Minnesota, especially southern Minnesota, Iowa, South Dakota, North Dakota, things are much tougher," he said. "Nebraska (is) heavily irrigated, so for corn they're probably going to have some yield drag. I don't know if they've been able to keep up 100 percent pumping water fast enough, but it will still be a good yield.
"The debate we're having, for both corn and soybeans, is whether the increase in the eastern Corn Belt will offset the losses we see in the western Corn Belt," he added.
The answer is a little bit different whether it's corn or soybeans. Corn tends to be a little more densely concentrated, while soybeans have a little bit more geographic range to it, according to Olson.
For corn, the industry was expecting a drop in the forecasted yield because before the August report USDA was just using trend line yield, which is the average yield adjusted for improved farming practices. But the August report was the first time USDA combined information from a farmer survey, as well as satellite imagery to try and update and get more of a condition-based yield estimate rather than just an average.
"We were expecting the national average yield for corn to slip a little bit. It came down a little more than we had expected," he said. "(In) USDA's estimate, our total corn crop is starting to slip, and so we're recognizing some deterioration in crop conditions, in particular in the western Corn Belt."
One of the challenges for producers in the Northern Plains is they have to be careful about not falling into the "backyard syndrome," in which the thinking is that just because it's really dry and the crop looks really horrible "in my backyard," that doesn't mean the whole U.S. corn crop is going to look like that.
"Please recognize the eastern Corn Belt. There are places in the U.S. where the corn crop is looking really, really nice, so there will be some offset," Olson said. "Now, it's not going to be one-for-one – that for every bushel we lose in the west we're not going to be offset by the east, but this is not going to be as disastrous a year nationally as we first expected.
"But because of that, in the futures market we did see a nice increase in the futures price for corn, and definitely the psychology of the corn market is starting to shift now," he continued. "Yes, we're going to have an okay crop, but this crop can still deteriorate depending upon growing conditions."
Another piece to consider is the cash market and producers are starting to see some very strong basis levels, and they have for a couple months now. The basis, Olson noted, is the price differential between the futures market and the cash market.
"Our normal harvest basis for corn is often 70 cents under. So you take the futures price minus the 70 cents (and) that will be your local cash price for harvest delivery," he explained. "Well, in today's world there are a lot of folks that are minus 40, some are minus 30, and to me that's signaling that the cash market is recognizing we have this difference over space.
"The eastern Corn Belt may be looking good, but the west doesn't," he continued. "So how does an ethanol plant in North Dakota or Minnesota or South Dakota get their corn? How do they make sure they are able to contract and make sure their corn in-flow is enough and sufficient to be able to feed that plant for the upcoming year?"
Even though the futures market is looking at what's going on nationally and globally, on the cash side, local cash markets are still trying to figure out how they are going to get the grain when they need it.
One of the things Olson is spending more time talking about with farmers is that they need to also pay very close attention to the basis levels because this is not going to be a normal year when it comes to basis.
"Depending upon who is buying it and when their supplies are needed, we might start seeing more variability or some more differences in basis by location," he said. "Typically, elevator A, elevator B, and elevator C or ethanol plant D tend to have very similar price quotes, not identical but really similar, but when we get into very dry conditions like this and we're looking at very tight supplies, now all of a sudden the decisions these different companies are making can influence their needs and the timing of their needs. I think we're going to start to see more differences in basis levels from company A to company B to ethanol plant C."
For the next couple months, until the combines start rolling, the market is going to be focused on the yield side. How many bushels will there be to deal with? Where are those bushels located? Then attention will turn to demand.
"It won't be until after harvest (that) we really start thinking about, 'okay, with these higher prices, who can afford to purchase that,' because we're likely not going to have the supply of corn we've had these last couple years," Olson said. "We're tighter. Yes, we can bring some out of inventory, but we also have to raise prices to try and reduce consumption.
"In both corn and soybeans, usually the most sensitive, price-wise, is the export market," he continued. "One of the things we watch very closely as we get into harvest and past harvest, longer term, is what's happening to our export sales? Who's buying corn from the U.S.? How much are they ordering, are they doing hand-to-mouth or is this something where they're coming in and trying to build up larger quantities for inventory?"
We'll find the answers to those questions soon enough.