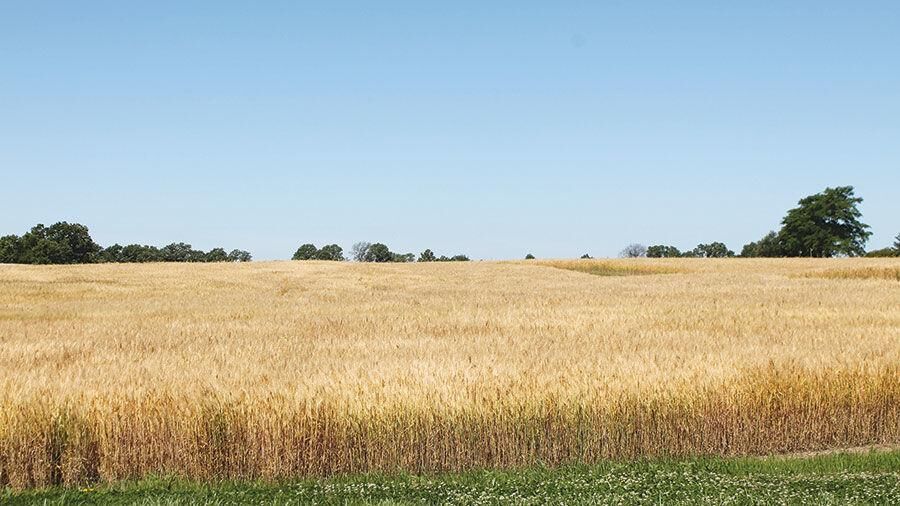 At the end of February and early March, the spring wheat market saw some negative momentum come into play as old crop values came under pressure from some of the sell-off in other commodities, primarily corn and soybeans.
"Fortunately the Minneapolis contracts have seen less of a sell-off, but then it also saw less of a rally compared to some of the other crops over the winter," said Jim Peterson, market director for the North Dakota Wheat Commission. "There were some technical triggers and fund liquidation profit taking at the end of February."
Peterson feels part of the reason for weakness in corn and beans is that South America is getting closer to taking over some of the shipping and sales to customers in the coming weeks. He also pointed out that the U.S. had some cancellations from China on previous corn purchases. Those are some of the negatives.
But, he noted, there are still a lot of supportive factors to the market including the drought that is expanding from the hard red winter wheat region up into parts of the Corn Belt and continuing into our region. Many near-term weather forecasts call for an early planting season in a lot of areas because some of the soil moisture is pretty limited, especially in the more central and western areas.
"We still have a very good demand base on the books with sales of both corn and beans, so that's supportive," Peterson said. "On the wheat side, we're still running ahead on our exports for the year. Overall U.S. wheat exports are at 867 million bushels, which is 4 percent higher than a year ago and in line with USDA projections."
He also pointed out that the U.S. is doing better in projections for soft white wheat, but hard red winter has slipped a little and is running about 7 percent behind a year ago with 290 million bushels (MB) in hard red winter wheat sales. USDA is projecting sales will only be down 2 percent for the year.
"So maybe some of the sell-off recently in the market will help us pick up some more hard red winter demand," he said.
Also, the Russian export tax, which is about $1.60 a bushel, is now kicking in and that should limit Russian exports and maybe help the U.S.
Looking at hard red spring wheat, U.S. export sales are doing fairly well with exports up 6 percent from a year ago. The 260 MB in sales thus far is in line with USDA's projections. Somewhat disappointing, he added, is that sales to Japan have started to slip. They're still the number two market for the U.S. with 30 MB in sales, but that's down about 10 percent from last year.
"The European Union is also lower, and of course we have a tariff on our hard red spring wheat exports to Europe right now, so that's hampering sales," he said.
"The big success story is China with 24 million bushels in sales, which is 10 times higher than last year," he continued. "The U.S. still has 10 million more to ship to China, but there are some specification challenges with some of the shipments (there). Hopefully we don't see any cancellations or switching to another class of wheat."
The U.S. has seen strong exports to South Asia with sales up on the year to, among others, Indonesia, Vietnam and Thailand. Also, Mexico is running almost 50 percent higher on spring wheat purchases, indicating a lot of positives on international demand.
"On the domestic front, with the strong hard red winter wheat prices relative to the last couple years, and fairly tight hard red winter stocks, we have seen more mills take advantage of some of the better valued mid-protein spring wheats," he said.
"We'll see what happens. If hard red winter prices do slip over the next couple months we may see that switch back. But as of now, that's been a positive for spring wheat," he added.
North of the border, Canada has been a big competitor and have "had a whale of a year" in terms of export sales. Through the end of December, Canada stood at 307 MB in shipments, which puts them almost 30 percent ahead of a year ago.
"Where they've really carved out some market share is Nigeria, Peru, Colombia, Chile, all markets that hard red winter typically competes pretty hard into," he said. "They're also seeing stronger demand to China and also to the United Kingdom. With tariffs on U.S. spring wheat they've been able to take advantage of that to see some stronger sales there."
Looking at current price levels across the region for hard red spring wheat with 14 percent protein, the range is $5.70-$5.90 with an average of $5.80. At the Minneapolis Grain Exchange Index the price is about 25 cents off of the recent highs with the futures market showing a greater decline, but Minneapolis is showing less of a decline relative to the other markets. The Minneapolis cash index is currently at about $6.10 for hard red spring wheat, which is down from the recent high, but still up 35 cents from early January when the price was $5.76.
"Looking into new crop, I think it's a positive to see there are some bids over $6 for spring wheat in the region, so there's definitely a push for acres," Peterson said.
He explained that crop insurance price levels that were set in February show hard red spring at $6.53 a bushel, which is up dramatically from a year ago when it was $4.35 and even higher than current market values. Soybeans are roughly $11.90, which is up from $9.17 a year ago, and corn is $4.58, up from $3.88.
"Even though current old crop prices would certainly indicate a big shift to corn and beans and a decline in spring wheat, maybe the crop insurance price level and some of the ongoing dry conditions we have – if we have an early planting season – will help us hold some spring wheat acres a little closer to unchanged, although I think we'll be lower on the year," he said.
Another factor, Peterson noted, that continues to support the overall wheat market is very strong feed demand in Canada.
"Surprisingly, some of their current feed wheat prices are at $6 a bushel (U.S.)," he said. "The high corn prices are really supporting that feed demand in Canada and that even carries out into new crop. This may also start to slow their strong early season export pace, as domestic feed demand pushes local prices above world values.
"I think unless we see a major sell-off in corn and beans, wheat has a pretty good demand story and then obviously the concern about not losing too many spring wheat acres along with concerns about dryness and cold weather in the hard red winter wheat region. Those are definitely still supportive factors," he continued.
"We'll have to weather some of these periodic technical sell-offs and profit taking that have happened here just recently."