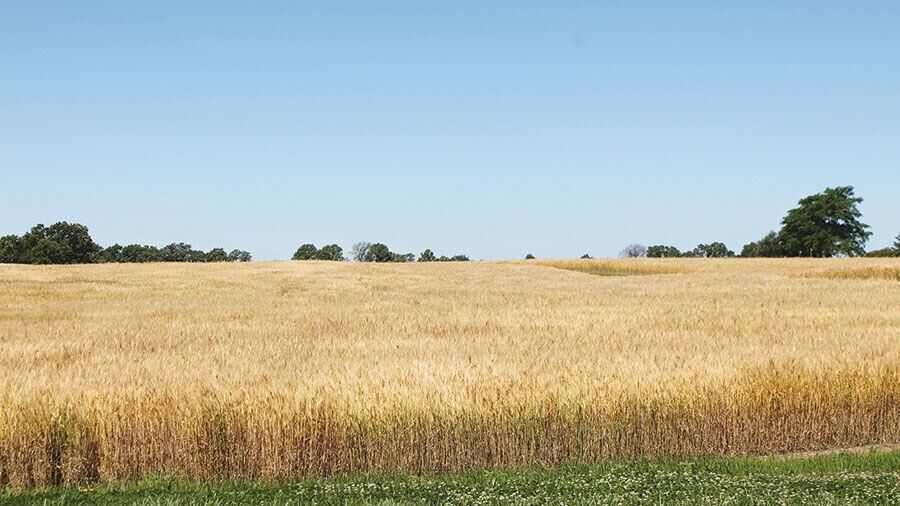 As 2021 came to a close, producers experienced bitterly cold weather, but temperatures weren't the only thing dropping as the new year was about to begin. Wheat prices also chilled, although historically they still remained quite high.
"After relatively stable prices the last couple of months, the last week or so has been a bit tough on prices," said Erica Olson, market development and research manager for the North Dakota Wheat Commission, on Jan. 4. "We're down more than 50 cents in the last couple of weeks, so 2022 isn't off to the best start price-wise."
She noted the Minneapolis March futures on Jan. 4 were trading around $9.70, which is still high, historically speaking, but it is still tough to absorb when prices had been in the mid-$10 range just weeks before. That puts cash prices around $9 to $9.30, meaning the market has seen anywhere from a 50-70 cent drop for cash prices in the past couple weeks.
Having pointed that out, Olson noted there are still a lot of bullish factors out there for the market to consider, including a tight stocks situation along with concerns over the hard red winter wheat crop.
"But lately there are some things weighing on the market. One of the big ones is the slow export demand," she said. "Along with that we have seen a bit of a stronger dollar lately, so we're not as competitive. Another thing the last few weeks is the general economic uncertainty with the new strain of COVID, and transportation and other logistical issues."
Export inspections the last week of the year were only just over 5 million bushels (MB), which was about half of the previous week and significantly lower than the same time a year ago.
"The most recent export sales report is also on the low end of expectations," she said, adding that sales of all classes of wheat totaled only 7.3 MB and a large chunk of that was to Taiwan.
Of the 7.3 MB total, hard red spring wheat accounted for 2.3 MB.
"We know that with the holidays it tends to be a slow time of year, but still, those numbers fell even below the low end of expectations," she said.
To date, total U.S. wheat sales are down 22 percent compared to a year ago, although hard red winter wheat sales have actually been catching up a bit, fueled by an increase in demand from Nigeria. Sales for that class of wheat are only down 12 percent. However, hard red spring wheat sales are down 24 percent and white wheat is down almost 50 percent, but soft red winter wheat is up 50 percent. The biggest dip in exports is in the classes of wheat that suffered production losses due to drought.
So far, in the current marketing year, the top five markets for U.S. hard red spring wheat include the Philippines, Japan, Mexico, Taiwan and Korea.
"Notoriously missing is China," Olson said. "We had very strong sales last year, and so far we've sold nothing this year. We are down quite a bit to a chunk of the Southeast Asian countries, as well.
"There was a pretty big expectation that as we got into 2022 that demand might pick up, so we'll see what happens in the next couple months," she added.
Another thing the market is watching is the harvest in Argentina, which is wrapping up and looking better than expected. The current USDA forecast for production there was 735 MB, but internally, Argentina has raised its own estimate to 790 MB.
"That pressured the market a little bit – another bigger crop," she said. "However, their government is imposing an export limit even though they have higher production. So they're limiting their exports to 460 MB to protect domestic prices."
Another export restriction issue, Olson pointed out, is that Russia will be imposing an export quota from mid-February through the end of June. It likely won't have a big impact on the market, however, because their exports are already projected to be lower than last year.
"But, obviously, because of the tightening supplies in the world, any time you get news of some of these export restrictions it is a concern in the market," she said.
Another key issue to watch is the condition of the U.S. hard red winter wheat crop. Olson noted it's been very dry in the main growing region, and back in December there was some extreme weather that damaged crops. An updated crop progress report on Jan. 3 showed a big decline in crop conditions for the winter wheat crop. In Kansas, only a third of the hard red winter wheat crop was rated in good-to-excellent condition. That's a 29 percent drop from the November ratings.
Oklahoma is very similar with only 28 percent good-to-excellent, and in Colorado only 13 percent is in good-to-excellent condition. This will be closely watched going forward.
One other factor Olson noted, although it doesn't directly impact wheat, is that it's been dry in South America, which is affecting soybean crops there. That, she said, could have an impact on overall markets and is something to watch.
"I think the big thing here, as we get into the next couple months, is whether are we going to see a big increase in demand for U.S. wheat or not," she said. "And, of course, looking at our planting season, will we see the drought conditions alleviate in North America, so both in the U.S. spring wheat region, but also in Canada and how that would impact not only planting, but obviously our 2022 crop production."
With the new year just getting started, producers are looking ahead already to the 2022 production year and considering their planting options.
"Visiting with producers, I think the general consensus is there will likely be an increase in acreage, but probably not substantial, not a huge number like 20 or 30 percent, just because there's a lot of good price outlook for the other crops, as well," she said. "But it's definitely promising at this time."