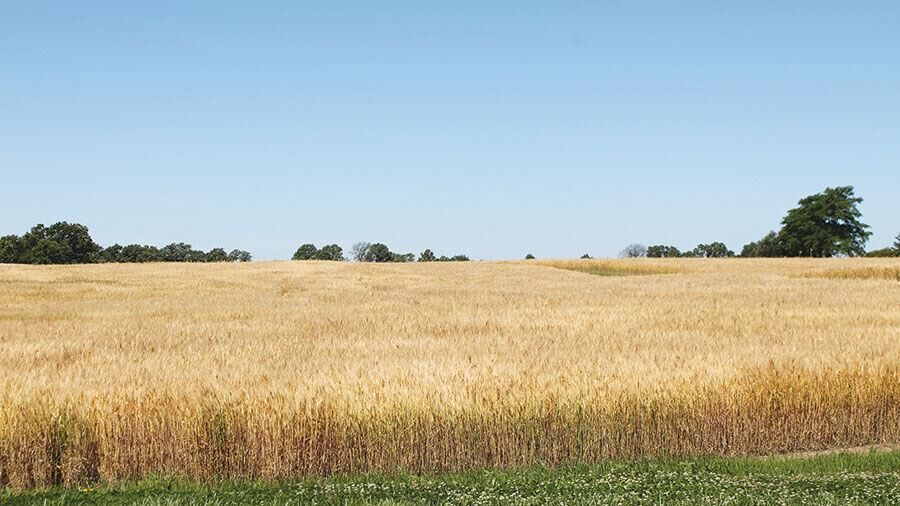 The wheat market is still seeing some volatility as the market tries to settle in and get a balance between supply and demand following the completion of harvest. However, the market did show a little strength toward the end of September.
"The futures market in Minneapolis rallied 50-60 cents from its September lows and gained back a little bit of the premium to the Chicago and Kansas City markets, back to about a $2 premium," said Jim Peterson, market director for the North Dakota Wheat Commission.
"Futures weren't able to break through their previous highs, but they got within 20-30 cents before we saw a little bit of sell-off the last week of September," he continued. "Basically, the market had reached an oversold position. Pipelines got a little thin after the more aggressive producer selling during harvest. We are starting to see better export demand, but that's still down quite a bit from last year."
Going into the fall, Peterson explained the market may start to be influenced by more non-wheat factors such as the potential for a government shutdown, Congressional gridlock in Washington, D.C., and whether it has an impact on the stock market, and some of the overall economics.
"That could trickle over into some of the commodity markets. Also, with the corn and soybean harvest...and depending on the pace of harvest and where yields come in at, that certainly could influence overall trends," he added.
Looking at local wheat prices, in some eastern locations of the region, current cash prices for 14-protein spring wheat are again near $9 and higher, while they are down in the $8.50 range in some of the western locations. The average price is about $8.75.
"That's certainly an improvement from early September. Some of what we gained in the futures we lost in basis in some locales – so maybe a 45-cent gain in cash prices," he said.
Looking ahead to what may drive the market going forward from a wheat standpoint, Peterson said keeping an eye on winter wheat planting progress will be important. As of Sept. 27, about a third of the U.S. winter wheat crop had been planted, which is right in line with a year ago and the five-year average. There have been no significant problems to planting, although he noted there is some concern of dry conditions in the Southern Plains region, as well as parts of Montana and the Pacific Northwest.
"So we're certainly going to need more rain in the dry areas to get the crop germinated and off to a good start," he said.
In Kansas, winter wheat planting has had a little delay as producers are dealing with army worms. The general expectation is for a 5 percent or higher increase in winter wheat plantings.
"Certainly the prices are attractive, but a lot of commodities are also looking at good potential," he said. "Fertilizer prices and availability could be a factor in some areas. The final level of increase is going to depend in many ways on the weather patterns in October."
As far as competitor situations, Peterson noted that different Canadian agencies have come out with updated production prospects. Right now, Canada is probably looking at its smallest crop since 2007, so the situation appears to be a bit tighter in Canada than they were a couple months ago. He also pointed out that some of the projections from government agencies there are for lower production and lower exports than what USDA is currently stating.
"That would be beneficial to us, especially on spring wheat and durum because they are our primary competitor," he said. "Ironically, some of the near-term export values for Canadian wheat are a bit cheaper than export values for U.S. spring wheat, in part due to lower rail costs, so as of now they are still very competitive on the export end. But as the fall progresses and into the 2022 calendar year, we expect more tightness out of the Canadian situation."
On the demand side, export demand/sales will be the big thing going forward.
"We've struggled to capture export demand or compete simply because our prices are some of the highest in the world right now, and not just for hard red spring, but also for soft white wheat, and hard red winter versus some of its competitor wheats," Peterson said, adding that as of mid-September, overall U.S. exports were running about 20 percent behind a year ago with roughly 400 million bushels (MB) in sales compared to 495 MB last year.
Soft red winter has been very price competitive and is doing the best of the classes, running ahead on the year for exports. With a shortage of soft white wheat, soft red winter has been able to pick up a little of the demand from those markets.
Hard red winter wheat, the largest production class in the U.S., has 150 MB of sales on the books compared to 184 MB last year, a decline of 18 percent. Soft white wheat, which endured a significant drought, has export sales of 67 MB vs. 100 MB and is down 33 percent.
"It's a matter of price and sheer availability that is impacting that trend," he said.
Hard red spring wheat sales stand at 108 MB. That compares to 145 MB a year ago and represents a decline of 25 percent.
"It will be important for the market that we are able to capture some demand before the first of the year," he added.
For hard red winter wheat, Nigeria, Mexico and Japan have all been strong buyers for that class. For hard red spring, the Philippines has been the top U.S. market with 32 MB in sales, roughly one-third of total U.S. sales, but that's off 16 percent from a year ago. Japan is at 12 MB, down 33 percent; and Mexico is at 9 MB, which is actually 80 percent ahead of a year ago. Taiwan comes in at 8 MB, which is down a little over 60 percent from a year ago.
Peterson suggested that the sharp run-up in prices this summer, coupled with exporters uncertain about final production or what contract specs they could offer, all combined to provide a challenge to get bids and offers to come closer together.
"As the crop has been harvested and analyzed, we have a very strong quality crop. Test weights are better than anticipated and very marketable and there are no disease issues," he said. "There is an abundance of protein leading to a pretty flat protein market, so customers are going to get more protein than they typically do. As the year progresses and the buyers get more understanding of this year's crop, we should see those sales pick up."
On a positive note, he noted that U.S. sales to the Caribbean and Central American region are actually up 10 percent.
The big thing the market is hinged on at the time of this report is that USDA will come out with its updated small grains production estimate on Sept. 30. Pre-report, U.S. hard red spring wheat production was pegged at 305 MB.
"The average expectation from traders is that the September number may come in slightly smaller than that. We're going to get some market reaction one way or the other on that. It depends on what the survey says," he said.
The National Agricultural Statistics Service surveyed producers in early September both on acres harvested, as well as final yields. That, Peterson noted, is where there are expectations of a high level of abandonment.
"If the USDA numbers don't show that high of abandonment we could get a negative reaction from the market," he said. "On the flip side, people are expecting the yield to go up slightly from the August estimate just based on the acres that were harvested and, especially in the eastern part of our region and some of the northern areas, yields came in a bit better than what producers were expecting. That will be the next big news that the market trades off of.
"With the earlier harvest this year, that September production estimate should be pretty solid. There's still a chance things could change in the January report, but I think from a buyers perspective, it will give them a little better idea (of the size of the crop)," he continued. "If that production number comes in lower than expected, they're probably going to have to realize that supplies are going to get pretty tight by the spring of next year. If it comes in a bit higher, we may see buyers relax a little bit, feeling a little more comfortable with supplies.
"We'll see what happens," he concluded.