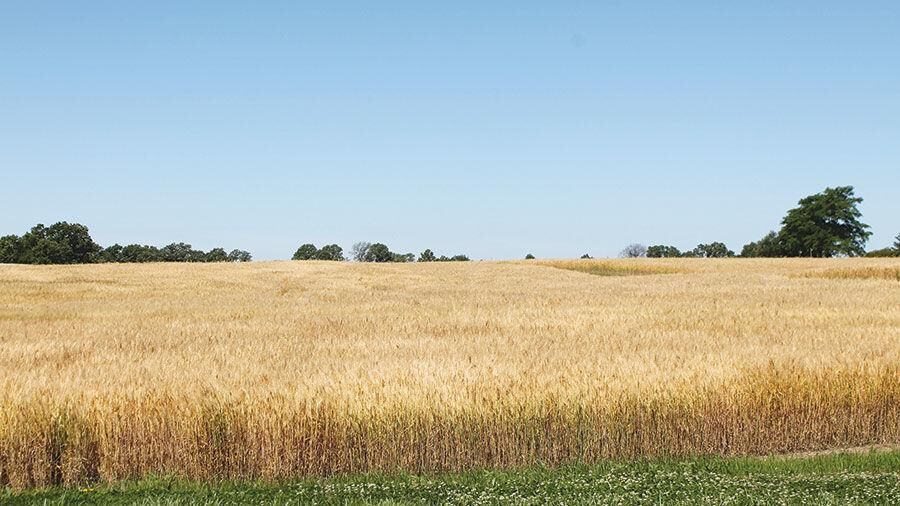 Through the month of January the wheat markets enjoyed a nice rally, and although prices have come down from the highs midway through the month, prices remain strong.
"(Prices) have kind of come off of their highs and shown a little more weakness of late, but (prices are) still net higher for the month," said Jim Peterson, marketing director for the North Dakota Wheat Commission.
Part of the reason for that, Peterson explained, is because some of the weather concerns that were supporting the market in early January have eased a bit.
"South America is getting more favorable weather for their corn and soybean crops," he said, "and the hard red winter wheat region in the U.S. has received some moisture with a snow storm in late January. Those issues have taken some of the concerns out of the market, but what continues to support it is just very good demand."
The wheat market is getting some of its support through the corn market. The fact that China has been buying more corn than expected has really supported the corn market, which in turn, provides support to wheat. That's because, at some levels, corn and wheat both compete for feed demand, and as the price of corn goes up, more feed demand looks to wheat as an alternative, according to Peterson, adding that that's especially driving wheat prices in Canada.
Looking at current local cash bids for 14 percent protein spring wheat, as of Feb. 1, prices were ranging from $5.50-$5.90, which is off of the highs slightly. The Minneapolis March futures were $6 on Jan. 1, and by the end of January they were $6.25, but they had reached a high of $6.50 in the middle of the month.
"We've seen a little bit stronger basis levels for hard red spring wheat because, while producer selling has picked up some, I think most producers are still pretty bullish on hopefully some further price gains in wheat," Peterson said. "We'll see what happens."
Looking at the Minneapolis Cash Index for hard red spring wheat, corn, soybeans and hard red winter wheat, on Jan. 1, both hard red spring and hard red winter were at $5.80 a bushel nationally. At the end of January hard red spring was at $6.05 and winter wheat was at $6.12. Both of those are off a dime from their high for the month.
"If we look at corn, it was at $4.68 the first of the month and up to $5.30 by the end of month," he said. "Soybeans were at $13 and went up to $13.26. I point that out because some of the strength in corn and soybeans is what's driving a lot of the markets.
"And as we get further along into the month of February, more of that support for wheat is going to have to come from wheat itself if it is going to compete for acres in 2021," he added.
Looking at some of the new crop prices, Peterson noted that there's not as much spread between corn and soybeans and hard red spring wheat in deferred positions.
"Nonetheless, $6 new crop spring wheat, while it certainly looks attractive historically, it's paired against nearly $4 corn and $11 soybeans for new crop, so I think that's a longer-term supportive factor for wheat," he said. "But on the nearby here, we've struggled a little bit on some of the exporting and we've started to slip on hard red winter wheat sales."
Looking at overall U.S. wheat exports, sales stand at 800 million bushels (MB) compared to 768 MB a year ago. Where a lot of the gain is coming from is in hard red spring wheat and white wheat. Hard red winter wheat started the year quite strong. As of Feb. 1, hard red winter sales were at 272 MB, which is down from 283 MB a year ago.
"USDA is projecting that sales will still be higher on the year, so that's taken a little bit of wind out of the market, but hard red winter wheat prices remain well supported compared to last fall," he said. "On one hand we've got some stronger domestic prices for hard red winter wheat and it's even higher than hard red spring in some areas, but that's making it more difficult for them to compete for export demand against European Russian wheat, even some Argentine wheat."
Hard red spring wheat sales stood at 235 MB as of the end of January. That compares to 220 MB a year ago. Sales are actually doing a bit better than USDA projections for the year.
The top five markets for the U.S. are all running stronger year-to-year with the exception of Taiwan. Sales to the Philippines stand at 56 MB, Japan at 28 MB, China at 21 MB, Taiwan at 20 MB and Mexico at 16 MB.
Peterson explained the strongest year-to-year sales are in China and Mexico.
"I think that's positive for continued export basis, which hopefully will support some of the local country basis," he said.
As far as new things in the market to look for, Peterson pointed to some private forecasts for 2021 plantings. Most of them are in the range of a 5 percent cut in spring wheat acres, not just in the U.S., but also in Canada.
In Canada, Peterson noted that pulse crops and canola are projected to be higher with some very strong prices. Even oats has some very strong prices.
"The factor that could change that before planting is some feed wheat bids for mid-summer in Canada are already $5.50-$6 U.S., certainly a quite attractive price, so I guess that could switch some interest back to wheat if that continues," he said.
On Feb. 9, USDA will provide updated reports and one of the things everyone will be watching closely is what happens with corn and soybean ending stocks because there has already been some very good export sales.
"If those numbers come in tighter than expected, even though the market has cooled a bit lately, that could reignite things going into planting," he said.
Another factor the market is keeping a close watch on is the weather, and whether the heart of the winter wheat region continues to get moisture because drought conditions are still quite strong, not just down there but also up in this region where more moisture is certainly needed.
"If we look at the cold weather forecast coming up, we could see some market reaction to that in some of the hard red winter wheat region," he said.
One last item to consider is what happens with Russia, which has been touting export restrictions going on in February. However, now there's some rhetoric that seems to be changing that discussion.
"We'll see what happens, but certainly the markets have had good trends after the first of the year but seem to have slipped a little from their highs, and doing some consolidation, but we'll see what happens going forward," Peterson said. "Certainly, if corn and soybeans and other crops stay at their price levels, wheat is going to have to hold in there, as well, and even strike out some stronger gains to hold acres."