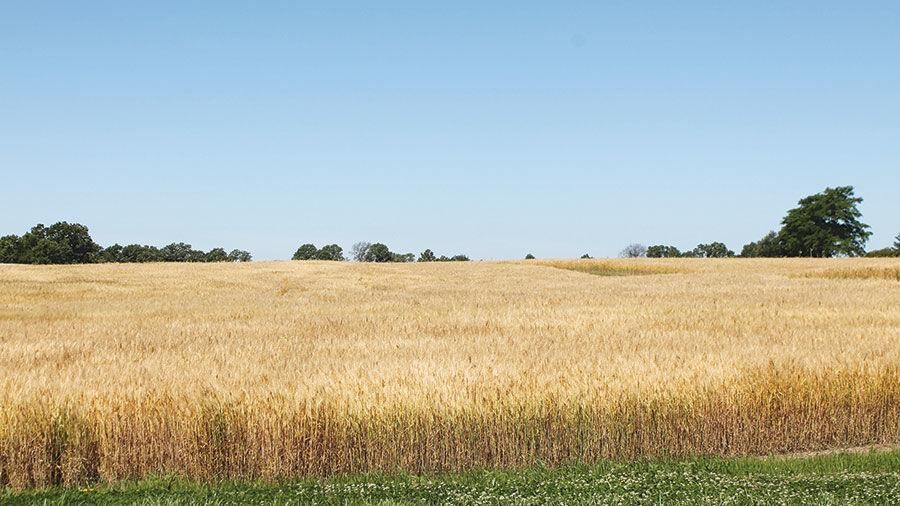 Following the completion of harvest, the spring wheat market has taken a little bit of a setback in September.
"Part of it is just a quicker approaching corn and soybean harvest, adding some handling pressure to local and export elevators. Maybe the market is a little fatigued on some of the drought discussion in some of the U.S. and Canadian spring wheat areas," said Jim Peterson, market director for the North Dakota Wheat Commission. "And there's probably a little disappointment that there hasn't been more demand coming to the U.S. market. I think a combination of those three things has led the market to trail off.
"It's obvious the market is going to be volatile this year, so there's going to be some bounce-back at some point, whether it can take us through the previous highs that have been set remains to be seen. Time will tell," he added.
Some of the new news that the market is working on, Peterson pointed out, is that USDA came out with its September supply and demand report and, in a somewhat unusual move, the agency updated the corn and soybean planted area earlier this year, and they did bump up corn acres.
"One of the big variables in wheat starting earlier this year and carrying through the summer months has been greater than normal feeding, just because of the tightness in the corn market, not just in the U.S., but also in Canada and worldwide," he said. "Anytime, as we go forward, if there's confirmation or expectations of improved corn supplies, that's probably going to weaken that feed value component for wheat."
There were no changes to the U.S. wheat production side in the report. All of that will take place in the Sept. 30 small grains report. That's also when we'll get a better idea of how much abandoned acreage there was in the U.S. spring wheat region and an updated yield forecast.
"That's what the market is waiting for – its perceived impact from the drought versus what the USDA survey will show," he said.
The major adjustment USDA made for wheat was tied to the global market and it was a little bearish, and so it probably didn't help prices any. One surprise was that USDA upped Canadian beginning inventories of wheat due to data in their survey of stocks as of the first of
August. It was up almost 50 percent from previous estimates, going from 140 million bushels (MB) to 209 MB.
"That caught the market a little bit by surprise and, from a buyer's perspective, it takes a little bit of the sting out of a smaller crop being produced in 2021," he said.
USDA also raised beginning inventories in Europe. Peterson noted that was anticipated, but some of the increases were a bit more than expected. USDA did raise the 2021 Indian crop by roughly 50 MB, as well as the Australian estimate by 50 MB. USDA did lower the Canadian crop by another 37 MB and also lowered the Argentine crop by 18 MB.
"Those were kind of anticipated, but the bump in the Australian and Indian crops was more than expected, so it had more of a price-negative impact," he said.
The current Canadian crop estimate for spring wheat is 590 MB, down nearly 40 percent from last year. As far as export changes, Australia went up by 37 MB and Canada went down by roughly 20 MB.
Going forward, Peterson said a lot more focus will be put on South American crops, and
Australia in particular, just because it's a big demand center in Asia, and also the Argentine harvest will influence our South American customers.
"Any hiccups in those crops in terms of quantity or quality certainly should lend support back to the market," he said.
As far as in North America, producers have wrapped up spring wheat harvest. There were a few pockets that had some loss in quality due to late rains, but nothing very impactful to the market. Overall, Peterson said this was just a very high quality crop with solid test weights, excellent kernel quality, no DON issues and high protein.
"So we certainly have a very marketable crop. It's just a matter of getting buyers comfortable with the higher market values for hard red spring wheat," he said. "At present, buying has been much slower than expected."
On the demand side, overall U.S. export sales are running about 24 percent behind a year ago. Hard red winter wheat sales are 25 percent behind and hard red spring wheat is about 28 percent behind. The U.S. has roughly 100 MB of hard red spring wheat sales on the books compared to 140 MB as of early September last year.
"The only market where we're seeing a notable increase in sales is Mexico. Most of our other major buyers are running anywhere from 14 to as much as 30 percent behind a year ago," he said. "It will be interesting going forward, now that we've gotten a break in the market with the decline in futures prices, if that will encourage additional buying from customers.
"The challenge for exporters will be with the soybean harvest coming on more rapidly, and some good export programs for corn and beans," he continued. "The charge for elevator space at the export points has gone up, so from a buyer's perspective they might be getting a break in the futures market. But handling basis has gone up and rail freight rates have picked up in the secondary market. So we'll see how rapid that buying pace is or if it gets deferred more to January/March. The impact of Hurricane Ida has also cramped export capacity at the Gulf and shifted more demand to the Pacific Northwest, which is our big export outlet."
Looking at local prices, they've slipped down to as low as $8.25 in some areas, and are still holding at $8.70 in other markets. Peterson noted prices are down about 25 cents per bushel since the first of September. The harvest time high on the Minneapolis cash index was $9.30 per bushel in mid-August, but it has now slipped to about $8.60.
"I think the fundamental situation hasn't changed a lot, and we just reached a point of a little market fatigue and trying to get more confirmation of export sales," he said. "Ironically, as U.S. prices have drifted lower in the last couple weeks, world values have actually improved a bit due to the Russian export tax and the EU having some quality issues. So the price gap has narrowed and the U.S. wheat is more competitive than it was a few weeks ago."
Going forward, the market will be watching winter wheat plantings. The expectation is for increased winter wheat acres. But, with some of the hurricane activity in the Gulf, there could be pockets that see some delays due to too much moisture.
"For the most part, the fundamentals are still there and the 2021 crop hasn't gotten dramatically bigger due to the drought areas," he said. "Volatility is to be expected as we work through the corn and soybean harvest and reach more consolidation in the market to shore up buyer support going forward."