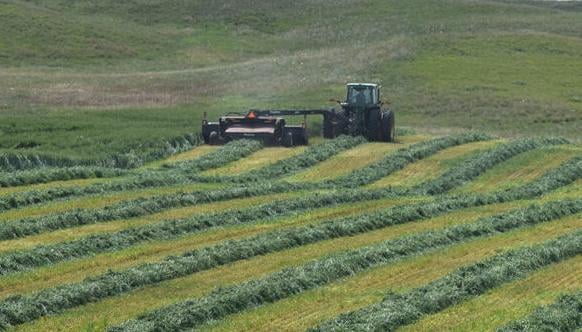 Kevin Sedivec, NDSU Extension rangeland specialist, and director of Central Grasslands Research Extension Center (CGREC) in Streeter, N.D., helps producers find out which annual forage options fit their operations the best.
"There are numerous forage varieties available to select from, and producers should pick the forage they need based on asking themselves a few questions first," Sedivec said.
Some of the questions involve if the producer wants hay, haylage, silage, a type of grazing feed or if he/she is looking at a combination hay that could be harvested and grazed.
"Timing is everything, and there are different times to harvest different forages," he said.
Producers should consider when they would be harvesting their hay – and then select based on that timing.
"Look at what would be best for your time, your labor, and your equipment so that you can put up a good quality feed hay," he said.
They may also want to look at what they want to do with the hay, what the cost of the haying operation will be and what kind of soil they would be planting into.
It also matters if producers have the ability to grind their hay or not.
"Will the hay be fed 'as is' or ground for a total mixed ration?" he asked.
Not all forage types are created equally, either. Some feeds that are not very palatable can make a good feed when ground up.
"Finding out if you have to feed it 'as is' or if you need to grind it will help you determine which species or which forage type will work for your operation," Sedivec said.
Cereal forage options are plentiful.
"Forage oats is a nice high quality feed and many varieties have been released into the market over the last 10 years," he said.
Forage barley is another option that has been out there for at least a few decades.
"It is a nice high quality feed you can look at it," he said.
Spring triticale has been "popular" in the market for a while and is a lot like forage oats in terms of production, however, it is lower in terms of palatability.
Annual rye is a cereal forage that has become more popular in the eastern Dakotas and western Minnesota.
"It is cheap and it is readily available. It's easy to establish, but rye takes more inputs in terms of fertility to be productive," Sedivec said.
A newer variety that was been released last year is a forage wheat. The wheat has been researched at Research Extension Centers in Streeter, as well as Carrington, N.D. There was also a research trial held in Wishek, N.D.
Warm-season grasses are another forage option, and foxtail millet is one of the most common, popular ones.
"It is fairly easy to put up as hay," he said.
There is also sudangrass, which has been available for decades. It is commonly used as a forage.
However, like sorghum-sudangrass, it becomes a problem when prussic acid is an issue.
"Make sure it is allowed to become mature and not stressed and it will make a high quality feed," Sedivec said.
Sorghum-sudan hybrids such as Sudex, are becoming more popular.
"The caveat is the bigger stem, which is harder to dry, and you need the equipment to dry it – a conditioner/mower," he said.
Forage sorghum tends to be more of a haylage/silage warm-season grass. It is harder to dry with its bigger stem and has varied production.
Another option to try is pearl millet, a species that fits well because there are no concerns with prussic acid toxicities.
"It one of those species that has a long growing season, and so it is not easy to get in early enough to get good biomass off it, as well as it takes a lot of heat and water," he said.
Teff grass is very similar to pearl millet. Producing high quality pearl millet takes water and heat.
"It works better under irrigation and is being looked at in the Northern Plains," he said.
Winter cereals are another great option, which include rye, triticale and Willow Creek winter wheat.
"These need to be planned for a year in advance and need to be seeded in September to be harvested the following year as a hay, for silage or for grazing," Sedivec said.
Winter rye is most popular as part of a cover crop mix and it is low cost. Triticale is another good option, but it's higher in cost.
"Willow Creek winter wheat is one of my favorites," he said. "It is a high quality feed. You harvest it a little later, but it's another great option as a winter cereal."
Cover crop mixtures have been good options for soil health and they are also good in livestock systems.
"They can be looked at as a full-season cover crop, or a fall or spring crop," he said. "These have mostly been looked at with grazing, but can also be looked at in haying or silage options, as well."
In times of harvest, those species that fit a late May/early June harvest are winter rye or winter triticale.
Winter rye tends to be more productive, while winter triticale tends to be better quality at the later maturing stages.
"To maintain palatability, harvest winter rye prior to the milk stage and harvest winter triticale at the milk stage or earlier," he said. "With any of these winter cereals, the earlier you harvest, the higher or lower the lignin content and the higher the palatability."
In a trial at CGREC with winter rye in 2020, heifers gained about .97 of a pound per day when grazed from May 11 to June 8.
That compares with the 2020 trial at CGREC with winter triticale, where heifers gained only .24 of a pound per day when grazed over the same timeframe.
Willow Creek winter wheat is a "great option" for looking at a forage to harvest prior to the milk stage in late June.
"It was very productive – a high quality feed. This grass seems to grow slower in the month of May, so you would look at harvesting in late June," he said.
CGREC also looked at a trial with Willow Creek, triticale and rye. Willow Creek was cheaper than triticale, but more expensive than winter rye.
"Our heifers basically held their own with this trial," Sedivec said. "The biggest issue was intake issues. Willow Creek will grow slower in that month of May so grazing is just not there."
When they looked at harvesting hay from that early to late June timeframe, the cereal forage crops fit best.
"Oats were the most productive in the wet years," he said. "Forage barley was more productive or equal to production in our dry years."
Triticale is similar in productivity as oats in dry years.
"However, while triticale is not as good as barley in productivity, it tends to hold its quality the best. It usually needs to be ground in a total mixed ration," he said. "If fed in a bale, forage barley would be the best option."
Everleaf barley can also be fed "as is," and does not need to be ground up.
If a producer wants to put up hay for harvest in the late July to August timeframe, the warm season grasses fit best. The forage sorghum and sorghum-sudan are the most productive of the warm season grasses.
"They are very hard to dry, however, unless you crimp the stems and dry it. Otherwise, there is a risk of mold," he said.
If heat and water are available, pearl millet and teff can be harvested in that late timeframe.
"If there is heat and water, pearl millet and teff will be as good as your sorghum/sudan hybrids," he said. "Teff would work best under irrigation, and under pivot would be the only one to give you multiple production."
Foxtail millet is the most common of the millets that are hayed, and it works well in dry years. It is also more of a "fertility scavenger."
"Fertility inputs tend to be less with foxtail millet," Sedivec said.
Siberian millet works best out in the western areas.
"It works well in the western Dakotas or eastern Montana, where German millet, which is higher producing, is more productive in the central Dakotas and east toward Minnesota. It does take more moisture," he said.
Those millets tend to do best when ground up as part of the ration. Teff and sudangrass work better when fed in a bale.
For haying followed by grazing, a dual-use scenario, warm season grasses work well.
If dealing with freezing or drought stress, watch out for prussic acid with sudangrass and sorghum/sudangrass.
Cool season grasses are also popular for dual-use and forage barley and oats are good options.
"Nitrate toxicity can be an issue with oats if there is drought stress or if the field is over-fertilized," he said.
In all, there are many options for producers to choose from.
"I tell producers to look at your terms and objectives as to when you can put this up for hay. Pick a species that fits that timeframe. If you can't grind it, pick species that are higher in palatabililty and lower in lignin," Sedivec said. "In addition, look at whether you have the equipment you need – a crimper or conditioner – to dry these species."