GRAND RIDGE, Ill. — When you enter Cheryl Durdan's home, you will most likely be met with the pleasing aroma of fresh-baked cookies from her cozy kitchen.
"She bakes at least every other day," says her husband, Bob, who is a fan of her cookies and pies.
She often makes cookies three times a week, for Bob, their five children and 14 grandchildren, but also for church and community fundraisers or for friends.
She makes traditional favorites, like chocolate chip, and some different combinations like potato chip cookies. Her recipes are easy to follow.
"My potato chip cookie only has five ingredients," she said.
She's modest about her cookies and says she doesn't really know what makes them special — maybe it's her specific type of brown sugar or vanilla a friend gets for her. Nevertheless, these cookies are a valuable commodity. A gallon jar of chocolate cookies sold for $400 for the Grand Ridge volunteer fire department fundraiser.
She is cheerful as she bakes, with sun coming in the windows on a bright but cold winter day. She lines the cookie tray with parchment paper before dropping the cookie dough on it.
"I like to have three baking trays going at once," she says.
The office for her family's electrical business is located in their home, so she often has someone come into the kitchen for a taste when the aromas ease through the house. On this day, both her daughter, Christie, and son, Paul, who work in the business, appeared for a quick taste before going back to work.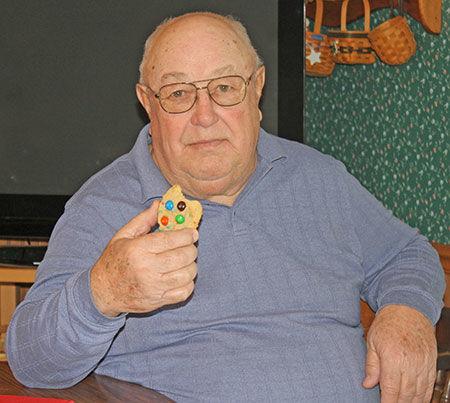 About 15 years ago, Bob stopped farming to devote his full attention to Durdan and Son Electric. His brother and two nephews farm the land now, and Cheryl still has a big garden on the rural Grand Ridge farm.
The couple is also known in the LaSalle County community for catering. Bob said he learned some of his skills as a cook in the Army Reserve. They roast pigs in a converted anhydrous tank and make fried chicken. And, of course, Cheryl will make some cookies to go with the meal.
They are also big baseball fans and even have their own ball diamond — "Wrigley Field West." There's a regular diamond for tournaments and a T-ball diamond. It all started when they were first married 52 years ago and the neighborhood kids wanted a baseball coach, Bob says. Soon they were discing down a field that eventually became the diamond.
"They needed a place to play and it grew from there," said Bob of the diamond that now includes bleachers and a concession booth.