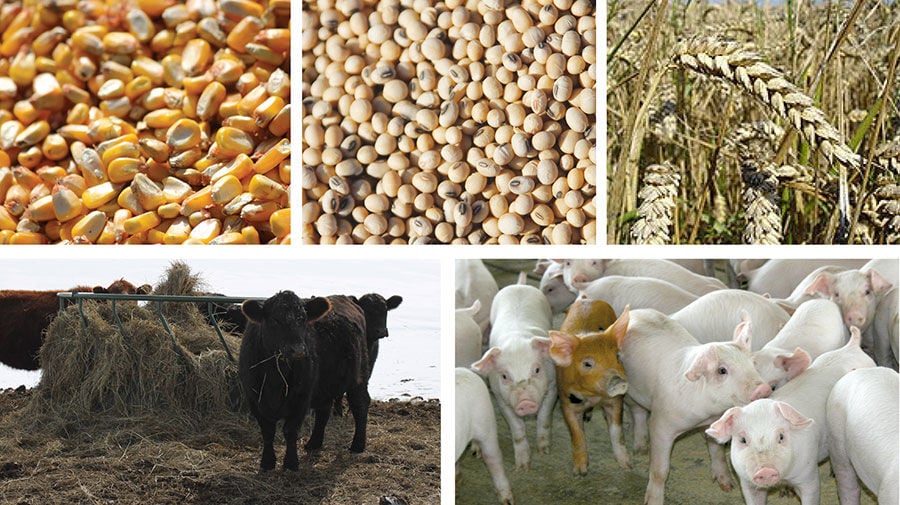 Three market experts at virtual pork, beef and land management events in January forecast volatile markets in 2021 but opportunities for profit at certain times of the year.
"What a wild ride we've had for the last year," said Naomi Blohm, senior market advisor for Total Farm Marketing by Stewart-Peterson.
Grain prices went from promising early in 2020 to discouraging in the summer, and then to unexpected highs.
"Soybeans are the leader of the market," Blohm said Jan. 28 when the price of soybeans was $13.91/bu.
She told those attending the Illinois Society of Professional Farm Managers and Rural Appraisers meeting she expects the market to stay friendly for soybeans in 2021. She said she believes soybeans will keep going up once they cross the hurdle of $14/ bu.
"My best guess is $15 futures in the next few weeks," she said.
While usage is outpacing stocks and crush demands are growing, she still expects some volatility through the year. Once South American harvest arrives, U.S. soybean prices may go lower but will likely rally again later in the summer, depending on indications for U.S. yields, she said.
Likewise, Blohm expects strong corn prices. Corn was $5.50 on Jan. 28, and she said it could reach $6 "in a heartbeat."
"If the corn market momentum continues, more upward movement is possible this summer," Blohm said.
She is skeptical of China's estimate of their corn stocks, citing 2018 when their stocks seemed to be dwindling and suddenly they found more corn.
"It put a wet blanket on prices," she said.
Now China is a big buyer of U.S. corn.
"It seems fishy that they are buying all that corn if they have so much," Blohm said.
Feed prices
While stocks are low, there is still enough corn, said Joe Kerns, managing director of Kerns and Associates and an economist for Partners in Production, based in Ames, Iowa.
"We're not going to run out of corn. It might not be in the right place at the right time, but there is enough corn this year," Kerns said in a National Pork Board webinar Jan. 21.
He also expects a shortage of soybean meal in some areas.
"Trucks have wheels for a purpose," he said of moving feed to where the need is.
Production in the south in August will help relieve some of the demand pressure, but producers may have to get creative in managing beans, he said. Iowa will likely break even this year by using all the soybeans it produces, Kern said.
In answer to a pork producer's question, Kerns said there is a chance the U.S. could import grain from South America this year. If so, it would likely be soybean meal to a port in North Carolina to meet the demand of the poultry and pork industry there before soybean harvest starts here this fall.
"Prices, although elevated, are justified," Kerns said.
Blohm expects wheat prices to follow corn and soybean prices up. Wheat, as a cheaper feed option, will be in demand.
"The use for animal feed will grow because the price of corn is high," she said. "I think we'll see $8 wheat this summer."
While higher grain prices are good for growers, livestock producers will feel the higher feed costs this year, said Brenda Boetel, with University of Wisconsin Extension, at the Driftless Region Beef Conference Jan. 28.
"Corn is the biggest price challenge," she said.
But "DDGs still fit into rations even at current prices," Kerns told pork producers.
Beef demand
Pandemic repercussions caused by processing disruptions and restaurant closures will continue to ripple into 2021, even though there are smaller calf crops, Boetel told cattle producers.
Before the pandemic, people ate about 50% of their meals outside the home. Of those, about 39% were consumed at full-service restaurants. While COVID-19 brought restaurant consumption down to levels lower than the 2008 recession, people were still consuming beef at home, which helped sales, she said.
Boetel doesn't expect beef consumption in restaurants to return to pre-pandemic levels this year, but she expects it will within five years.
Demand for beef remained strong even when retail prices were $7.58/lb. in May, she said.
"We have maintained a strong demand for beef to this point, but the concern is that may change if unemployment and the recession continue," she said.
On the positive side, beef exports to China have increased and there have been considerable increases in exports to Japan and Korea, she said.
Compared to last year, carcass weights will start the year lighter, a trend she expects to continue. Boetel said she believes commercial slaughter will be stable this year compared to being down 2.4% in 2020.
As for cow/calf operations' profitability in 2021, she said declining numbers will allow prices to increase. However, forage will be tight, she said. Feedlots will have to deal with higher feed prices, but can expect more manageable slaughter by summer, higher feeder cattle prices and higher fat cattle prices after the second quarter, she said.