CHRISMAN, Ill. — From a bird's-eye view, giant white caterpillars crawled across some large harvested fields last fall. Those plastic grain bags, often 300 feet long, hold corn as a temporary convenience, rather than immediately trucking the grain away, and saving money that could be spent building a bin or in elevator storage charges.
The reviews of the grain bags are mixed. Some farmers find them the perfect solution for their short-term storage of bumper corn crops, and others are trying them for a year or two before making other storage choices.
Option when expanding
Corey Phipps, who farms with his brother, Chris, near Chrisman, Ill., tried the grain bags for the first time last fall. He said he will "absolutely" use them again.
"It's a good option for guys expanding an operation," Phipps said.
But they got off to a slow start.
"We struggled the whole season" with getting the equipment to work properly, he said. But he attributes it to a manufacturing flaw, and the manufacturer is providing a replacement bagging machine for this season.
Phipps recommends buying from a dealership that has experience. There are some tips and tricks that make it work better.
"Our dealer had only sold one before, and the district rep was new to it," he said.
Other farmers with experience can be a good resource, he said.
"The grain storage bags have been in our area three or four years," the Edgar County farmer said.
He estimates it took about 15 minutes to get the bag on the machine. They loaded about 5,000 bushels an acre directly from the combine and filled a bag in 2½ to 3 hours. They stored about 200,000 bushels of corn in the bags this year.
In addition to the bags themselves, to get started, the Phipps bought two grain bag handling machines. One is for loading and one for unloading bags, costing about $70,000 total. Phipps bought a third piece of equipment for $4,000 that rolls the used bag into a bale that can be recycled. The recycling company picks up the bales.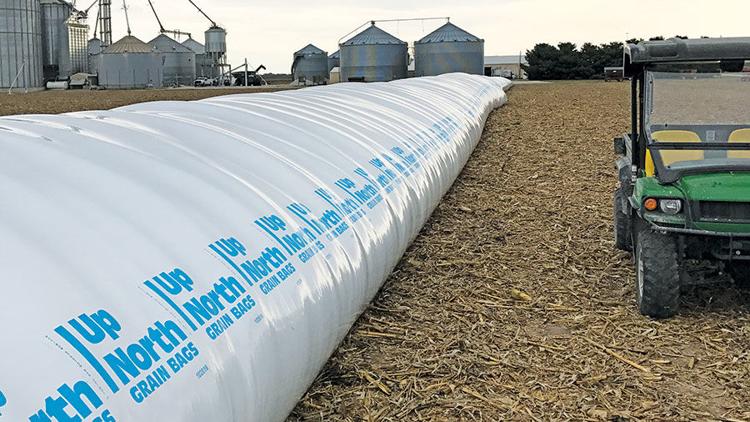 The brothers emptied their bags by January, moving the grain into on-farm storage where there was new space open or sending it to the elevator. It needs to be moved from the in-field bags when the land is frozen, he said.
Steve Dennis, Evergreen FS Yuton, Ill., grain department manager, said he has seen a couple farmers try the bags in central Illinois for a year or two, but not continue.
Big crops increase demand
Alan Schneider, Brandt agricultural products territory manager, said there has been demand for the grain bagging equipment throughout the Midwest in the last five years, especially where there is a big crop. Brandt is one of several companies selling grain bagging equipment in Canada and the U.S.
A 300-foot bag holds about 14,000 bushels that can be loaded quickly from the combine or grain carts right in the field, he said.
"It keeps the combine rolling," Schneider said.
The scarcity of farm labor at harvest time is one of the reasons farmers choose the grain storage bags, said Schneider, who is based in Indianola in southern Iowa. Often it is hard to find a truck driver during harvest season.
"It takes fewer guys," he said of loading the bags.
The bags are also popular with farmers who may be renting fields that are a long distance from their bins. Others may not be certain they will rent the same land next year.
"It offers flexibility," Schneider said.
Some farmers may be considering adding grain bin storage, but aren't ready yet — waiting to see price and yield trends — so they opt for temporary storage for big crops now, he said.
Since the corn in the bags comes directly from the combine, without drying, it may be 17 to 20 percent moisture in some cases, which is above moisture levels recommended for grain stored for longer periods. Usually the grain is stored in the bags from one to three months, Schneider said.
It's a good idea to check on the grain as one would in a bin. A small puncture is made for the probe and taped to cover the hole after, he said.
The bags are usually placed on fields that are intended to be planted when spring soil conditions are right, so the bags must be out of the way in time not to hold up production, Schneider said.
The number of farmers using grain bag storage this fall will likely depend on weather, yields and ultimately the size of the 2018 crop.