CARBONDALE, Ill. — Researchers at Southern Illinois University are looking at a novel method of controlling weeds that do not respond to herbicides.
Madison Decker, a graduate student in the College of Agricultural Sciences, is conducting a study that entails interseeding winter wheat into soybean fields. The main target is waterhemp, a weed that is developing serious herbicide resistance, especially to glyphosate.
It is actually a revival of sorts of work done in the 1980s by the late weed scientist George Kapusta. Kapusta's research involved giant foxtail instead of wheat — he was growing weeds to suppress weeds.
SIU weed scientist Karla Gage, who is supervising the project, said Kapusta's pre-Roundup Ready approach would not work today.
"Utilizing giant foxtail to suppress broadleaf weeds is impractical and, quite frankly, not a great idea," Gage said. "We want to find out how we mimic what the giant foxtail is doing in the fields in a controlled manner, by using winter wheat.
"We feel confident that we would be able to terminate (giant foxtail). But as a weed, it would have a tendency to develop resistance."
Resistant strains of waterhemp pose a major threat to yields. Decker said 256 herbicide-resistant weed species have been identified worldwide. Resistant palmer amaranth is also posing problems in Midwestern corn and soybean fields.
"If you leave waterhemp uncontrolled it can reduce yields by 40 percent in only 10 weeks," she said. "As a summer annual, we don't just see one flush of it. From April to October we're going to see multiple flushes of this weed."
Instead of growing winter wheat as a cash crop that is planted in the fall, farmers would plant it in early spring instead, then sow soybeans into the standing wheat crop, then kill the wheat when the soybeans emerge.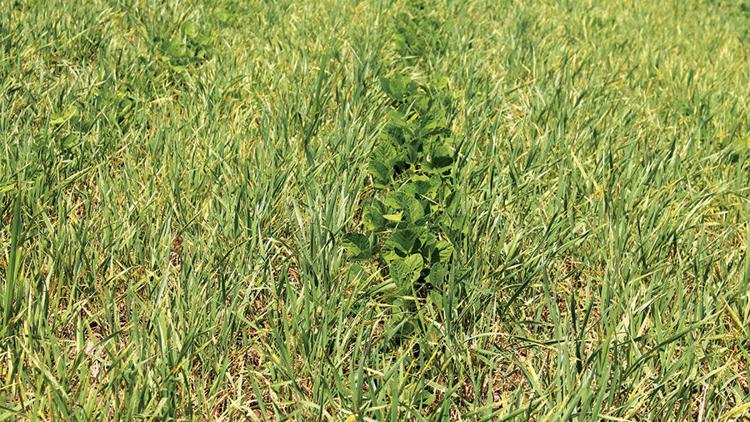 Decker is looking at how well the growing wheat suppresses early weed growth, and how the stubble after it is taken out keeps weeds out of the growing soybeans
"Any time we have bare soil exposed to sunlight, there's a chance for weeds to germinate. But when you add a mulch layer that filters the sunlight," she said. "It inhibits germination, and that is what we want to see."
Farmers who double-crop wheat with soybeans have the option of using saved seed. That would cut down on expenses.
"It could be a low-cost system if you're using bin-run wheat, which is what we're using in all of our trials," Decker said. "By planting the wheat in spring, we're not allowing the plant to be exposed to those cold periods and let it head out.
"We don't want it to head out because of the prospect of volunteer wheat. We want that really nice mat to help suppress the weeds in the seed bank."
One critical component may be yield. The SIU researchers are working to determine how the interseeding affects bushels per acre. In 2017, the first year of the study, soybean yields in interseeded fields suffered compared to those grown without the wheat. The next year, yields of the interseeded crop were similar to soybeans grown without the wheat.
Decker checked weather records, which showed sparse rain events in 2017, compared to more consistent precipitation during the crucial growing period the following season.
"There are things I can look at to mitigate that response," she said. "Like, when is the best time to plant."
The wheat is broadcast to mimic random weed emergence. But if producers drill their wheat, she recommends planting in two directions. One thing researchers will be looking at is the ideal time to terminate the wheat as a cover.
"We're comparing this with more common soil residual programs," Gage said. "We don't want to get away from that soil residual program, but if we can use this as another tool to hold back those small-seeded broadleaf weeds, then it could be useful in an integrated weed management system."