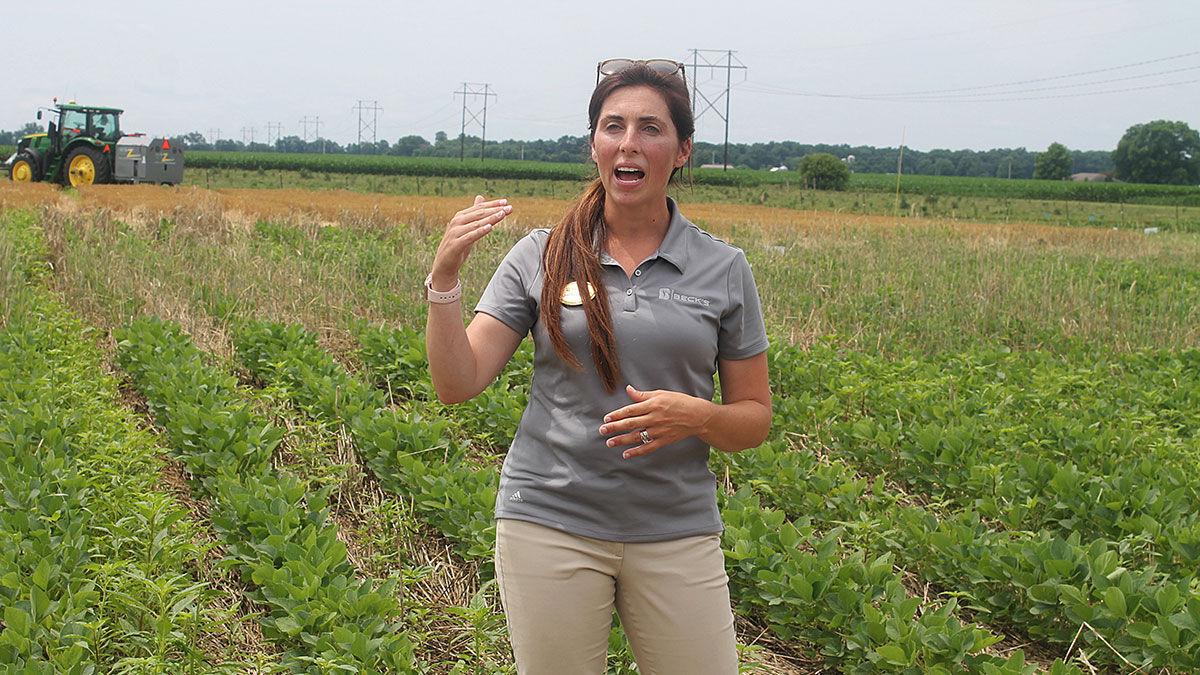 EFFINGHAM, Ill. — More and more farmers in the Midwest are discovering that planting soybeans early is a recipe for success. Studies are confirming that recipe.
Work at the six Beck's Hybrids Practical Farm Research locations and at other sites shows that planting beans early can result in more plant development earlier in the summer, hitting growth stages at times that maximize yield potential and help with weed control.
"Nowadays, weed control is all about balance," said Luke Schulte, who presented some of the findings to farmers at a field day at the company's southern Illinois location. "Nothing has been found to be more consistent in producing high-yield soybeans than planting early. We'll take a thinner stand of beans planted early rather than late."
He said planting early can maximize crop response and ultimately minimize development of herbicide-resistance weeds.
Optimum planting dates, as determined by company research, range from April 1 to May 20 across Midwestern states served by Beck's. Specifically — in Illinois, Iowa and Missouri — April planting has been shown to be ideal.
Early planting encourages early flowering and additional node development. That equals more yield potential with reproductive stages of growth beginning at a less stressful period. Early planting also means earlier canopy development, which reduces weed competition.
Schulte, who works at one of the company's Ohio locations, said research there shows that temperature variance in soil can span up to 14 degrees between the earliest and latest planting dates. With nodules performing optimally at about 72 degrees Fahrenheit, cooler soil temperatures have been shown to promote better growth.
Increasingly, weed control has become an issue capturing much of the attention of farmers. The rise of herbicide resistance among unwelcome plants has forced them to look at ways to reduce pressure.
One method getting a lot of attention is the use of cover crops. Beck's — along with other ag companies and public entities — has been taking a close look at the effectiveness of covers in a cropping system.
"Shade is one of the best weed-control methods we have, and it's free," said company agronomist Camille Lambert. "If we shade the soil, we can do a pretty good job of weed suppression."
In major studies at the Beck's PFR locations at Effingham and Henderson, Kentucky, researchers looked at the impact of covers on weed suppression. Weedy fields were planted to cereal rye at rates of 30, 60 and 90 pounds per acre. They counted waterhemp plants 45 days later.
"Thirty pounds is a conservation-type rate. But when we step it up to 60 or 90 pounds, we dramatically reduce the number of waterhemp plants that were able to come up," Lambert said. "This can be a decent weed-suppression tool."
While cover crops can address many issues, weed control is not always at the top of the list. But it is at the forefront of research here.
"Biomass is a fancy term for how much growth is above and below the surface," Lambert said. "Plants that form a mulch keep a lot of these weeds from coming up."
Farmers may be also be overlooking a critical component to a successful weed-control program, and that is water.
Schulte said that hardness of water can reduce the effectiveness of herbicides. While using premixed fertilizer solutions is convenient, it is also expensive. Mixing dry ammonium sulfate can save money, but the hardness of water used can affect other things.
Hard water can interfere with the effectiveness of three popular herbicides: Enlist 1, Liberty and glyphosate, Schulte said.
He also encouraged farmers to use rates closer to the maximum recommended by the manufacturer.
"I would be leery of the low-use rate," he said. "Make sure you use an adequate amount."