ELKHART, Ill. — Thomas Titus comes by his love of pig farming naturally.
"I was almost raised in a pigpen, and there are pictures to prove it," he said.
Titus was one of four finalists announced by the National Pork Board for the title of America's Pig Farmer of the Year for 2019-20. Chris Hoffman, a pig farmer from McAlisterville, Pennsylvania, was named the winner Oct. 1.
To be named as a finalist was quite an honor, Titus said, especially considering he has been actively working on a pork farm for only about seven years.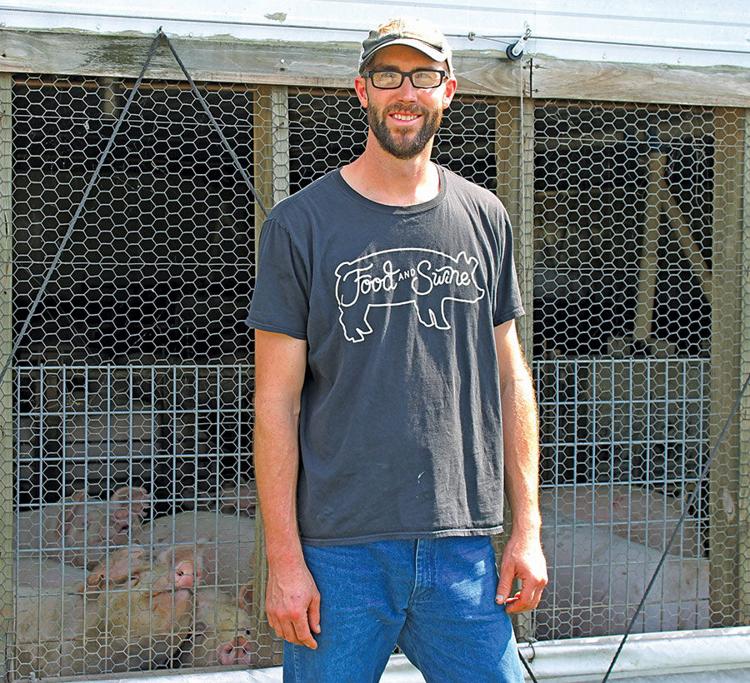 But his background is loaded with pork. He grew up in Arcola, in Douglas County, on a multi-generational diversified farm. His parents, Phillip and Patricia Titus, still farm there. He graduated from Arcola High School and from Lakeland College in Mattoon, where he participated on competitive livestock judging teams.
Titus later got a degree from the University of Illinois and relocated to Wichita, Kan., where he worked for six years in Cargill's pork division.
While there he married Breann Conrady, and they had Reagan, the first of their two daughters.
His in-laws, Dave and Lisa Conrady, own and operate the farm here in Logan County and welcomed Titus to work on the pork side of the livestock and grain operation. Brett Conrady, Titus's brother-in-law, runs the grain operation. Brett's wife, Janna, works off the farm.
Titus also raises some beef cattle, but his main focus is elsewhere.
"The most important thing we raise on the farm is the kids," he said.
They are 8-year-old Reagan and 5-year-old Lakin. Titus has a passion for instilling the wonder of farming not only in his children, but to anyone who will listen.
He promotes agriculture on social media and is active in several ag organizations, including serving as secretary of the Illinois Pork Producers Association. He raises show pigs and is president of a Chester White breeding association.
"I really enjoy advocating for why we do what we do," Titus said.
"In the past we have leveraged and utilized social media to tell our farm story. We take pictures of the kids, pigs in barns and utilize social media to share what we do. We're building that relationship showing how food is raised.
"Social media a great way to reach out. It's tough to work that into every day, but it's important. Most consumers don't have that direct tie to the farm like they used to."
As an independent producer in a farrow-to-finish operation, Titus refers to himself as "part of a dying breed." He has 700 sows and markets about 12,000 pigs annually.
Being independent has its challenges along with benefits. Big swings in the market can cut both ways, and they cut independents more than contract producers.
"It becomes tougher and tougher, especially with the trade instability," he said. "I'm a little more focused on the livestock and hog side, but farmers are struggling across the nation. Our season can be dictated by three tweets.
"Some years are good. We benefit when they are. At the same time, when we're in a lower market we experience that on the bottom line. There are ebbs and flows to the market. It seems the cycle of it is much more aggressive than it used to be, where the lows are tougher and the highs are much more fun."
Marketing is a critical part of Titus' farming duties. He utilizes a combination of selling on the open market and cutting deals with packers. His experience with Cargill helps, since he has also been on the purchasing side.
"We work with a few different places," he said. "For our size, I can't justify marketing every load every single week of the year. We leverage more on the agreement side. We look at past history and identify what works best for us."
Other than the threat of a disease outbreak in the U.S., Titus and other producers find challenges in trade and other economic issues.
"As pig farmers, we're dealing with a global market," he said. "Yes, we consume 75% of what we raise, but what pays the bills is that export. One in four pigs that comes off our farm is destined for another country. That's a big number, and it's where a lot of the profit potential comes from."
The struggling farm economy hits virtually everyone involved in the industry. The prospect of exporting whole animals is more complicated than it used to be.
"Most years you at least have one or two commodities that are valuable. But when they're all depressed, it makes even walking it off the farm a little bit tough," he said. "I like feeding cheap corn as much as anybody does. But that doesn't work for the other side of our farm, which is a big part that makes us who we are."
Meanwhile, agriculture is ingrained in their family. In addition to their two children, three nephews also "run around the farm."
"We have a lot of busy hands that are learning," he said. "They're getting to that age where they can help, and they like it."