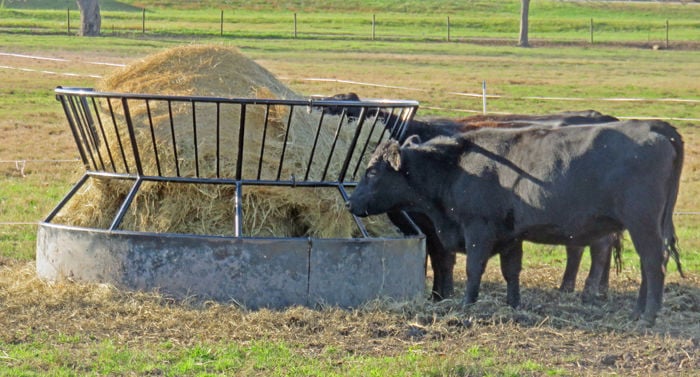 Editor's note: The following was written by Heather Gessner and Adele Harty, South Dakota State University Extension specialists, for the university website.
At the beginning of this hay crop year, May 1, beginning inventory across the nation was down 11.8% compared to a year ago and 13.7% lower than the five-year average. Five of the top-producing hay states reported stocks were 27.5 to 43.9% lower than a year ago and up to 60.3% lower than the five-year average.
What can be done?
The first step to feed planning is to take a current inventory of the livestock operation. A list of the number and weight of the animals to be fed is a critical step to determining the needed roughage and other feed needs.
Example: Count the herd and take weights.
102 cows, average weight 1,325 lbs.
97 calves, average 220 lbs.
Four bulls, average 1,605 lbs.
Two horses, average 1,250 lbs.
Considering 2.3% of body weight required, this herd requires 57 tons of feed per month before accounting for any waste due to the method of feeding used.
Next, inventory the feed on hand. Count and weigh bales, measure silage piles, measure grain supplies, and do a feed test on these feedstuffs.
Counting and weighing ensure an accurate evaluation of the current situation. Feed testing allows for the evaluation of nutrition value available and areas lacking.
Given the current dry situation, determining the number of days harvested forages are needed to provide the required nutrition for the herd is more complicated than in traditional grazing years. However, this does not mean "don't do it." Create a traditional feed required list, say feeding from November to April, and then evaluate pasture conditions and expected production to determine when animals need supplemented forages and add that to the total required feed number.
"Ignorance is bliss" is a detrimental frame of mind for this situation. Preparation and planning can alleviate shortfalls when identified early.
Here are options to help producers prepare:
The Livestock Forage Program (LFP) provides some feed assistance to producers. Talk to your local Farm Service Agency (FSA) office to determine if your county qualifies for assistance and at what level.
Create and evaluate feed options. There is more than one way to feed and take care of livestock, and feed options should be taken into consideration during short feed times.
Create a sacrifice pasture to feed the herd on. Sacrificing a pasture ensures only one pasture needs to recover from overgrazing when rainfall levels return to normal.
Drylot the cowherd in your lots or at a custom lot. Determine the economic difference between hauling feed to the cows or hauling the cows to the feed.
Early wean the calves. Reduce the feed requirements of the cow and reduce the feed production needs from the pasture.
Invest in hay feeders and bunks. Bale feeders and bunks can improve the utilization of available harvested feedstuffs by reducing wasted feed. Wasted feed is an expense to all operations, especially during drought when feed is not readily available.