Editor's note: The following was written by James Mintert and Michael Langemeier for the Purdue University/CME Group Ag Economy Barometer Jan. 8.
---
The Purdue University/CME Group Ag Economy Barometer declined moderately in December to 127, which was 7 points below the index's value one month earlier and 9 points below October's reading.
The December 2018 barometer was virtually unchanged from December 2017, when the barometer stood at 126.
It should be noted that this month's survey was completed before President Donald Trump signed the Agricultural Improvement Act of 2018 (2018 Farm Bill) into law, so it remains to be seen what impact, if any, passage of that legislation has on U.S. farmer sentiment.
Compared to a year earlier, an interesting shift in producer perceptions has taken place regarding both current conditions and future expectations. The December 2018 Index of Current Conditions was substantially below a year earlier, registering a year-to-year decline of 30 points. In contrast, the Index of Future Expectations was actually 15 points higher in December 2018 than in December 2017.
This divergence in perceptions has been especially notable since last spring as producers continue to exhibit more confidence in future conditions for their farms in the face of weakening perceptions regarding current economic conditions.
Producers' interest in making large investments in their farm operations waned somewhat in December as the Large Farm Investment Index fell to a reading of 51, five points below a month earlier but still nine points higher than in September, when it reached its lowest reading of the last three years.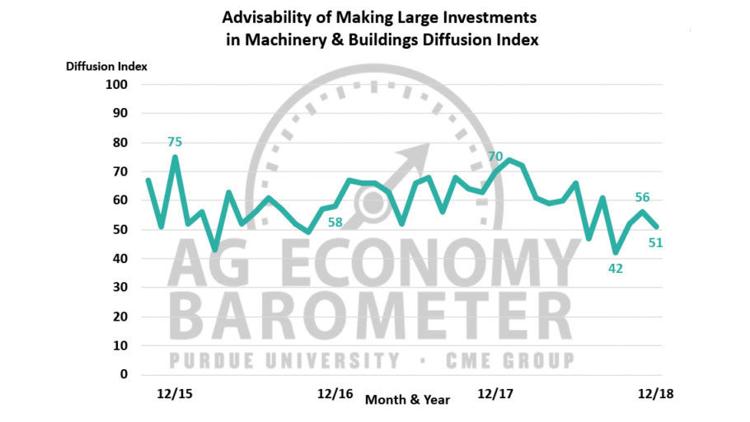 Concerns about agricultural trade continue to dominate headlines. To track farmers' perceptions about future exports, we have repeatedly asked farmers whether they expect U.S. agricultural exports to increase or decrease in the upcoming five years. Responses to this question became more positive from April through November 2018, but that changed on the December survey as the percentage of producers expecting exports to increase declined from 66 percent in November to 59 percent in December, and the percentage expecting exports to decrease increased from 10 percent in November to 26 percent in December.
Producers indicated in December that contraction of both the beef and dairy herds is more likely in 2019 than expansion. In contrast, producers expect hog herd expansion to continue during 2019.
Over 60 percent of respondents expect the beef herd to contract in 2019 compared to 37 percent of respondents who expect the herd to expand. This was almost a complete reversal compared to last year when nearly 60 percent of respondents thought expansion likely and just 41 percent expected the herd to decline in the upcoming 12 months.
Producers overwhelmingly expect the dairy herd to contract during 2019 with 83 percent of respondents expecting herd contraction to take place during 2019 vs. just 17 percent of respondents that expect the U.S. dairy herd to increase in the upcoming year.
Finally, expectations for increasing pork production were consistent with USDA's December Hogs and Pigs report, released in late December, that indicated the U.S. breeding herd was 2 percent larger than a year ago and that producers are planning larger sow farrowings than a year earlier.
To learn more about on-farm technology usage, we queried farmers regarding their usage of drones on their farms. Thirty-four percent of survey respondents said a drone was used on their farm in the last year. Field scouting was the most common use for a drone (43 percent) followed by field mapping (17 percent), photography for promotional materials (17 percent) and hobby or other usage (17 percent).