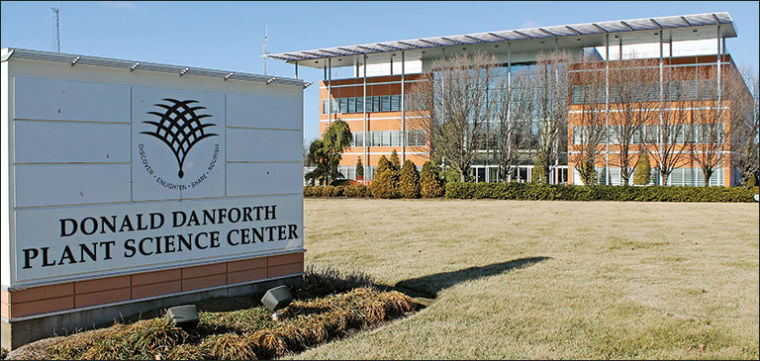 ST. LOUIS — Some key relationships among companies sharing space at the Donald Danforth Plant Science Center are made in the lunchroom.
"That's the coolest benefit," said Matt Helms of NewLeaf Symbiotics. "This woman with a PhD literally connected with a professor with the dirt lab in the cafeteria. It's a networking campus."
The companies occupying the center's BRDG Park innovation incubator not only share laboratory and greenhouse space. They also share their brains.
"There are opportunities to potentially meet with other tenants," said Helms, chief commercial officer of New Leaf, an ag tech company working with microbials to be used in plant growth and protection. "It's very open, very collaborative in that fashion."
Helms joined NewLeaf two years ago after an 18-year career with Monsanto. He grew up on a family farm near Belleville, Illinois, just a few miles across the Mississippi River from St. Louis.
Unlike similar biotech firms, NewLeaf works with only one class of microbe, pink-pigmented facultative methylotrophs. The term doesn't exactly roll off the tongue, but PPFMs are being used for their potential to increase yields and plant vigor, something farmers understand well.
"It's allowed us to stand out versus others who are in this space," Helms said of the single-class approach. "There are a lot of biologicals out there and a lot of clutter."
The 7-year-old company has a collection of more than 12,000 of the microbials.
"We look for characteristics or traits they would have," Helms said. "In essence, we're trying to promote healthier crops and enhance nutrient uptake, such as achieving more root massing. That obviously would lead to yield or quality enhancements with the crop."
The microbials are introduced to plants primarily as seed treatments or with starter fertilizers. Researchers are also testing alternative delivery methods such as foliar application. The products are sold under the brand name Terrasym.
The company's brain trust includes many former Monsanto scientists. NewLeaf engages in large-scale trials on farmers' fields. One novel approach is gauging trait enhancements such as root mass and vigor.
"We set up three digital photo labs," Helms said. "We dug up more than 3,000 roots and use digital imaging of root technology. The Danforth Center developed this technology. You use a size marker — we use a poker chip — to compare. It creates thousands of data points. So instead of just digging up the roots, putting them in the back of a pickup truck and saying, 'that looks better,' we quantify the differences."
The end game is yield improvement for corn and soybeans. But the company is also looking at some vegetable crops including tomatoes, spinach and lettuce. Rice and cannabis are also in the company's sights.
"It's been really cool to take the learnings from row crops and replicate them in the specialty and vegetable markets," Helms said. "The downside with row crops is you get one shot in North America and one is South America. With these greenhouses, we can get a lot more."