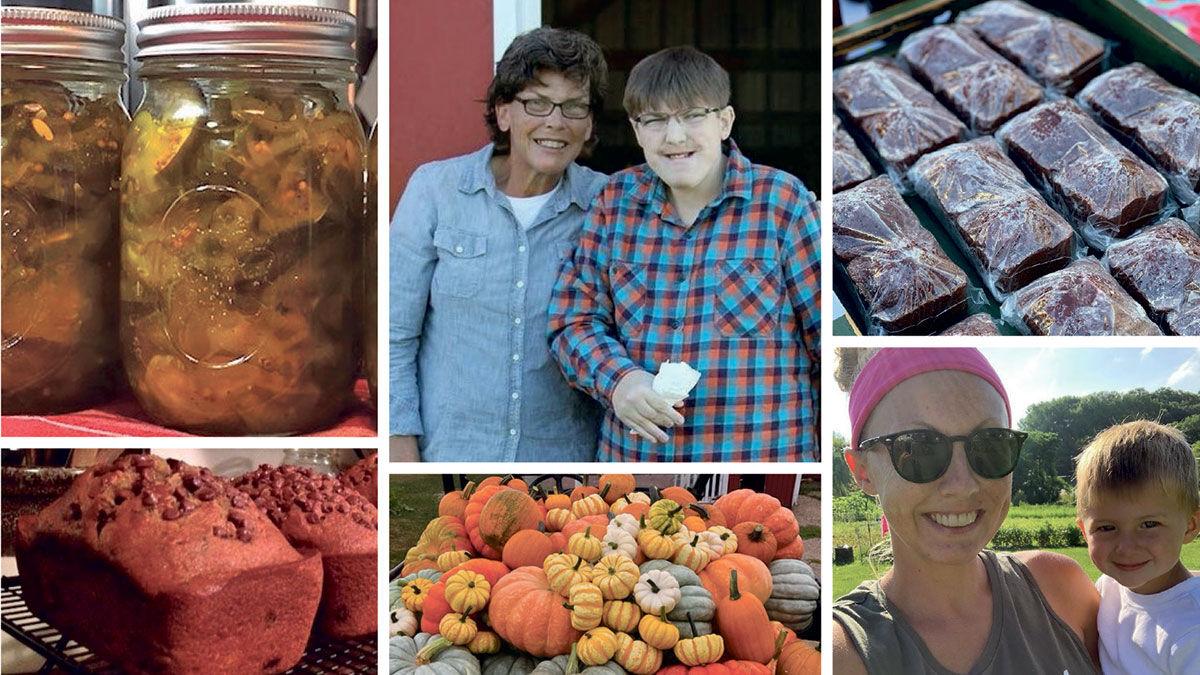 Carla Jaquet saw sales of her cottage food products, including jams and pickles, sweeten this summer.
Usually, Jaquet sells most of the products her family grows and makes at their family farm in Whiteside County at farmers markets.
The pandemic closed her usual market, so she so her family quickly upped their presence online.
Her past experience operating a food hub, working for University of Illinois Extension, and the flexibility farmers and small business owners need to survive, have served her well this year.
"I'm grateful to have those skills," said Jaquet, owner and operator of Wild Hare Farmers.
The common ingredient in all their food is the inclusion of a product grown and or milled in Illinois.
"The majority is grown by us," she said.
Pumpkins they grown go into pumpkin spice cupcakes, cucumbers become sweet pickle relish and zucchini becomes lemon zucchini bread.
Because the family grows ingredients for their products on the farm, the products can be sold from their farm stand and online, according to Illinois' food laws. The Cottage Food Law went into effect in January 2012 and was significantly expanded by the Illinois Food Freedom Act in 2017. However, that are some restrictions.
Under the current law, cottage food producers who don't grow some of their own ingredients can only sell at farmers markets.
"It's a real problem," said Molly Gleason, communications director for the Illinois Stewardship Alliance, a local food and farm advocacy group. "It's especially tough this year."
These restrictions are especially difficult in a year where many farmers markets delayed openings, had restrictions on what products could be sold or didn't open at all.
Some of cottage food product makers suffered badly with nowhere to sell their products, Gleason said.
For Jaquet, however, sales of her locally-produced products actually grew during the pandemic. From June to September, she saw a 30% increase in sales from online, in-person with curbside pickup and delivery options.
The impetus behind Wild Hare Farmers came in 2007, when Jaquet's oldest son, Corey, who was born with multiple disabilities, "announced his wish to be a farmer," she said.
"What started as a learning experience for him transitioned into a full-time farm-based business in 2016," Jaquet said.
The business describes itself as "an uncommon crew of farmers growing for the next generation," she said.
Corey, one of Carla and Roger Jaquet's four children, is active in growing gourds and pumpkins and helping with a variety of other tasks on the farm.
Their daughter, Chelsea Stuart, joined Wild Hare Farmers as a business partner this season. She grows strawberries where she lives in nearby Morrison. Her technology skills also helped with the online business this year, Jaquet said.
The couple's youngest son, Ryne, majoring in supply chain management at Western Illinois University, was a big part of Wild Hare Farmer's distribution efforts this season.
Their middle son, Jordan, is in the United States Air Force, she said. 
Jaquet's mother, Gloria McKenna, owns the farm where Wild Hare Farmers grows its produce. The farm includes a small orchard and has been in the family for more than 50 years. Most of Jaquet's produce is grown on 1.5 acres there. Her uncle, Paul Rosenow, grows corn and soybeans on the rest of the land.
Earlier in the year, she said they benefited from having a high tunnel which allows her to produce tomatoes a full month before field tomatoes.
"We sold more pumpkins than ever," she said. Corey was sold out of pumpkins in two and a half weeks. "He was pretty tickled."
They sold all the pumpkins from their farm stand.
"We were satisfied and pleased with the farm stand. It operated on the honor system," she said. "It made my heart happy."
Gleason would like to see the Cottage Food Law changed to enable other producers to sell their jams, baked goods and other value-added products directly to consumers online or at festivals and fairs. Without farmers markets, they had no place to sell their products this year.
"It is really crushing for small businesses" who rely on their cottage food as supplemental income or to pay bills, Gleason said.
This year, draft legislation had been developed to change the law to allow cottage food producers to sell directly to consumers. It would still restrict them from selling directly to grocery stores and bakers and include other safety precautions, Gleason said.
In 2020, the legislation didn't go forward because of the legislative slowdown caused by the pandemic, but proponents are hoping to get it passed in 2021, Gleason said.
She is promoting a petition to get it done. It is available at bit.ly/39J5gDS.