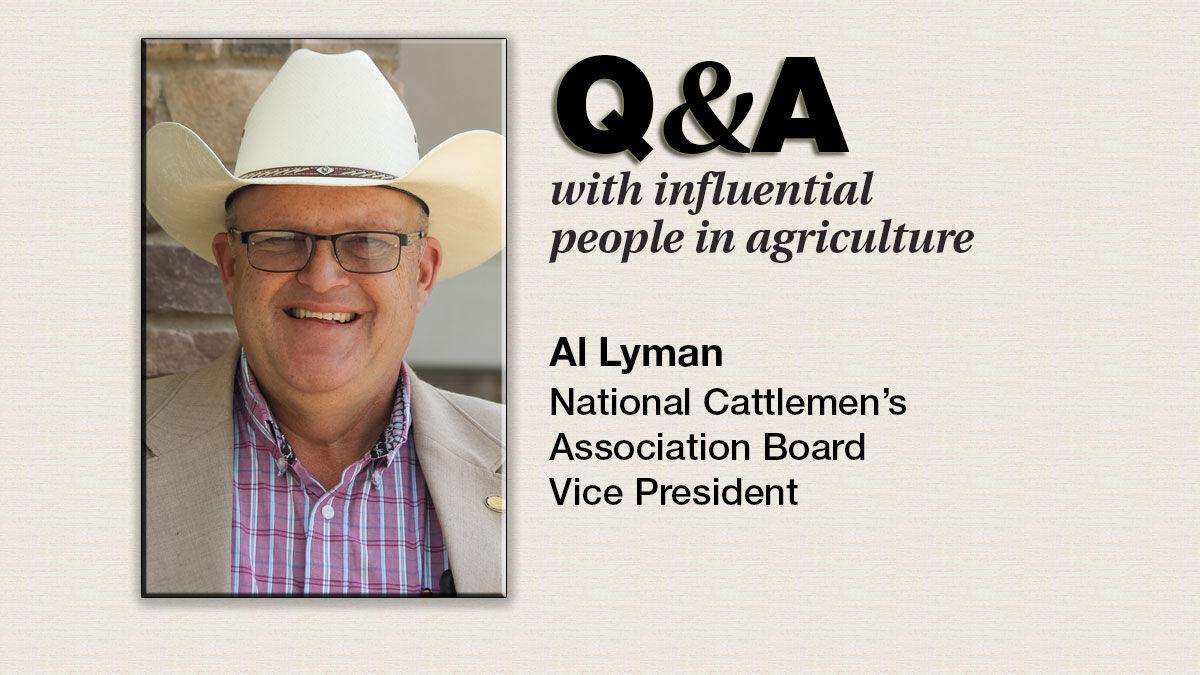 During his final year of a three-year term, Al Lyman represents Illinois, Iowa, Missouri, Minnesota and Wisconsin for the Federation of State Beef Councils, the checkoff portion of the National Cattlemen's Association Board where he serves as vice president.
He grew up on a small cow-calf farm in Benton County, Iowa, and met his future bride, Karen, at Iowa State University. Now they call Illinois home. They raise feeder cattle in Henry County in northwestern Illinois as the fifth generation of her family at Hadley Farms near Cambridge.
IFT: How did you get interested in farming?
LYMAN: I grew up on a small farm, a cow-calf operation in Iowa, and was very involved in 4-H and FFA. I always had a passion for farming. My degree is in agriculture and I met a girl with similar interests.
IFT: Tell us a bit about your farm today.
LYMAN: My wife and I up moved to her family's farm in 1997 to farm with her father, Warren, until he retired. I learned a lot about farming from both my father, who had a small cow-calf operation and was a high school teacher, and from my father-in-law. We are one of the few cattle feeders left in this area today. Our feed includes ethanol byproducts and corn we grow on the farm. We also sell extra corn to the nearby ethanol plant or river markets.
IFT: How did you first get involved with being part of a statewide beef association?
LYMAN: I was asked to be on the county cattlemen board in Iowa and became president there. Then I was on the Henry County board of the Illinois Beef Association and that led to being on the IBA board in the 2000s. The opportunity to run for a post at the national level came up and I took it. It has been really fulfilling to represent producers at the national level.
IFT: What is something you have learned in this position you would like Midwest beef farmers to know?
LYMAN: I've come to realize that the people who run NCBA checkoff are volunteer leaders. They are producers from different parts of their country. Sometimes NCBA is accused of being run by packers. They are not running the show, the producers are. The decisions of how checkoff money is spent is made by producers like us. Large feedyards don't run everything. We all have a voice at the table. I'm proud to be a part of that.
Also, checkoff never goes towards lobbying government, by law. There are firewalls in place, policed by staff, and the USDA checks. Checkoff dollars go to only research, education and promotion.
IFT: What are your duties on the board as vice president? Will there be more travel involved this year?
LYMAN: This is my last year of three years. The first year I tried to attend at least one event in each of the five states to meet people and get to know leadership there. I'm on the road this year and will get to most of my states this summer. Last year it was mostly phone and email. I'm traveling to a two-day Wisconsin beef council meeting today. I'll also attend four in-person meetings for the executive NCBA board this year and be a part of monthly phone calls. In August, the in-person NCBA annual meeting will take place in Nashville, Tennessee. That's always a good meeting and my Region 3 producers are within driving distance this year. The February meeting was virtual so this one becomes the annual meeting, replacing the usual summer conference. The regular NCBA meeting will be back in February 2022. That's only six months, but there will be plenty to talk about and do then, too.
IFT: What are some of the ways producers have chosen to spend the checkoff dollars?
LYMAN: Last night, I ran off 12 pages of things we are doing right now. One of the key things last year was buying ads on TV for the first time in 10 to 15 years. They were on the Hallmark Channel during Christmas movies. COVID-19 changed the ad structure, and we were able to afford to be in that market again. Also at Daytona Speedway, the "Beef – It's What's For Dinner" campaign was featured at the Daytona 300, the day before the big race. Every time the leaderboard came up, beef was mentioned. We will have opportunity to do it again this February. Also, the checkoff is sponsoring research work about children as young as 6 months benefiting from eating beef to help in their development.
IFT: What question are you often asked?
LYMAN: "Why don't we see as many ads for beef anymore?" As we go to more digital forms, on social media and so forth, some of our older members don't see as much promotion. We are trying to advertise to people who buy our beef. It becomes a challenge. Sometimes we can't afford to do both things. But many people did see the Hallmark TV ads or Daytona race promotion within the last year. We want to move the ball forward and sell more beef.
IFT: What is one of the big issues this year?
LYMAN: Sustainability. There is a focus on education to consumers to help people understand the great story the beef industry has to tell about what we are already doing for sustainability and on climate change issues. We want to improve the understanding of the public.
IFT: What lessons have beef producers, as an industry, learned from COVID-19?
LYMAN: The biggest lesson is to be flexible. In agriculture, we tend to be flexible anyway. Things change beyond our control. The checkoff at the national level pivoted very quickly. We had just held our national meeting in February, and staff had their marching orders to move forward. A lot of things they were to do included being part of public events to promote beef. Then the pandemic came, and we were forced to stay home. Restaurants closed. NCBA had to pivot to using social media to get information out about cooking beef at home. At first, it was predicted the beef sales would fall off because we usually sold more beef to restaurants than to those cooking at home. But we still sold a lot.
The pandemic also illustrated how supply chains work. There are still issues we are working through trying to get prices more fairly based. A whole stack of issues concerning getting cattle into packing plants and grocery stores are still in the works.
Everyone learned how to try and manage black swan events. For us personally, it opened another market at a second packing plant nearby and we are still using it.
IFT: What's the best piece of advice you have received.
LYMAN: My dad used to say, "Be careful of people with more answers than questions." That taught me to work with people to come together for a common good.