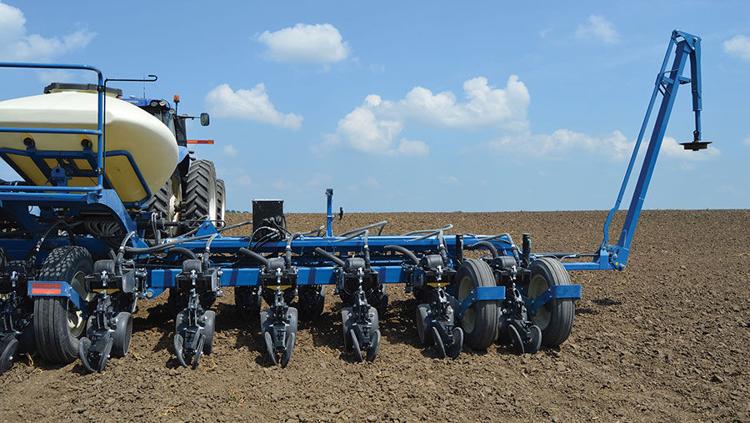 Recently, I had the pleasure of talking with Phil Jennings, who is service manager for Kinze Manufacturing. Kinze offers a variety of equipment including grain carts, high-speed tillage equipment and, of course, planters.
With spring planting just around the corner and farmers chomping at the bit to get into their fields, I asked Jennings about some of the more important areas of a planter that producers should inspect, repair and replace.
"You have to check out all the soil engagement components," he says. "Those include the disc blades, seed tubes, no-till coulters, fertilizer openers, gauge wheels and closing wheels."
I did a little online research. It seems that with 15-inch disc blades, any discs worn smaller than 14½ inches need replacing. Worn discs can create a "W" in the seed trench, causing up to a ¾-inch difference in seed depth.
Also, adjust the shims so that the discs contact each other for about 2 to 2½ inches from front to bottom. Split the adjustment as equally as possible. Don't make all the adjustments on one side.
Seed tubes should be checked for wear. Replace those where the lower end is split or worn thin.
Seed tubes, as well as sensors, need to be cleaned frequently when you're using talc, graphite and other additives. Flexible plastic wire loom should be installed in all potential wear points on seed tube sensor wires.
Row unit gauge wheels should make contact with disc opener blades, acting as a second scraper when the row unit is in the ground. If the gauge wheel is not making proper contact, adjust the shims in the gauge wheel arm. You might have to replace the arm or the bushings for proper fit. And don't forget the tires. They can also wear out, losing their shape and edge. Replace as needed.
When it comes to closing wheels, adjust them so that they are equal distance from the center of the seed trench. Bushings, bolts and other wear parts need to be in good condition to prevent side-to-side movement of the wheels.
Down pressure on closing wheels should be adjusted according to your soil type and moisture conditions. The correct down pressure should eliminate air spaces at the bottom of the seed trench and close the trench without creating sidewall compaction.
Corn roots won't penetrate compaction rates of more than 300 to 350 psi, so it's important to use the least possible down pressure to create correct seed-to-soil contact.
Jennings also pointed out that all safety warning lights, SMV signs and reflective decals should be in working order. Good point. Those items might be the very last thing on your mind as you head to the field, yet, as you're transporting equipment over rural roads, they can be lifesavers.
Going beyond the hard iron, Jennings tells me that producers should check out seed monitors and control systems, making sure that current software updates have been installed.
"You need to turn on the system to initialize all components and check the operation during the planter inspection process," he notes.
Bryce Baker, integrated marketing manager at Precision Planting, agrees.
"The first thing to check would be the monitor in the cab," he says, for any system that has a pre-season health check, perform those checks to make sure the electronics are working properly, making sure that everything is detected such as seed sensors and all the modules.
"After you're ready to roll, go to the data management area. Make sure the variable rate prescriptions are loaded into the display. If you're keeping boundaries, make sure the boundaries are loaded.
"You'll also want to find the previous year's guidance information and controls and make sure they're set up and ready to go.
"Once you get to the field, some systems check the swath control timing to make sure that the rows are shutting off when you want them to in order to avoid overlaps at end rows."
Baker notes that when you first pull into the field, you should change the "active field" in the display.
"You'll also want to make sure that you have the correct hybrid/variety selected and active. If you've added or changed seed, you really need to make sure that that is done. Lastly, make sure that the population rate prescription is set, ready and correct."
While this all sounds like a lot of prep work, these are essential initial steps.
"We've made the process a little easier by providing machine inspection checklists with tolerance information and part numbers for dealer reference," Jennings says.
Most other planter manufacturers offer their own version of inspection checklists, as well. You can find many online.
Of course, you can enlist your equipment dealership to help with preseason planter inspections and repairs. Either way, an investment in properly prepping your planter will pay off now and at harvest.
---
Michael Gustafson has written for and about farm equipment companies, their products and dealerships for more than 40 years, including 25 years with John Deere. He lives on a small acreage in Dennison, Ill.